1.
Hampton Inn Snyder
1801 East Roby Highway, Snyder, TX 79549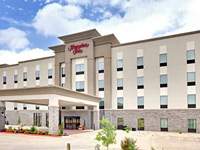 Hampton Inn Snyder provides free hot breakfast each morning, available in a takeout version for guests leaving early. For other meals, there is one fast food restaurant half a mile east, around the US 180/US 84 intersection, but most dining places in the city are 2 miles or more to the west, in the center. The newly built (2015) hotel is part of a lightly developed neighborhood along US 180, 4 miles from Western Texas College. Work facilities are a business center and 30 person meeting room; also available are an indoor pool, convenience store and a fitness center. Accommodations include a selection of suites with living area and a sofa bed.

2.
Holiday Inn Express & Suites Snyder
1305 East Coliseum Drive, Snyder, TX 79549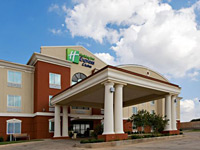 The Holiday Inn Express hotel in Snyder benefits from a rural setting along Coliseum Drive (US 180), half a mile from US 84 and 2.5 miles east of the town center. There are a couple of restaurants nearby, though good quality free breakfast buffet (including a selection of hot items) is available each morning at the hotel. The 73 rooms & suites are very clean and modern, all equipped with flat screen TV, microwave & refrigerator, while the other facilities include a business center, guest laundry, outdoor pool, fitness center and a 300 sq ft, 96 person meeting room.

3.
Best Western Snyder Inn
810 E Coliseum Drive, Snyder, TX 79549-6248
On the east side of Snyder next to open farmland, the recently-constructed Best Western hotel has 39 rooms on 2 exterior-corridor floors, plus an outdoor pool at the front and interior facilities of an exercise room, copy/fax service, and free continental breakfast. The hotel is located along Coliseum Drive (US 180), 2 miles from downtown in a quiet neighborhood on the south side of the highway. For other meals the nearest restaurants are one mile away, towards the middle of town. Snyder lies just off US 84, the main route northwest to Lubbock, the Texas Panhandle and New Mexico.

4.
Fairfield Inn & Suites Snyder
5207 Big Spring Highway, Snyder, TX 79549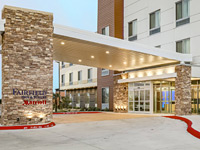 The pet friendly Fairfield Inn by Marriott Snyder opens summer 2016 along Hwy 350 (College Avenue) on the south side of town, directly opposite Cogdell Memorial Hospital; part of a small line of businesses, but otherwise bordered by undeveloped countryside. There are many restaurants along the main road to the north, between 0.5 and 2 miles away. Hotel features include a colorful lobby, free hot breakfast, a fitness center and an outdoor pool. Also close by, to the south, is the campus of Western Texas College.

5.
Baymont Inn & Suites Snyder
1005 E US Highway 180, Snyder, TX 79549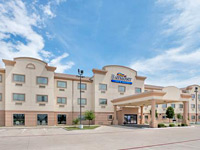 Baymont Inn Snyder has a rural location on the east side of town adjacent to the major intersection of US 180 and US 84, which leads to I-20 thirty miles southeast. There is one restaurant (and gas station) adjacent, but most facilities are between 2 and 4 miles away in the downtown area. The inn occupies a modern-looking, three floor building, and it offers the usual range of amenities, including an indoor pool/hot tub, fitness room, business center, free wi-fi and free continental breakfast.

6.
Days Inn Snyder
800 E Coliseum Drive, Snyder, TX 79549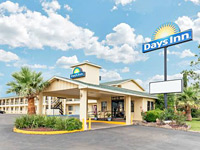 The microwave & refrigerator-equipped rooms at Days Inn Snyder are on two floors accessed by exterior corridors, looking out across the parking lot towards the outdoor pool and administration building. The surroundings are a mixture of countryside, private residences, shops & restaurants and, to the south, the Scurry County Coliseum, site of festivals, sports events and concerts. US 180 runs right past, leading to the town center 2 miles west, and Fort Worth to the east. Other amenities are free continental breakfast, free wi-fi and basic business services.

7.
Motel 6 Snyder
1137 E US 180, Snyder, TX 79549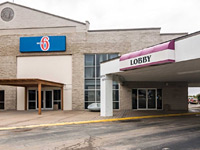 Motel 6 Snyder occupies an interior corridor building adjoining farmland beside the intersection of highways US 84 and US 180, three miles east of the town center; close to a gas station and one restaurant. Guest rooms feature a microwave, refrigerator and free wi-fi, while the motel provides free morning coffee, and has facilities of an indoor pool, hot tub, and coin-operated laundry. The place has a quiet setting, shielded by trees from the main roads.