1.
Hampton Inn & Suites Big Spring
805 West I-20, Big Spring, TX 79720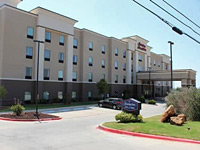 Hilton are represented in Big Spring by the 85 room/suite Hampton Inn, located beside the most central of the town's five interstate exits (the junction with US 87), adjacent to a typical collection of gas stations and fast food restaurants. Accommodations include one or two bed studio suites which have extra living space, a microwave, refrigerator, wet bar & sofa bed. Free hot breakfast is prepared each morning, plus a take-out version for guests in a hurry. The usual pool, hot tub and fitness center are available for relaxation, while a business center and 48 person meeting room are at the disposal of people here to work.
2.
Towneplace Suites Big Spring
1011 N San Antonio Street, Big Spring, TX 79720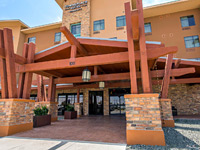 The first Marriott hotel in Big Spring opens spring 2017, located in a mostly residential area at the intersection of I-20 with the Lamesa Highway, one mile north of the city center. The TownePlace Suites is a four story, 107 room property offering brightly-decorated suites in one-bedroom, two-bedroom and studio configurations, all equipped with a full kitchen. Leisure amenities are an outdoor pool, fitness center, sports court, bbq grills and fire pit. Free breakfast is provided and there are at least six restaurants within walking distance, either side of the interstate exit.

3.
Holiday Inn Express Big Spring
1109 North Aylesford Street, Big Spring, TX 79720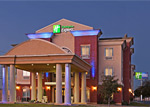 The 66 room Holiday Inn Express hotel along Aylesford Street is built at the north side of Big Spring, just south of I-20, exit 177 (Gregg Street, US 87), in a residential area though close to farmland on the other side of the interstate. The center of town, along 3rd & 4th Streets, is a mile to the south. The hotel has a good reputation for cleanliness and responsive staff; its facilities include a pool, business center, guest laundry and newsstand. Complimentary breakfast is served each morning, and the hotel is within walking distance of several restaurants.

4.
Best Western Palace Inn
915 Lamesa Highway, Big Spring, TX 79720-1109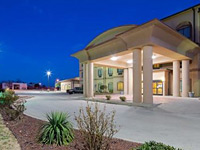 Best Western Palace Inn of Big Spring provides guests with 60 large, well appointed rooms, each with a microwave & refrigerator - part of a handsome, three floor building along the Lamessa Highway (US 87), near the north edge of town and two blocks from I-20. All the expected facilities are available - free full breakfast, heated pool (indoor), hot tub, fitness center, laundry, free internet access and basic facilities for meetings & business. There are several restaurants just across the street.

5.
Quality Inn Big Spring
300 Tulane Avenue, Big Spring, TX 79720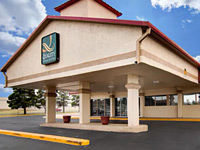 Budget-priced Quality Inn Big Spring is located along Tulane Avenue near the east edge of the city, beside exit 179 of I-20 in a lightly developed area. The hotel has a lounge/bar, indoor pool/hot tub & exercise room, and provides free full breakfast. For other dining, there is a 24 hour Denny's restaurant adjacent. The 65 rooms are basic but functional, and contain a microwave & refrigerator; they have views across the surrounding parking lot either north to the interstate or south towards a small shopping center.

6.
Baymont Inn & Suites Big Spring
917 Lamesa Hwy, Big Spring, TX 79720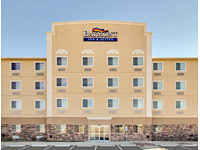 The interior corridor Baymont Inn Big Spring was newly constructed summer 2015, along US 87 (Lamessa Highway), the main north-south route through the city - located in a mostly residential neighborhood though within walking distance of a few restaurants and gas stations. Guest rooms are comfortable, modern, brightly decorated, and equipped with a microwave & refrigerator. The hotel has a fitness center, business center, 24 hour sundry store and laundry, but no pool. Continental breakfast is complimentary.

7.
Days Inn and Suites Big Spring
2701 South Gregg Street, Big Spring, TX 79720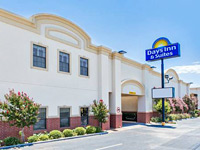 The Days Inn is located on the south side of Big Spring, along US 87 just south of the Hwy 700 intersection, right at the edge of the countryside. Cosden Lake is just south and there are two natural areas within walking distance; Big Spring State Park and Comanche Trail Park, the latter adjoining Big Spring Family Aquatic Center. Guest rooms at the Days Inn are arranged around three sides of the parking lot, accessed by exterior corridors, and most are on the ground floor. An outdoor pool, free continental breakfast and free wi-fi are the only amenities. The motel is right next door to a pizza restaurant and a Wal-Mart store.

8.
Super 8 Big Spring
2900 East I-20, Big Spring, TX 79720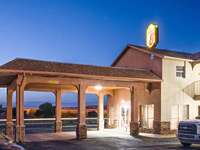 Budget-priced, exterior corridor Super 8 Big Spring offers 66 refrigerator/microwave-equipped rooms, an outdoor pool with patio, laundry, a business center, and a dining area for the free continental breakfast. The motel adjoins I-20 exit 179 on the east edge of town, close to at least seven restaurants (plus a supermarket). There are plenty more dining choices in the center of Big Spring, a mile to the west. Free internet access is provided.
9.
Knights Inn Big Spring
1000 W 4th Street, Big Spring, TX 79720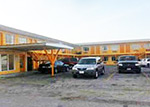 The Knights Inn is a small, basic, exterior corridor motel with a fairly central location along 4th Street, the eastbound section of the main road through Big Spring, mostly surrounded by private homes but within a mile of most sites in the downtown area. The nearest restaurant is 2 blocks east. The only amenities are free wi-fi and free continental breakfast, though the rooms are quite well equipped, featuring a microwave, refrigerator, work desk and coffee maker.