1.
Hampton Inn Kingsville
2489 South U.S. Hwy 77, Kingsville, TX 78363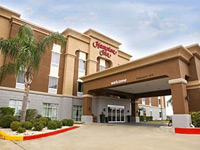 The 51 room Hampton Inn Kingsville sits along US 77 on the south edge of town, mostly surrounded by farmland, and set back 450 feet from the highway so that all guest rooms are nice and quiet. Access is via a palm tree-lined driveway, leading to the spacious parking area, part of which adjoins the outdoor pool, at the rear. There are several restaurants one block south, and the nearest supermarket (Wal-Mart) is half a mile away. The hotel is also convenient for Kingsville Naval Air Station, 3 miles east. Interior facilities at the Hampton Inn are a meeting room, fitness center, business center and laundry. Free hot breakfast is provided each morning.

2.
Best Western Kingsville Inn
2402 E King Avenue, Kingsville, TX 78363-7606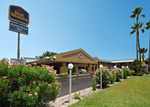 Perhaps the best hotel in Kingsville is the AAA three diamond-rated Best Western Kingsville Inn, which enjoys a secluded location immediately east of the US 77 bypass on the east side of town, opposite TX 141 (King Avenue) which leads to the center of Kingsville after one mile. The inn has 50 spacious, comfortable rooms on 2 floors, with views over the outdoor pool/spa and a large lawn at the front of the property. Free full breakfast is served, and there are three restaurants just the other side of US 77. All accommodations feature a coffee maker, work desk, microwave and refrigerator.

3.
Holiday Inn Express Hotel & Suites Kingsville
2400 South Highway 77, Kingsville, TX 78363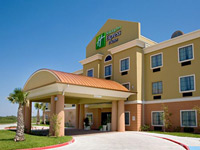 Holiday Inn Express Kingsville opened 2008 in the countryside on the south edge of town, right next to US 77 and close to a few restaurants and gas stations, though most facilities are a mile or two away towards the center. The main entrance to Kingsville NAS is 1.5 miles east along General Cavazos Boulevard. The three floor property has 70 comfortable rooms & suites, a sunny outdoor pool, a fitness center & business center, a convenience store and guest laundry. Free breakfast buffet is served, including a selection of hot items.
4.
Comfort Inn Kingsville
505 N Hwy 77, Kingsville, TX 78363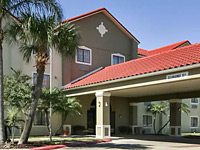 Comfort Inn is one of several hotels on the east side of Kingsville, along US 77 (west side), near the intersection with Santa Gertrudis Street. West-facing rooms overlook the outdoor pool, patio and the wooded, empty land beyond. All major sites in Kingsville are between 1 and 3 miles away, including Texas A&M University and Kingsville Naval Air Station. The hotel provides free hot breakfast and free wi-fi, together with a business center, coin-operated laundry and meeting space. Several suites are available, some with kitchenette and separate living room, others containing a hot tub bath.

5.
Econo Lodge Kingsville
221 S US 77 Bypass, Kingsville, TX 78363
One of several Choice Hotels properties in Kingsville, the Econo Lodge has an east central location at the southwest corner of the intersection of King Avenue (TX 141) with US 77; a medium sized property with 74 rooms on two exterior corridor floors, an outdoor pool set amidst an area of grass & trees, and a outdoor pool. Kingsville is just 16 miles from Loyola Beach on Baffin Bay, and 50 miles from
North Padre Island
on the Gulf of Mexico; the adjacent highway provides quick travel from the hotel to many other nearby attractions. Free continental breakfast is provided.

6.
Rodeway Inn Kingsville
3430 South US Highway 77, Kingsville, TX 78363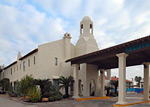 The Rodeway Inn is a well reviewed motel in Kingsville, located along the eastern bypass (Highway 77) and situated in rural area, surrounded by fields though adjacent to the main road. The Spanish-style inn is 2.5 miles south of downtown Kingsville, within walking distance of a few restaurants though on-site is both a cocktail lounge and a cafe serving breakfast, lunch and dinner. Other amenities include free full breakfast, a convenience store, exercise room and outdoor pool, this later at the rear of the property surrounded by an extra large parking lot.

7.
Motel 6 Kingsville
101 N US 77, Kingsville, TX 78363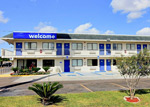 North facing rooms at Motel 6 Kingsville look out over a grassy field to the wooded surroundings of Tranquitas Creek - the property has a generally quiet, countryside setting adjacent to US 377 (the King Avenue exit) on the east side of town, though still within a short walk of several restaurants. The clean, affordable motel features an outdoor pool, guest laundry, wi-fi, free coffee, cable TV, plenty of parking space, and some rooms with a mini refrigerator. Pets are allowed.

8.
Super 8 Kingsville
105 South Highway 77 Bypass, Kingsville, TX 78363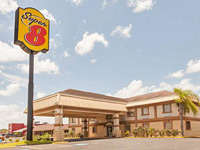 There is one restaurant (Pancake House) adjacent to Super 8 Kingsville, another three close by and many more one mile west in the city center - the motel is situated on the east edge of town facing US 77, in a semi-rural neighborhood. Guest rooms are on two stories, entered via exterior corridors, and those on the south side have views of the outdoor pool. All contain a microwave and refrigerator. The usual two complimentary amenities of wi-fi and continental breakfast are provided.