1.
Hampton Inn Brighton
992 Platte River Blvd, Brighton, CO 80601
The 76 comfortable, refrigerator/microwave-equipped guest rooms at Hampton Inn Brighton face north or south, looking out over a group of shops (including Kmart and Wal-Mart), restaurants and other hotels by the Bromley Lane intersection of US 36, one mile south of the city center. Leisure facilities are the usual fitness center, hot tub and pool (indoor), while a business center and meeting space are available for those here to work. The free breakfast comes with a selection of hot items, and is supplied in a take-out version for guests in a hurry.

2.
Holiday Inn Express Hotel & Suites Denver Northeast-Brighton
2180 S Medical Center Drive, Brighton, CO 80601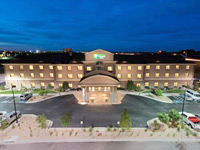 The Holiday Inn Express hotel in Brighton, northeast Denver is a three floor, 88 room/suite facility built in a countryside location alongside I-76 at the 144th Avenue exit, close to Platte Valley Medical Center. Also nearby, just the far side of the interstate, is Barr Lake State Park, which offers hiking, fishing, boating, cycling and wildlife viewing. The hotel is a typically clean, modern and well managed establishment, with amenities of free hot breakfast, a fitness center, indoor pool/hot tub, business center and one meeting room. There are several restaurants a short distance south.

3.
Candlewood Suites Denver Northeast - Brighton
2204 South Medical Center Drive, Brighton, CO 80601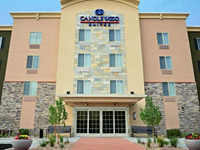 Candlewood Suites Denver Northeast is a modern long stay hotel that opened summer 2013 on the east edge of Brighton, adjacent to an IHG sister property (Holiday Inn Express) - both are well placed for guests attending Platte Valley Medical Center, just across the street. The developing neighborhood includes many other sites of interest such as Brighton Sports Complex, Adams County Justice Center, Barr Lake State Park, many restaurants and large stores. All accommodations at the hotel feature a full kitchen, large work desk and DVD player. Food for cooking can be purchased from the 24 hour convenience store; as an alternative to the in-room facilities, meals can also be prepared using the grills in the gazebo. Other amenities include DVD lending library, a business center and a 300 sq ft meeting room.

4.
Best Western Brighton Inn
15151 Brighton Road, Brighton, CO 80601-7303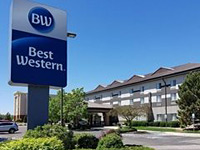 Best Western Brighton Inn has a fairly quiet location along a side road at the southwest edge of town, one block from US 85 and a short walk from various restaurants & shops including Wal-Mart. All rooms are modern and well equipped (microwave, refrigerator, free internet access, work desk); those on the west side have sweeping views towards the Rocky Mountains. Rooms with hot tub bath are also available. The hotel serves free continental breakfast each morning and has other amenities of an indoor pool/whirlpool, exercise room, guest laundry, newsstand, business center and meeting space.

5.
Fairfield Inn & Suites Denver Northeast/Brighton
948 River Platte Blvd, Brighton, CO 80601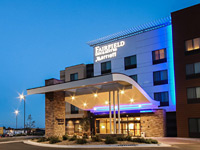 Marriott's representative in Brighton is the Fairfield Inn, open summer 2017, part of a small group of restaurants and hotels on the south side of the city, at the Bromley Lane exit of US 85, also within walking distance of a Walmart superstore. Open countryside begins just to the south, and Barr Lake State Park is just 5 miles away. Hot breakfast and wi-fi are complimentary at the hotel, which also offers a fitness center, indoor pool and three meeting rooms. Most guest rooms have fine views of the Rocky Mountains, which rise up a few miles west.
6.
Comfort Inn Brighton
15150 Brighton Road, Brighton, CO 80601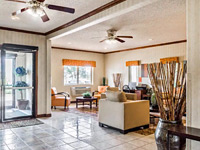 The Comfort Inn is a well established hotel in Brighton, CO - a small town along US 85, 20 miles northeast of central Denver, and relatively close (also 20 miles) to the international airport. The inn serves free deluxe continental breakfast, has amenities of a hot tub, indoor pool & meeting room, and accommodates guests in 52 rooms that all contain a refrigerator and microwave. There is a shopping center just across the street and a few restaurants adjacent; otherwise, the surrounding land, at the south edge of town, is quite lightly developed.

7.
Super 8 Brighton
15040 Brighton Road, Brighton, CO 80601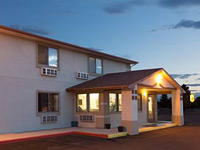 Free continental breakfast, free wi-fi and a business center are the limited amenities of the pet friendly Super 8 Brighton, a small (39 room), interior corridor motel along the southern approach to town, US 85, though accessed from a side road just to the west. Denver International Airport is an easy 18 mile drive away, mostly along Hwy 470. Guests are within half a mile of a good selection of restaurants, and a Wal-Mart store, on the far side of US 85.