Few places in California are further removed from the deserts of the south than the Lava Beds National Monument - about 15 hours drive from San Diego, it lies in an empty and relatively unknown region of wooded hills and grassy prairie, east of the Cascade Range and some distance beyond the north end of the Sierra Nevada. The national monument has large areas of jumbled lava flows, last deposited as recently as 2,000 years ago, mixed with a variety of volcanic features including cinder buttes, spatter cones, chimneys, craters and especially lava tube caves, of which over 400 have been discovered so far. The surrounding countryside also has craters and extensive patches of lava, continuing east to the Cascades and south towards Lassen Volcanic National Park, all associated with the same tectonic system. Apart from the caves, the features are not quite as dramatic as other locations like Lassen and Arizona's Sunset Crater, but their impact is increased by the general remoteness of the surroundings.


Location:
Only one major road passes by Lava Beds National Monument, on the northeast side, though unpaved tracks do approach from the west, the direction from which most visitors originate. The main road is CA 139 which links CA 299 near Alturas with Klamath Falls over the border in Oregon, and from this route a 40 mile scenic drive runs across Modoc National Forest land into the centre of the lava fields, which lie just south of the Tule Lake National Wildlife Refuge, an important resting place for migratory birds. The national forest covers a large area of the far north of California, and many tracks criss-cross the hilly terrain; a good route from the west starts at Macdoel on US 97 and winds through peaceful farming communities in Red Rock Valley then enters the pine forest, passing various lava flows and crosses the national monument boundary from the south, joining the scenic drive near the visitor center.


Lava Beds Maps: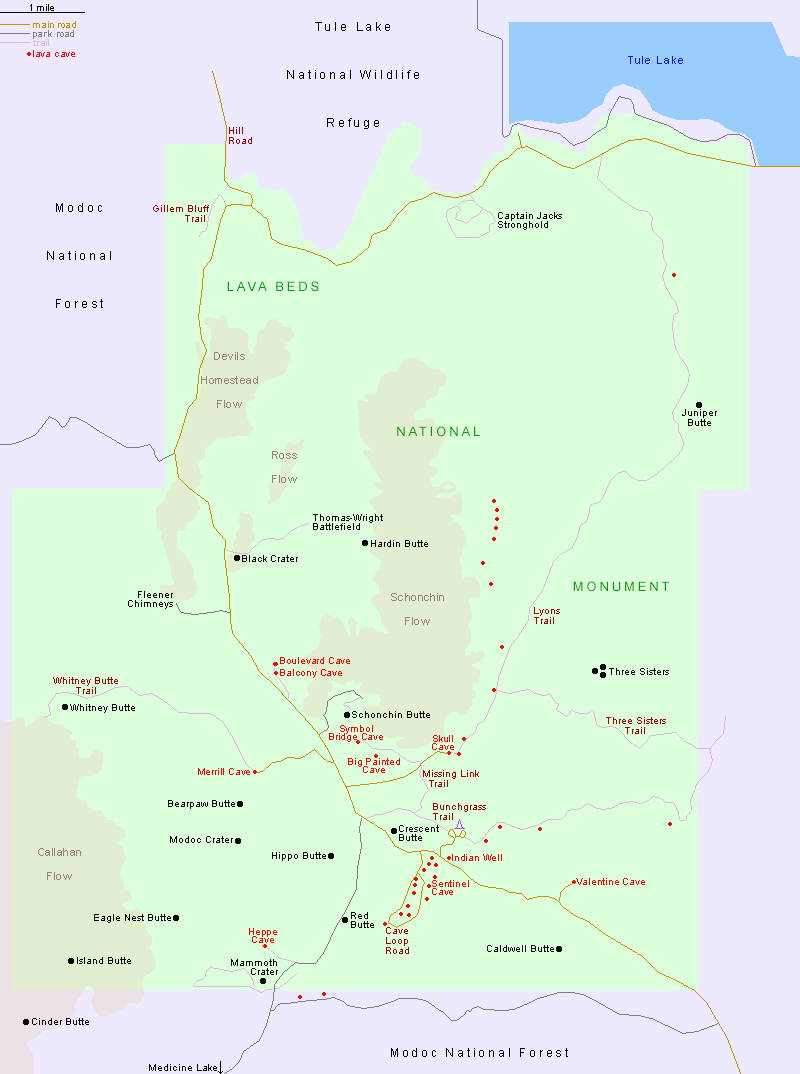 PDF format maps of Lava Beds National Monument, from the National Park Service:



Area map (56 kb)
Detail map (228 kb)


Lava Beds Hotels:
There are few towns with hotels in far north California; the closest to the Lava Beds National Monument are Alturas (60 miles), Weed (68 miles) and Mount Shasta (80 miles). The nearest place is Klamath Falls in Oregon (40 miles).

| | |
| --- | --- |
| Main attractions: | Great assortment of volcanic features, in a particularly remote area of far north California - the monument includes cinder cones, craters, lava fields, and over 400 lava caves |
| Nearest city with hotels: | Klamath Falls, 40 miles |
| Management: | NPS |
| Location: | 41.711889, -121.505535 (visitor center) |
| Seasons: | All year; winter snowfall is relatively light, though it may close the roads and trails for a while |
Lava Beds - Sites


Sites - main points of interest in the monument
Nearby Places - other volcanic features in the vicinity