1.
JW Marriott Le Merigot Beach Hotel & Spa Santa Monica
1740 Ocean Avenue, Santa Monica, CA 90401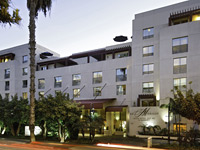 The design and decor of Le Merigot Beach Hotel & Spa resemble that of a luxury south France resort, with high quality European furnishings, attentive staff and a refined, elegant atmosphere. This top of the range Marriott property is situated along Ocean Avenue near downtown Santa Monica, just 200 feet from the beach, and half a mile from the many shopping & dining outlets at Third Street Promenade. The hotel's restaurant is the California-style Cezanne, open for breakfast, lunch, dinner, room service and private dining; dinner is also available in a less formal setting at the Le Troquet Patio Bar. Leisure amenities are headed by the full service Spa Le Merigot, and include a fitness center & outdoor pool, while for meetings/events the Marriott offers 11 rooms catering for up to 200 guests.

2.
DoubleTree Guest Suites Santa Monica
1707 Fourth Street, Santa Monica, CA 90401-3310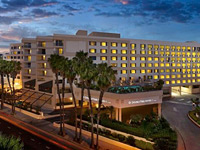 Accommodation at the upscale DoubleTree Guest Suites Santa Monica comprises 254 two room suites, containing a private bedroom, a spacious living area with sofa bed, and a wet bar (sink, coffee maker, microwave, refrigerator), all part of a substantial eight floor building along 4th Street, adjacent to I-10. Locations within one mile include Santa Monica Pier, the International Chess Park and the many shops & restaurants at Santa Monica Place. There are three dining outlets on-site: Cafe Pronto which is open all day for drinks & snacks, Jazz Loft in the atrium lobby and Fourth Street Grille, a full service restaurant. The hotel also provides all the expected facilities for leisure, business and meetings.

3.
Courtyard Santa Monica
425 Colorado Avenue, Santa Monica, CA 90401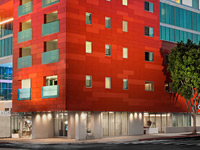 The 136 room Courtyard by Marriott has a fine, central location in Santa Monica on the corner of Colorado Avenue and 5th Street, right opposite the terminus of the Expo Line on the light rail network and less than half a mile from the beach. The many stores and food outlets at Santa Monica Place Mall are just down the street, and there are numerous other attractions within walking distance. The hotel opened early 2017, and its main facilities are a cafe, meeting room, fitness center, and second floor pool with sundeck. Guest rooms feature bright decor, hard wood flooring, LED lights and a large work desk.

4.
Hampton Inn & Suites Los Angeles/Santa Monica
501 Colorado Avenue, Santa Monica, CA 90401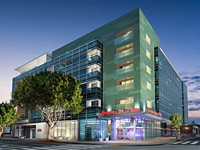 The Hampton Inn is one of a pair of new hotels (Courtyard is the other) constructed in 2016 along Colorado Avenue in downtown Santa Monica, right opposite the Expo Light Rail station, where trains runs east to Hollywood and Los Angeles. All accommodations contain a microwave, refrigerator and 50 inch TV, while the suites also have a wet bar, balcony and extra living space. Select accommodations benefit from partial sea views. Free hot breakfast is served each morning, available in take out version (weekdays only); other amenities are 24 hour fitness & business centers, a second floor loft pool and guest laundry.

5.
Best Western Gateway Hotel Santa Monica
1920 Santa Monica Blvd, Santa Monica, CA 90404-1909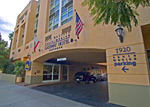 Partly because it lies a short distance (1.5 miles) from the beach and the pier, rates at the Best Western hotel in Santa Monica are a little lower than for comparable properties on the seafront, but not at the expense of facilities or good customer service. The Gateway Hotel sits along famous Santa Monica Boulevard (formerly Route 66), a short walk from a fair selection of restaurants, though for fast food there is an IHOP right on the premises. Wireless internet access, a local area shuttle and parking (underground) are all free - this latter not common for Santa Monica hotels. Other amenities are an exercise room, sun deck, business center, room service and a refrigerator in each of the 123 guest rooms.
6.
Comfort Inn Santa Monica
2815 Santa Monica Blvd, Santa Monica, CA 90404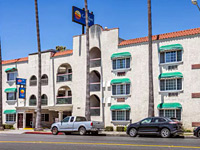 Comfort Inn Santa Monica is another affordable, well regarded hotel along palm tree-lined Santa Monica Boulevard, 2.2 miles east of the Pacific Ocean beaches. Accommodation comprises 108 large, clean, well maintained rooms, all equipped with a refrigerator; some look out over the busy street though most have a quieter aspect. The hotel has an outdoor pool at the rear, positioned to catch the afternoon and evening sun, and other facilities of free parking, free deluxe continental breakfast and free internet access. In the other direction, Santa Monica Boulevard reaches Beverly Hills after 5 miles then Hollywood 4 miles further.

7.
Travelodge Santa Monica
3102 Pico Blvd, Santa Monica, CA 90405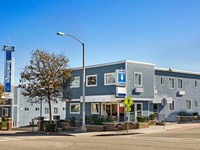 The Travelodge is an inland Santa Monica hotel, along Pico Boulevard 2.8 miles from the beach, near exit 2A of interstate 5. The main road is lined with numerous small shops and restaurants; other locations within one mile include Santa Monica College, Virginia Avenue Park, Spectrum Athletic Center and Santa Monica Airport. The hotel's 84 rooms are divided between four blocks, each of two interior corridor floors, separated by parking lots, and in one case by a peaceful courtyard garden filled with tropical plants. The standard two complimentary amenities (continental breakfast and wi-fi) are provided, together with a business center, coin-operated laundry and bbq grill. Some rooms feature a kitchenette.

8.
Days Inn Santa Monica/Los Angeles
3007 Santa Monica Blvd, Santa Monica, CA 90404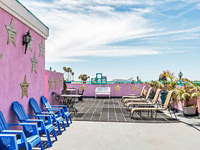 Days Inn Santa Monica is surrounded by an extensive residential area towards the west end of Santa Monica Boulevard (old Route 66), 2.3 miles from the state beach and 5 miles from Beverly Hills. To the north, the land slopes up after a few miles to the hills and canyons of
Santa Monica Mountains National Recreation Area
. The hotel occupies a distinctive four floor building, attractively colored in pastel shades, close to a small selection of restaurants. Free parking is available, in an underground lot, plus free breakfast (continental), free wi-fi and a small fitness room.