1.
Marriott San Diego La Jolla
4240 La Jolla Village Drive, La Jolla, CA 92037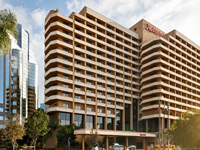 La Jolla's 360 room/suite Marriott hotel adjoins the main shopping area in town, along La Jolla Village Drive - there are well over 100 shopping, dining and entertainment outlets nearby, in and around University Towne Centre Mall. The closest beaches are 3 miles west. The hotel is a typically large, well managed and luxurious establishment with a wealth of amenities, including a California-style restaurant, a sports bar/grill, the Blue Jewel wine bar and a cafe. Most rooms have a full balcony for great views over the wooded surroundings; all feature HDTVs and the extra-comfortable Marriott bedding. The hotel provides plenty of facilities for leisure (indoor pool, outdoor pool, hot tub, fitness center) and business/events (18 meeting rooms; 16,000 sq ft of space).

2.
Hilton La Jolla Torrey Pines
10950 North Torrey Pines Road, La Jolla, CA 92037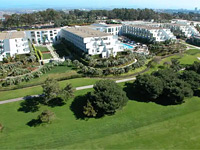 Hilton La Jolla has a beautiful setting beside the lush fairways of Torrey Pines Golf Course, the far side of which borders the Pacific Ocean, just half a mile west. The city center is 6 miles south, while Del Mar is a similar distance north, beyond
Torrey Pines State Reserve
. With 394 guest rooms & suites the Hilton is one of the largest San Diego area hotels, and it offers every conceivable facility. Accommodations are in several blocks around three courtyard gardens, one containing an oversized pool; many rooms have ocean views, from their private balconies. Other leisure facilities are a fitness center, tennis courts and the Spa at Torrey Pines. There are four food & beverage outlets onsite, and 30,000 sq ft of indoor/outdoor function space.

3.
Hyatt Regency La Jolla at Aventine
3777 La Jolla Village Drive, La Jolla, CA 92122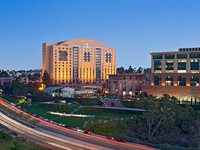 The full service Hyatt Regency is a large, popular and well-managed hotel of 417 guest rooms, prominently located beside Interstate 5 at the Nobel Drive exit, just across from the shops and restaurants of La Jolla Village Square, and from VA San Diego Healthcare; 2.5 miles from the nearest beach. The extensive grounds include an oversized outdoor pool complete with cabanas, bar and firepits, plus a sundeck and two tennis courts. 42,000 sq ft of outdoor/indoor function space caters for events of up to 500 people, in the Aventine Ballroom. There are seven food and beverage outlets on the premises, headed by Cafe Japengo, featuring Pacific Rim-style dishes . A complimentary executive shuttle serves local businesses.
4.
Residence Inn San Diego La Jolla
8901 Gilman Drive, La Jolla, CA 92037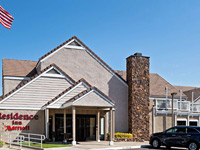 The top choice for long stay accommodation in La Jolla is Marriott's Residence Inn along Gilman Drive, in the hills towards the north side of town, right next to University of California-San Diego. As well as the convenient location, the hotel has good staff, free hot continental breakfast with a wide choice of items, free parking, and spacious suites that contain a full kitchen. The 288 rooms are split into over 30 separate buildings, between which are lawns and trees, plus an outdoor pool and hot tub at one side. On weekday evenings a complimentary manager's reception is staged, while for full dining there are a few restaurants along the next road east (Villa La Jolla Drive).

5.
Embassy Suites San Diego La Jolla
4550 La Jolla Village Drive, San Diego, CA 92122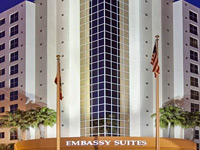 Along La Jolla Village Drive between I-5 and I-805, the Embassy Suites provides upscale, extended stay/all-suite lodging in a tall, 340 room building centered on a floor-to-ceiling atrium lobby; accommodations are accessed by corridors around the perimeter, and most have fine views over the busy surroundings, which include Westfield UTC Mall just across the street and UCSD to the west. Suites feature a separate living area, private bedroom, work desk, wet bar, microwave and refrigerator. Hot breakfast and evening receptions are complimentary, while other meals (and room service) are available from two restaurants on the premises, PF Chang's and Indulge. The usual business, meetings and leisure facilities are provided.

6.
Holiday Inn Express La Jolla
6705 La Jolla Blvd, La Jolla, CA 92037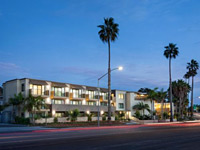 Towards the south side of downtown La Jolla, the 57 room Holiday Inn Express hotel has a good reputation for comfort, value and cleanliness, and is located in a quiet, residential neighborhood along the main road into town (La Jolla Boulevard). Wind and Sea Beach is just 0.2 miles away, the main restaurant/shopping area is about a mile to the north, while San Diego is 13 miles south. Many palm trees line the exterior of the building, and enclose the courtyard garden with outdoor pool/hot tub, all helping to create a peaceful, tropical atmosphere. The hotel serves free continental breakfast and is directly opposite a Mexican restaurant.