Scenery
Boysen Dam was constructed across the Wind River just before it enters a deep ravine (
Wind River Canyon
) through the
Owl Creek Mountains
, which extend upstream for ten miles towards Thermopolis, and reach heights of 2,500 feet above the valley floor. The gorge starts gradually just south of town, narrow and sheer-sided at first but quickly deepening, as the initial sheer layer becomes high above, below which the sides are steeply sloping, covered with grass and bushes. The rocks are ancient sedimentary layers from the Triassic and Precambrian eras, muted grey-brown in color. There are plenty of pull outs along the road for views of the cliffs and the Wind River, as it flows through a thin corridor of tall cottonwood trees. A railway parallels the highway on the opposite bank of the river, crossing over just before the dam, and then running right along the east shore of the lake. The land surrounding the reservoir, at the foot of the mountains, is typical of much of central Wyoming - low mesas, short cliffs and flat plains, covered by sagebrush and short yellowish grass. A few isolated buttes now form tiny islands in the lake, which has flooded 20 miles of the river, though the south end is very shallow, and the length can vary significantly depending on the water level.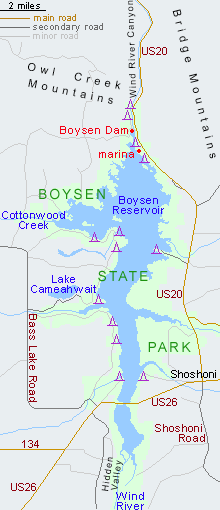 Map of Boysen State Park
Roads and Facilities
The northeast shore of Boysen Reservoir has a marina, ranger station, the state park headquarters and three campsites (Brannon, Tamarask and Tough Creek); this latter is the most scenic, situated on a narrow peninsula. South of here US 20 moves away from the lake into the small town of Shoshoni where US 26 forks west, re-enters the state park and crosses the south end of the reservoir on a causeway. The lesser-used route (Bass Lake Road) to the west side campgrounds - all small and offering limited facilities - branches off soon after, linking with other tracks that wind along the waters edge as far as Cottonwood Creek, a large tributary that puts an end to easy travel further north. The state park charges a day use fee of $6 for the parking areas close to the water, while camping costs $17 per night. South of the lake, US 20 continues alongside the Wind River towards Riverton, across land of the Wind River Indian Reservation.