The Hot Springs
The state park is easy to find in Thermopolis, being just off the main road (US 20) on the north side of town, and well signposted. The place has a slightly confusing layout, with no entrance station and various intersecting paths and tracks, but the main road leads to the parking area next to the larger of the two bathing houses, which is operated by the state and so charges no entry fee. The other pool is a private operation and offers similar facilities, closer to the river. The main spring is located a short distance north, though it isn't much to look at, just an unremarkable shallow pool at the edge of a low hill, enclosed by railings and smelling slightly sulfurous; from here the water runs through several ponds and towards the river, where run-off from other smaller springs combines to form
Rainbow Terrace
, a smooth, patterned travertine formation extending for 1,000 feet. Paths circle the edges and a boardwalk crosses the center, allowing for close-up views, but the best perspective is from the far side of the river, which may be crossed on
Swinging Bridge
- a historic iron suspension bridge that does indeed wobble when in use.
Other Features
Just beyond the main terrace area,
Black Sulphur Spring
is a narrow pit with a floor of gently bubbling sulfurous mud, though the depth of the hole makes the spring difficult to view. Past here the road continues northwards past several sinkholes then loops over the grassy land to the east, occupied by the Hot Springs State Park bison herd. The animals wander freely across the prairie, often close to the road, and can be photographed quite easily. Also available in the state park are picnic areas, flower gardens, a fishing pier and two boat ramps, but no camping facilities.
Map of Hot Springs State Park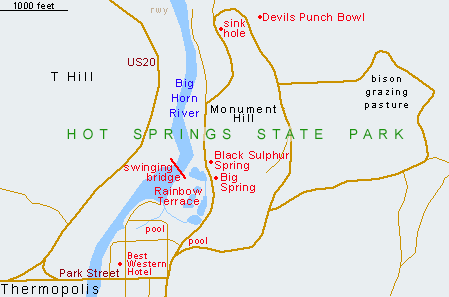 is by general agreement the top choice for hotels in Thermopolis, and it has a privileged location within Hot Springs State Park, just a few minutes walk from the world's largest hot springs and the beautiful Rainbow Terrace on the banks of the Big Horn River. The hotel occupies a historic brick building along Park Street, one block from US 20, and it contains 36 elegantly decorated rooms & suites, some with one or more of a microwave, refrigerator and log-burning fireplace. For relaxation, the Best Western has both an outdoor pool, and a hot tub spa filled by water piped from the springs. Continental breakfast is provided free of charge; for other meals there are several restaurants adjacent.