The main road through
Mexican Hat
(US 163) heads northeast and eventually joins US 191 which goes north to Monticello and Moab, but before this it passes close to the
Valley of the Gods
. This is a smaller scale version of
Monument Valley
, containing tall, red, isolated sandstone mesas and cliffs standing high above the level desert floor, remnants of some ancient landscape. The area may be toured via a 17 mile dirt road (
FR 242
) that winds amongst the eerie formations; this is rather steep and bumpy in a few places but most of the surface is firm and level, and the route should be passable by regular vehicles in good weather.
The western end joins UT 261 shortly before its 1,200 foot ascent up
Cedar Mesa
(see
map
below), while the eastern end starts 9 miles from town along US 163 and travels north, initially crossing flat, open land and following the course of Lime Creek, a seasonal wash, before turning northwest towards the red rock buttes and pinnacles.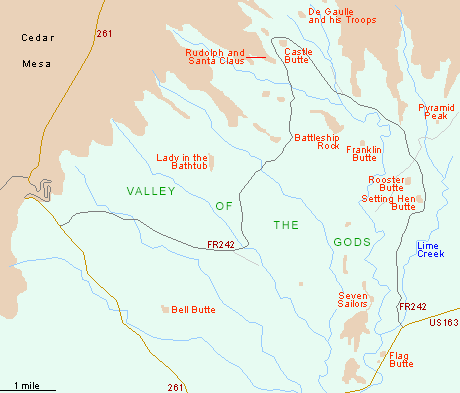 The Valley

There are many places to stop along the scenic drive, and plenty of nice locations for free camping, as the valley lies on BLM land and is completely undeveloped. Since hardly anyone seems to pass by, the area provides a much more relaxing and isolated experience than the famous valley 30 miles southwest, and without any of the restrictions on hiking or camping. Small canyons cut into the cliffs that form the northern boundary of the valley and can be reached after a couple of miles cross-country hiking (as there are no official trails), and the whole region is excellent for photography, especially at sunset when the rocks take on a particularly deep red color. As with Monument Valley, the most prominent peaks in the Valley of the Gods have received fanciful names, all precisely marked on the topographic map, including Rudolph and Santa Claus, Setting Hen Butte, Rooster Butte, De Gaulle and His Troops, and Lady in the Bathtub.


Events

Valley of the Gods received incidental fame as the setting for some of the scenes in the 1980s TV series Airwolf; the helicopter that featured in the show was often seen flying into a cavern at the base of the red cliffs lining the north side of the valley. The location also came to public attention in January 2008, when a coach traveling west along US 163 in snowy conditions lost control during the steep descent from Lime Ridge, veered off the north side of the highway and crashed, ending up right next to the east end of the loop road. A plaque, cross and various artefacts mark the crash site, where nine people died; the coach was returning to Phoenix from a ski trip in Telluride, Colorado.