1.
Wingate by Wyndham Beaver I-15
781 West 1800 S, Beaver, UT 84713-1461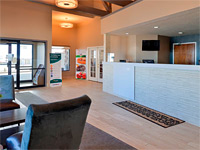 Beaver's Wingate hotel is situated 2 miles southwest of the town center, on the west-side access road of exit 109 of interstate 15, close to Beaver Municipal Airport. The hotel has a quiet, countryside location, and enjoys sweeping views in all directions. The Wingate has an indoor pool - since at an elevation of nearly 6,000 feet, this area is cool for much of the year - a sauna, hot tub, and a whirlpool bath in some of the 52 rooms. Free breakfast is served each morning, including a few hot items, while an adjacent restaurant provides other meals.

2.
Best Western Paradise Inn
300 W 1451 N, Beaver, UT 84713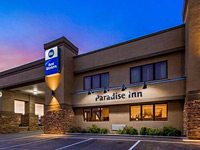 At the north end of Beaver, just east of I-15 exit 112, the Best Western Paradise Inn is a good choice for long distance travelers along the interstate, being exactly half way between Las Vegas and Salt Lake City - 200 miles from both. The 53 room, exterior corridor motel sits at the edge of the countryside, 1.5 miles north of the historic district at the center of Beaver, though there are several restaurants close by, one sharing the parking lot. Highlight of the Best Western is a large heated indoor pool in an all-glass enclosure; other facilities include a hot tub, copy/fax service and a meeting room. Free hot breakfast is provided each morning.

3.
Best Western Butch Cassidy Inn
161 S Main Street, Beaver, UT 84713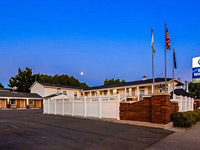 The smaller and more centrally located of two Best Western motels in Beaver is the Butch Cassidy Inn, which faces Main Street one block south of the Center Street intersection, and may be easily reached from either exits 109 or 112 of I-15. The 35 rooms are divided into two exterior corridor blocks enclosing a courtyard parking area with outdoor pool, on the east side of the road. The place is quite old, but the rooms are generally clean, the staff friendly, and the hotel offers free full breakfast & free wireless internet access.

4.
Comfort Inn & Suites Beaver
1540 S Main Street, Beaver, UT 84713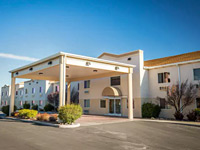 The Comfort Inn & Suites hotel in Beaver, UT, lies 1 mile south of downtown along Main Street (highway 160), just east of exit 109 of interstate 15. The hotel is surrounded by farmland, and its 46 large & clean rooms have views over the 12,000 foot Tushar Mountains to the east and the lower Black Mountains to the southwest. Amenities at Comfort Inn Beaver include an indoor pool, convenience store, exercise room, guest laundry and free breakfast bar. For other meals, the Timberline Restaurant is right next to the hotel. Besides the regular accommodations, various suites are available with one or more of a refrigerator, microwave, sofa bed and whirlpool bath.

5.
Days Inn by Wyndham Beaver
646 W 1400 N, Beaver, UT 84713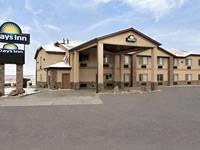 One of a pair of budget-priced Wyndham properties on the north edge of Beaver beside I-15 exit 112, the Days Inn has a quiet, rural setting 700 feet from the interstate, overlooking empty fields to the west. The two floor building is enclosed by a large parking lot, with space for the longest trucks. Inside, the only amenities are the usual coin-operated laundry, free wi-fi and free continental breakfast, plus a games room. All guest accommodations contain a microwave and refrigerator.
6.
Motel 6 Beaver
1345 E 450 NW, Beaver, UT 84713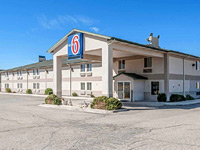 Motel 6 Beaver has an easy-to-find location right next to exit 112 of interstate 15 (east side) in a rural neighborhood 1.5 miles north of the town center but within walking distance of several restaurants. This is a small and budget-priced motel, but still offers a variety of amenities including an indoor pool & hot tub, guest laundry, free coffee, wi-fi and a microwave in all of the 40 rooms. The building is of newer construction, with interior corridors, and presents a generally clean, well maintained appearance.