1.
Courtyard Austin Northwest Lakeline
12833 Ranch Road 620 North, Austin, TX 78750
The Courtyard by Marriott is an early 2018 addition to the group of hotels around the US 183/Hwy 45 intersection in northwest Austin, a short walk from Lakeline Mall and its associated restaurants and other stores. The city center is 18 miles south. Although located in a busy commercial area, the hotel is within a few miles of parkland and forests around Lake Travis on the Colorado River. The 118 room/suite property offers a restaurant/bar, a fitness center and an indoor pool, a business center and a small meeting room.

2.
Staybridge Suites Austin Northwest
13087 US Hwy 183 North, Austin, TX 78750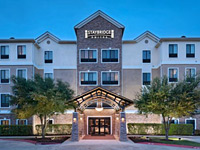 Staybridge Suites Austin Northwest faces US 183 in the middle of the hilly suburbs near the edge of town, opposite the golf course at Balcones Country Club and within a few miles of such sites as the Arboretum, Lakeline Mall and Domain Mall. There are 80 suites available, in two bed, one bed or studio configurations, all with a fully equipped kitchen. Complimentary amenities include wired/wireless internet access, hot breakfast and weekday evening receptions; food and drinks are also available for purchase from the on site convenience store, or from a supermarket just down the road. For leisure, the hotel has a fitness center and outdoor pool.

3.
Hilton Garden Inn Cedar Park Austin
13501 Lyndhurst Street, Building 1, Austin, TX 78717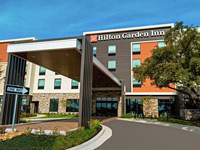 The Hilton Garden Inn is a late 2019 addition to the accommodation choices in northwest Austin, situated along Hwy 45 a little way east of the US 183 intersection, 1.5 miles from Lakeline Mall. There are no facilities in the immediate vicinity, though the hotel does have a restaurant/bar on the premises (open for breakfast, dinner, drinks and room service), plus a 24 hour sundry shop. Guest rooms are equipped with a microwave, refrigerator and work desk. The fitness center is also open 24 hours. 1,700 square feet of event space caters for small to medium sized functions.
4.
Hampton Inn & Suites Austin Cedar Park-Lakeline
10811 Pecan Park Blvd, Austin, TX 78750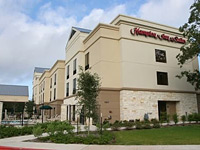 Rooms at Hampton Inn Austin Cedar Park face north and south, looking out over a quiet and scenic neighborhood of trees and houses, a quarter of a mile from FM 620 near the US 183 intersection. Lakeline Mall and associated large stores are within one mile. Guests have a choice of single king bed rooms, dual queen bed rooms and studio suites, the latter equipped with sofa bed, microwave & refrigerator. The hotel provides free hot breakfast every morning, and it also has the usual facilities for leisure, business and meetings.

5.
TownePlace Suites Austin North/Lakeline
13501 Lyndhurst Street, Austin, TX 78729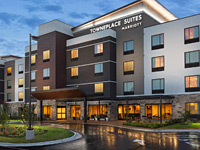 The 103 room TownePlace Suites (open spring 2018) is one of several hotels near the intersection of US 183 with Hwy 45 near Lakeline Mall, 16 miles northwest of the city center. The all-suite, long stay property faces the northern Hwy 45 frontage road, in a wooded neighborhood about half a mile from the nearest restaurants. Suites are available in two bedroom, one bedroom and studio floorplans, and all include a full kitchen. Hot breakfast is complimentary; other features include an outdoor pool, business & fitness centers, a bbq area, and a small meeting room.

6.
Holiday Inn Express Hotel & Suites Austin NW Hwy 620 & 183
12703 FM 620 North, Austin, TX 78750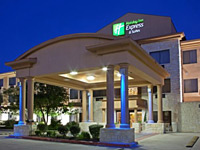 The recently opened, 65 room (all suite) Holiday Inn Express Hotel Austin NW adjoins a residential area along FM 620 - one block west of US 183 in the far northwest suburbs of Austin and 16 miles from the city center. The hotel is located right opposite the 150 store Lakeline Mall and close to various parks, golf courses and country clubs, as well as the many recreational facilities of Lake Travis, a few miles west. The main amenities are a fitness center, guest laundry, free internet access, above average free continental breakfast, and a nice outdoor pool/hot tub, on the sheltered south side of the property.

7.
Candlewood Suites Austin NW - Lakeline
10811 Pecan Park Blvd Bldg 2, Austin, TX 78750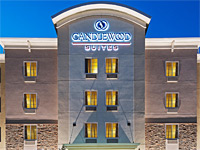 All accommodations at the pet friendly Candlewood Suites Austin Northwest are suites, in one bedroom and studio layouts, and all have a full kitchen, plus a sofa bed in the separate living area. General amenities are an outdoor pool, a fitness center, a business center, a 24 hour convenience store and a dining area for the free hot breakfast. The hotel opened fall 2018, along Pecan Park Boulevard, close to the US 183/Hwy 45 intersection, a short walk from the many shops and restaurants at and around Lakeline Mall. The city center is 19 miles south.

8.
Candlewood Suites Austin North - Cedar Park
1100 Cottonwood Creek Trail, Austin, TX 78613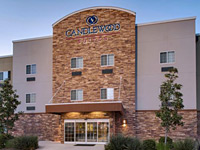 The Candlewood Suites is just about the northernmost hotel in Austin, part of a new development alongside US 183 at the Whitestone Boulevard exit - the hotel is within walking distance of several restaurants and large stores, and less than a mile from Cedar Park Center. The Cedar Park Regional Medical Center is also close by. The hotel caters to the extended stay market, offering 80 well equipped suites featuring a full kitchen, executive desk, DVD player, sofa bed and free internet access. Food can be purchased on site at the Candlewood Cupboard convenience store, for cooking either in the kitchens or on the hotel's bbq grills. Other amenities are a fitness center, business center and guest laundry.

9.
Fairfield Inn & Suites Austin Northwest/Research Blvd
13087 US Highway 183 North, Austin, TX 78750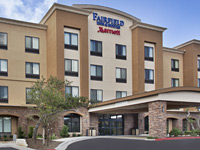 New for 2014, the 84 room/suite Fairfield Inn overlooks US 183 towards the northwest edge of the city, in a generally residential, wooded neighborhood, just across from Balcones Country Club; the nearest restaurants and shops are one mile north, around the junction with Anderson Mill Road - well within the range of the hotel's complimentary five mile radius shuttle. The city center is 15 miles south. Other hotel highlights include the colorful, comfortable lobby, free hot breakfast and an outdoor pool. People here to work can take advantage of a business center and 728 square foot meeting room.

10.
Comfort Suites Austin North
13681 N US Hwy 183, Austin, TX 78750-2209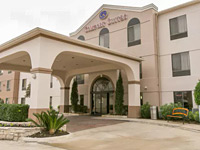 Of the several Comfort Suites hotels in Austin, the northernmost is located along US 183 - 16 miles from the city center in hilly, wooded suburbs at the edge of the Texas Hill Country. There are many shopping and leisure opportunities within a few miles including Lakewood Mall, Balcones Country Club and the Arboretum. Rates are relatively low yet the place enjoys a good reputation, for its helpful staff, clean rooms, quiet location, modern facilities and the quality of the free full breakfast. The hotel also has a business center, outdoor pool, hot tub and a meeting room.

11.
Studio 6 Austin Northwest
11901 Pavilion Blvd, Austin, TX 78759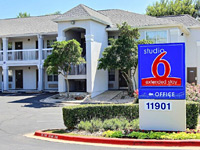 The suites at Studio 6 Austin Northwest are divided into three exterior corridor blocks, arranged around a circular, tree-lined courtyard parking area, with more space at the rear. All accommodations have a full kitchen and ironing facilities, with wi-fi available for a small charge. Coin-operated laundry and a picnic area (plus bbq grills) are the only other amenities; the hotel provides basic, affordable, extended stay lodging. For dining there are two restaurants just down the street. The Studio 6 is located at the edge of a residential neighborhood on the south side of US 183, 7.5 miles from the I-35 intersection and 13 miles from downtown Austin.