Like
Blue Pool Wash
and
Stateline Canyon
,
Wahweap Canyon
(an unofficial name) is a short, narrow ravine through the light grey Entrada Sandstone that lines the shores of
Wahweap Bay
, the western arm of Lake Powell, a few miles from Page in Arizona. The canyon is only 0.6 miles long, enclosed for less than half its length, and the rocks are generally rather dull in color, unlike the rich red/orange of the Navajo sandstone slots to the southeast of Page, yet the passageways are made more photogenic by a tiny, spring-fed stream that flows through part of the narrows, nurturing patches of riparian plants including maidenhair ferns and
stream orchids
.
The lower slot contains a few minor obstructions, leading to a narrow, twisting dryfall, not easily climbable; above is one more confined section, and a second, higher drop-off, before the drainage transitions to a sandy wash.
Topographic Map of Wahweap Canyon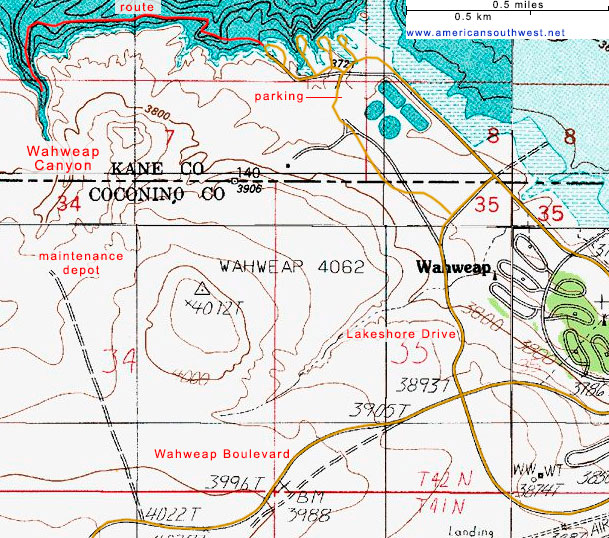 Location
The upper section of Wahweap Canyon can be reached by walking along a gravel track to an NPS maintenance depot, starting just west of the Glen Canyon NRA entrance station along Wahweap Boulevard, but once beyond the initial dryfall there are no routes down to the canyon floor. The best place to park for the hike to the lower narrows is the west side of the large lot serving Wahweap Marina, along Lakeshore Drive, beside the now closed spur road to The Chains area.
Photographs
24 views of Wahweap Canyon
.
Route to the Canyon

The route to the canyon is along the spur road to its furthest loop then down a slope into a little basin - once filled with deep water, now dry and salty - and across to the reddish, boulder-covered slope on the far side; rocks here are from the Carmel Formation, which underlies the Entrada Sandstone, this forming a low, grey cliff above. The slope is followed round a point and westwards for 0.4 miles to the canyon mouth. The slope is initially rather steep, with the lake at its base, but walking becomes easier after a while as the water is replaced by dry mudflats.


The Narrows

The ravine is quite open at first, with bushy banks at either side, but narrows quite quickly as the floor reaches the top of a Carmel Formation strata. The slot starts with a grotto-like passageway lined by orchids and ferns, then narrows further, still containing a small amount of flowing water, and a few small upward steps. A briefly wider channel containing rock fall debris is followed by a shallow pool and patch of quicksand, below a slanted dryfall, and then the narrowest section (with the most graffiti) as the floor starts gaining height more noticeably, soon leading to a twisting dryfall that is difficult to climb.