A short slot canyon with no official name, this joins the far west side of
Lake Powell
about 8 miles north of Page after crossing the Utah/Arizona border, so could reasonably be called
Stateline Canyon
. The drainage is generally quite shallow, with no extremes of narrowness but it does have about half a mile of pretty passages through cream colored Entrada sandstone, and plenty of swirling, eroded rock formations. After several dryfalls it opens out into a wider wash which then meets the lake as a narrow sheltered inlet, opposite
Lone Rock
. The canyon begins right next to US 89 so is easily reached, and is a good place for photography.
Topographic Map of Stateline Canyon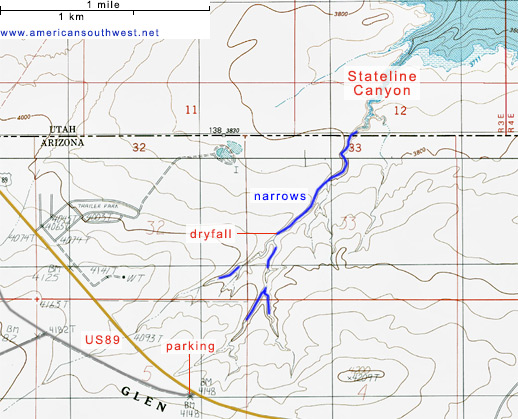 Location
The wash forming the middle fork of the canyon starts on the east side of US 89 about 1.6 miles south of the Arizona/Utah stateline, a short distance south of a new residential development also on the east side, and (almost) directly opposite the end of an old track that heads off to the northwest, later veering west towards
Ferry Swale
,
Stud Horse Point
and other locations above the canyon of the lower Paria River. The junction makes a good parking place, while a little way along the track is a flat, gravelled area suitable for primitive camping.
Photographs
11 views of Stateline Canyon
.
Route Description

The shallow middle fork of the upper wash soon reaches a dryfall of about 12 feet, which can be climbed, or bypassed and the canyon entered just beyond. Below are stretches of medium depth narrows, later becoming less deep, enclosed by clean crisp whitish rocks. The floor is sandy and mostly quite level, and the passages are rather straight, interrupted by a few tight curvy bends and small steps downwards. A right fork joins from one side and a left fork soon after, then the canyon has a sheer drop of 30 feet. This may be passed on the right (east) side, to reach more quite photogenic passages that eventually end with two more dryfalls below which the canyon is wider and less interesting, as it starts to cut into the underlying thin red layers of the Carmel Formation. The lake is reached after another half mile or so, while the cliffs above the shoreline at this point are also accessible by a dirt track starting from the residential area by US 89.