1.
Clarion Inn Ontario
1249 Tapadera Avenue, Ontario, OR 97914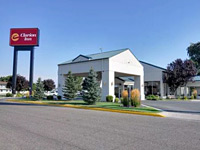 The full service, pet friendly Clarion hotel in Ontario has its own restaurant, Country Kitchen, and a lounge/bar - part of a sizeable hotel of 96 rooms, in two blocks either side of the central garden and outdoor pool. Some accommodations include a microwave, refrigerator and private balcony. The hotel also has a conference center, with 7 meeting rooms, the largest enough for events of 250 people; other facilities are a business center, guest laundry, fitness center and indoor hot tub. There are other restaurants nearby, and several large stores; the Clarion has an easily-reached location in a commercial area beside I-84 (US 30 exit), on the east side of Ontario.

2.
Holiday Inn Express Hotel & Suites Ontario
212 SE 10th Street, Ontario, OR 97914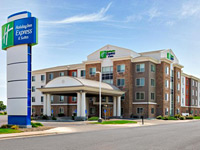 Like nearly all hotels in Ontario, OR, the Holiday Inn Express sits beside I-84 exit 376 (US 30) - on the east side of town, 2 blocks from the Snake River and the Idaho stateline. The elegant, four floor property was built in 2008, and contains 96 rooms & suites, all very clean, large and well maintained, and with views over a lightly developed area on the west side of the interstate; most of the nearby shops & restaurants are on the far side, but still within easy walking distance. The hotel offers free hot breakfast buffet, an indoor pool/hot tub, a fireplace lobby, sun deck, fitness center and business center.

3.
Best Western Plus Inn & Suites
251 NE Goodfellow Street, Ontario, OR 97914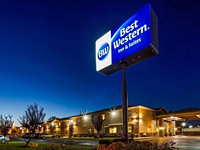 Ontario's Best Western hotel is part of a shopping complex on the east side of I-84 exit 376, one mile from the town center and 50 miles from Boise. There are many restaurants nearby, and superstores including Home Depot and Wal-Mart, while a quarter mile walk reaches the edge of the Snake River, at the Idaho border. All the good sized rooms have a microwave & refrigerator, while some contain a minibar, sofa bed and hot tub bath. Free full breakfast is served each morning, and there are free cookies available in the lobby during the evening. Leisure facilities are the usual pool (indoor), whirlpool and fitness center.

4.
Quality Inn Ontario
139 NE Goodfellow Street, Building A, Ontario, OR 97914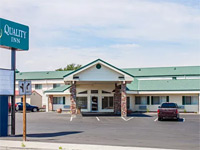 Guest rooms at Quality Inn Ontario are surrounded by a large parking lot, partly shared with an adjacent restaurant. There are plenty more dining outlets nearby, and several large stores; the hotel is a part of the main commercial district in the city, beside Interstate 84 (exit 376). There are no amenities apart from the usual free wi-fi and free continental breakfast, though all accommodations are equipped with a refrigerator/microwave. The hotel is a quarter of a mile from the Snake River.

5.
Sleep Inn Ontario
1221 SE 1st Avenue, Ontario, OR 97914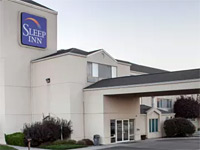 Comfortable, affordable lodging is available on the east side of Ontatio at the Sleep Inn motel, adjacent to the US 30/I-84 intersection, in a small area of shops & restaurants surrounded by farmland, close to the Snake River. The interior corridor inn features an indoor pool/hot tub, a fitness center, free continental breakfast and a coin-operated laundry. Some rooms are equipped with refrigerator & microwave, while several whirlpool suites are also available. Guests are within walking distance of the west bank of the Snake River, and the town center is just one mile away.

6.
Super 8 by Wyndham Ontario
615 E Idaho Avenue, Ontario, OR 97914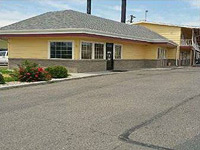 Super 8 Ontario has the traditional, exterior corridor layout, its 70 rooms arranged around two sides of the parking lot, overlooking the outdoor pool. The reasonably-priced inn adjoins a Pilot travel center along US 30 (Idaho Avenue) by the I-84 intersection, and is a short walk from a selection of restaurants. The main amenities are free continental breakfast, a picnic area and a refrigerator/microwave in all accommodations. Many of the guest rooms also contain a sofa bed.

7.
Rodeway Inn Ontario
139 NE Goodfellow Street, Building B, Ontario, OR 97914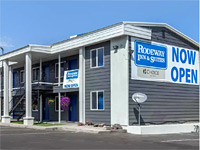 The pet friendly, budget-priced Rodeway Inn Ontario shares a site with a Choice Hotels sister property, the Quality Inn; along Idaho Avenue, near I-84 exit 376, within walking distance of shopping, dining and the Snake River. The motel is small, with rooms on two floors entered via exterior corridors, and it offers amenities of business & fitness centers, free coffee and free wi-fi.
8.
Motel 6 Ontario, OR
275 NE 12th Street, Ontario, OR 97914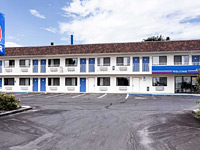 The most affordable choice for chain lodging in Ontario is the pet friendly Motel 6, which faces the I-84 entry lane at exit 376 (Idaho Avenue, US 30), bordered to the north by open farmland. Half the exterior corridor guest rooms have views inwards over the garden and outdoor pool, while the others look out across the parking lot towards the rural surroundings. Wi-fi is complimentary, and some rooms contain a microwave and refrigerator. Also available are free coffee in the mornings, and a coin-operated laundry facility.