1.
Holiday Inn Express Socorro
1040 N California Street, Socorro, NM 87801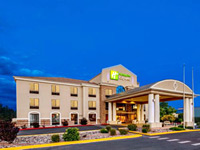 Holiday Inn Express Socorro has become the top rated hotel in town - guests appreciate the attentive staff, the clean & spacious rooms, the comfortable beds, and the above average free hot buffet breakfast. Other facilities are an indoor pool, laundry and a (small) meeting room. The hotel is located near the town center along California Street, a little way south of I-25 exit 150, and is within a short walk of a wide selection of restaurants. For shopping, the nearest supermarket is Wal-Mart, 3 blocks south.

2.
Best Western Socorro Hotel & Suites
1100 N California Street, Socorro, NM 87801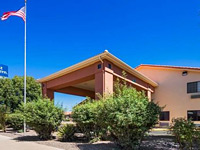 Best Western Socorro is quite a large hotel, with 120 rooms on 2 floors, facing either north or south, and situated towards the north end of town - along California Street, just south of I-25 exit 150. On the premises is a bar/lounge that serves lunch & dinner, and complimentary continental breakfast is also available. Other facilities are an indoor pool, sauna, fitness center, games room, guest laundry, and a microwave/refrigerator in each room. The Best Western was recently remodeled and has a good reputation for cleanliness, comfort and service.

3.
Comfort Inn & Suites Socorro
1259 Frontage Road NW, Socorro, NM 87801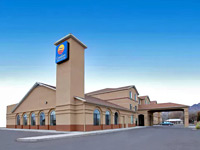 On the north side of Socorro, the 70 room Comfort Inn & Suites has an easily reached location adjacent to exit 150 of interstate 25 (west side), along the frontage road; a quiet part of town with scattered development and farmland, affording views over the Rio Grande Valley towards distant mountains. The hotel has the standard Comfort Inn amenities of free enhanced continental breakfast (including a few hot items), business center, fitness center, meeting room and indoor pool. All guest accommodations contain a microwave and refrigerator.

4.
Days Inn by Wyndham Socorro
507 North California Avenue, Socorro, NM 87801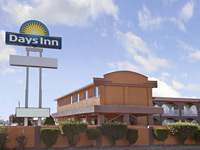 The centrally located Days Inn Socorro provides affordable, reliable accommodation with the three main amenities of an outdoor pool, free continental breakfast (including hot waffles) and free wi-fi. Guest rooms are equipped with a microwave and refrigerator. The place has the traditional two floor, exterior corridor arrangement, the rooms facing northwards, looking over a quiet side street, just off US 60. There are plenty of restaurants nearby and Wal-Mart supermarket 0.3 miles north.

5.
Econo Lodge Socorro
713 California Street NW, Socorro, NM 87801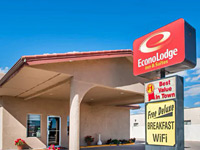 Like most hotels in Socorro, NM, the Econo Lodge sits on the main highway through town (California St), and is part of a long line of restaurants, bars and shops - nearest being a Wal-Mart directly opposite. Friendly staff and reasonable rates are the two main qualities; the place is a fairly standard 2 floor, exterior corridor building, not particularly new, but with a good range of amenities for the price: free continental breakfast, fitness center, outdoor heated pool and hot tub. Some of the 66 rooms have a balcony and a microwave, while also available are a few suites with refrigerator and pull-out sofa bed. There is a restaurant/lounge adjacent.

6.
Super 8 by Wyndham Socorro
1121 Frontage Road NW, Socorro, NM 87801-9909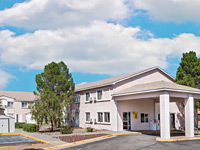 The refrigerator/microwave-equipped rooms at Super 8 Socorro are divided into two interior corridor blocks, both well shielded from the nearby main road (California Street, beside the I-25 exit), and those on the south side overlook a secluded outdoor pool, hot tub & patio. Other amenities are free continental breakfast, free wi-fi and coin-operated laundry. At least six restaurants, and Wal-Mart supermarket, and within 0.7 miles south. One block west is Sedillo Park, featuring sports facilities, a picnic area and childrens' playground.