Tonopah
is 215 miles from
Las Vegas
and 235 miles from
Reno
, so makes a logical place to break the journey. The town is situated at the junction of US 6 and US 95, in the middle of a small range of hills, the
San Antonio Mountains
, once a center for gold and silver mining; spoil heaps rise above the main road through town, and other relics can be viewed at
Tonopah Historic Mining Park
. Facilities in Tonopah are quite limited, and include a small selection of shops, restaurants and lodging, plus a medical center, library and post office. To the west and east, the hills soon give way to wide empty valleys typical of the Great Basin Desert without much of interest to see, but some of the roads are scenic such as
NV 375
which forks off US 6 a few miles east. Somewhat further away (80 miles), are the volcanic features of
Lunar Crater National Natural Landmark
.
Please refer to the
disclosure notice
for information about the affiliate (commissionable) links on this page.

1.
Best Western Hi-Desert Inn
320 Main Street, Tonopah, NV 89049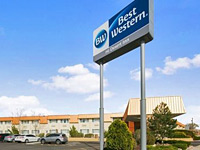 In downtown Tonopah, NV, the pet friendly Best Western Hi-Desert Inn has 88 comfortable, refrigerator/microwave-equipped rooms, an outdoor pool & spa, gift shop and 24 hour front desk, all within walking distance of a selection of shops and restaurants, at least one casino, and Tonopah Historic Mining Park. The hotel is situated on the main highway through Tonopah, US 6/95, and enjoys mountain views both north and south. Free hot breakfast is served each morning, and a free shuttle is provided to the local airport.

2.
Comfort Inn Tonopah
890 N Main Street, Tonopah, NV 89049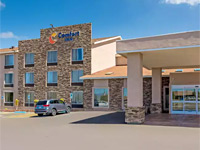 The Comfort Inn is a new hotel in Tonopah, open summer 2019, built in a lightly developed area on the northwest side of town along Main Street (US 95) - near a couple of restaurants but mostly surrounded by open plains. Facilities are limited to free hot breakfast and a basic business center, but rates are affordable and the location convenient. All guest rooms are equipped with a microwave, refrigerator and coffee maker.
All hotel listings link direct to the brand website for reservations and for the guaranteed lowest rates
Nearby Cities
Beatty
, 93 miles
Bishop
, 116 miles
Nevada Hotel Brands
New Hotels in Nevada