1.
Cielo Hotel, an Ascend Hotel Collection Member
651 N Main Street, Bishop, CA 93514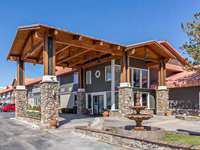 The Cielo Hotel, part of the Ascend Collection from Choice Hotels, has a central location in Bishop along Main Street (US 395), part of a long line of shops, restaurants and other businesses. Bishop City Park, directly opposite, offers sports and leisure facilities, plus a pond and walking trails. Hotel amenities are fitness & business centers, a meeting room, free wi-fi and free hot breakfast. Guest rooms are modern in appearance, and some feature extra living space including a sofa bed.

2.
Holiday Inn Express Hotel & Suites Bishop
636 North Main Street, Bishop, CA 93514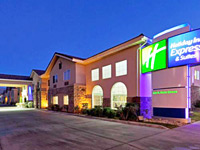 The Holiday Inn Express hotel in Bishop occupies a long, thin building along Main Street, just south of a city park and an easy walk from all necessary amenities in the town center including various restaurants and a supermarket. An indoor pool/whirlpool, sauna, fitness center, 24 hour business center & guest laundry are the main amenities, plus a refrigerator, microwave & free high speed internet access in every room and suite. Complimentary breakfast is served, with a few hot items like bacon and omelets.

3.
Best Western Bishop Lodge
1025 N Main Street, Bishop, CA 93514-2407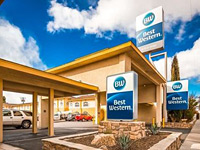 Best Western Bishop Holiday Spa Lodge has a good location along the main road through Bishop (US 395), just opposite the main supermarket/shopping area in town, adjacent to several restaurants, and close to the Tri County Fairgrounds. Some of the 89 rooms have views westwards over the Sierra Nevada, while others look north towards the volcanic tableland that marks the north end of Owens Valley. The hotel has a sheltered outdoor pool, away from the road, an indoor bbq/picnic area, guest laundry, and refrigerator/microwaves in each room; free continental breakfast is provided.

4.
Comfort Inn Bishop
805 N Main Street, Bishop, CA 93514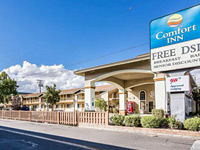 Comfort Inn Bishop is one of several hotels along Main Street (US 395) through the center of town, offering 89 north or south-facing, microwave/refrigerator-equipped rooms on two floors accessed by exterior corridors, with an outdoor pool/hot tub at one side, away from the road. There are several shops adjacent to the inn, and a good selection of restaurants. Amenities include free hot breakfast, guest laundry and a refrigerator in each room. Pets are welcome, for a small fee.

5.
Quality Inn Bishop
150 E Elm Street, Bishop, CA 93514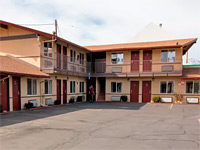 The Econo Lodge is a little quieter than most motels in Bishop, being just off Main Street along a side road, a short walk from Bishop City Park. The inn has 55 rooms on one or two floors, most arranged around the parking lot, at the center of which is a small outdoor pool. Facilities are fairly standard for a low price motel: free continental breakfast, free wi-fi, free local calls and copy/fax services. Pets are welcome. All rooms contain a microwave and refrigerator; some have a whirlpool bath.

6.
Days Inn by Wyndham Bishop
724 West Line Street, Bishop, CA 93514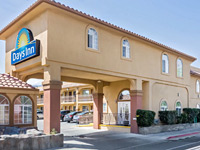 Days Inn Bishop sits along Hwy 168, close to the west edge of town, opposite the local high school and backing on to a patch of woodland. Northern Inyo Hospital is one block west, while in the other direction are many shops, bars and restaurants, around the junction with Main Street. The pet friendly motel is small, with 33 exterior corridor rooms, mostly facing east, overlooking the parking lot, which is entered by a driveway underneath part of the building. Guests can take advantage of an outdoor pool, indoor hot tub and free continental breakfast.

7.
Travelodge by Wyndham Bishop
155 East Elm Street, Bishop, CA 93514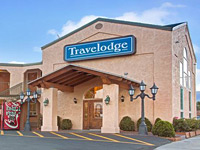 Although occupying an older, exterior corridor building, all rooms and public areas at Travelodge Bishop are clean, nicely decorated and well maintained, and the hotel has a good range of facilities including an outdoor pool, spa, meeting space and a high-ceiling dining area for the free continental breakfast. All accommodations contain a microwave, refrigerator & coffee maker; some have a balcony. Adjacent to the hotel, Bishop City Park features a swimming pool with slide, lake, sports facilities, paths and picnic areas. There are various shops and restaurants within walking distance.

8.
Super 8 by Wyndham Bishop
535 S Main Street, Bishop, CA 93514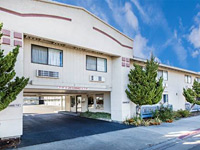 The Super 8 is the southernmost motel in Bishop, and so the first to greet travelers along US 395 from Ridgecrest and Death Valley. All guest rooms contain a refrigerator and coffee maker, and some have views of the Sierra Nevada to the west. The motel has the familiar exterior corridor design, the rooms on two floors, along two sides of the parking lot, which has an outdoor pool in one corner, away from the main road. There is one restaurant next door, though most facilities in town are between 0.5 and 1.5 miles away northwards. Free continental breakfast is provided each morning.