1.
Hampton Inn Las Vegas North Speedway
2852 E Craig Road, North Las Vegas, NV 89030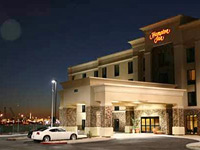 Hampton Inn Las Vegas North is located beside I-15 at the Craig Boulevard exit, midway (6 miles) between Las Vegas Motor Speedway and the city center, and 4 miles west of Nellis AFB. The modern, four floor property adjoins a shopping/entertainment center that includes Century Casino, though most of the neighborhood is a business district. There are 96 rooms available, all equipped with a refrigerator, microwave, coffee maker and ironing facilities. The meeting space caters for events of up to 48 people. Free hot breakfast is served.

2.
Home2 Suites by Hilton Las Vegas North
4365 E Craig Road, North Las Vegas, NV 89115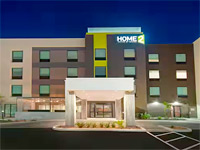 Open summer 2023, the Home2 Suites is an all-suite/extended stay property, offering accommodations in studio and one-bedroom layouts, all with separate living space, and a full kitchen, including dishwasher, sink, microwave and (on request) burner cooktop. An outdoor pool, fitness center and free hot breakfast are the main amenities. The hotel is situated at the corner of Craig Road and Lamb Boulevard, just over a mile from I-15 (exits 48 and 50), in a mixed residential/industrial neighborhood. Las Vegas Motor Speedway is 4 miles northeast.

3.
TownePlace Suites Las Vegas North I-15
4360 Nexus Way, North Las Vegas, NV 89115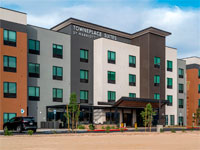 The TownePlace Suites by Marriott offers long stay/all-suite accommodation (two bedroom, one bedroom and studio layouts), all with sofa bed and full kitchen. Complimentary hot breakfast is provided each morning. The 119 room property is situated beside the Amazon Fulfillment Center, at the Lamb Blvd exit of Interstate 15, eight miles north of downtown Las Vegas. There is one restaurant close by and many more along Craig Road a few blocks south. The hotel has a fitness center and an outdoor pool.

4.
SpringHill Suites Las Vegas North Sppedway
2910 E Craig Road, North Las Vegas, NV 89030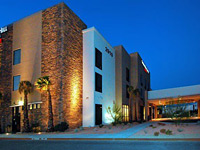 The extended stay SpringHill Suites by Marriott is built at the edge of an industrial area in North Las Vegas, along Craig Road, just west of I-15 (exit 48) and near such locations as Nellis AFB, Shadow Creek Golf Course, College of Southern Nevada and Las Vegas Speedway. There are many restaurants and shops a short walk away to the west. The all suite property features a kitchenette area in all rooms (refrigerator, sink, microwave), free hot breakfast, a business center, meeting space and a swimming pool.

5.
Holiday Inn Express Las Vegas-Nellis
4035 N Nellis Blvd, Las Vegas, NV 89115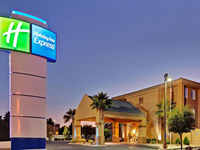 One of the most northerly hotels in Las Vegas, the Holiday Inn Express along Nellis Boulevard makes a good base from which to visit the nearby Las Vegas Motor Speedway or the Nellis AFB. The hotel lies one block from Las Vegas Boulevard, still in a developed area but with patches of empty land nearby; the start of the open desert is a mile to the north. All rooms include a microwave and refrigerator, and the hotel has an outdoor pool, whirlpool, business center and fitness center. Free breakfast buffet is served, including a selection of hot items.

6.
Best Western Plus North Las Vegas Inn & Suites
4540 Donovan Way, North Las Vegas, NV 89081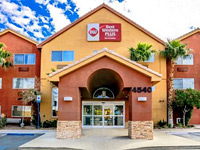 The Best Western Plus is a relatively recent hotel in North Las Vegas, built right next to I-15 - on the west side of the interstate adjacent to exit 48 (Craig Road), and 12 miles north of the casinos of the Strip. The surroundings are mostly industrial but this is a quiet neighborhood, and hotel has a good reputation for cleanliness, comfort and service. Accommodation comprises 74 rooms & suites (the latter with microwave/refrigerator), while the main amenities are a fitness center, outdoor pool, whirlpool, guest laundry and a small business center. Free full breakfast is served; for other meals the nearest restaurants are half a mile away along Craig Road.

7.
Comfort Inn & Suites Las Vegas
4375 E Craig Road, Las Vegas, NV 89115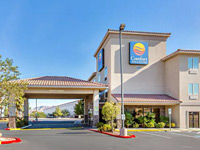 Guest rooms at Comfort Inn Las Vegas look out over a quiet, industrial/residential neighborhood right on the north edge of the city, a few blocks from Nellis Air Force Base, and also close to Las Vegas Motor Speedway, Community College of Southern Nevada, and Shadow Creek Golf Course. The large, modern, 3 floor hotel sits on the corner of Lamb Boulevard and Craig Road, a mile along either road from interstate 15 (exits 50 and 48 respectively), and adjacent to several restaurants. Guests can take advantage of free deluxe continental breakfast, an outdoor pool, hot tub and exercise room.

8.
Super 8 by Wyndham Las Vegas Nellis AFB Area
4435 Las Vegas Blvd N, Las Vegas, NV 89115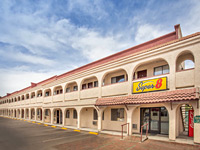 The pet friendly, budget-priced Super 8 offers 110 guest rooms, in two long, exterior corridor blocks either side of the spacious central parking area, which has an outdoor pool on the north side, well away from the main road (Las Vegas Boulevard, near the Craig Road intersection). The immediate neighborhood is mostly residential, but there are many restaurants & shops nearby, plus such locations as Mike O'Callaghan Federal Medical Center, Community College of Southern Nevada and Nellis AFB. Rooms are available with sofa bed and hot tub bath. Wi-fi and continental breakfast are complimentary.