1.
JW Marriott Las Vegas Resort & Spa
221 N Rampart Blvd, Las Vegas, NV 89145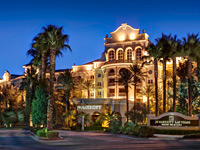 Considered one of the top hotels in all Las Vegas, the 545-room/suite JW Marriott Resort is surrounded by 50 acres of landscaped desert towards the west edge of the city in the Summerlin area - about half way (ten miles) between the Strip and the unspoilt scenery at
Red Rock Canyon
. The luxurious, well managed resort has an AAA Four Diamond rating and provides comprehensive facilities for leisure, business, meetings and events. Amongst the many highlights are 11 restaurants & bars, a casino, a large pool complex with waterfall, cabanas & bar, the TPC Las Vegas golf course, the Aquae Sulis Spa & Salon, and 100,000 square feet of meeting space.
2.
Hampton Inn Las Vegas/Summerlin
7100 Cascade Valley Court, Las Vegas, NV 89128
The Hampton Inn is a northwest Las Vegas hotel, along US 93 in the Summerlin district, within a mile of such locations as Cheyenne Commons Mall, Mountainview Hosital and Doc Romero Sports Park, plus several golf courses and many corporate buildings. The north end of the Las Vegas Strip is ten miles away. The hotel provides free hot breakfast, available in a take-out version for guests in a hurry (Mon-Fri), together with free tea & coffee in the lobby. Guests here to work can take advantage of a business center and a 25 person meeting room. All accommodations contain a refrigerator and microwave.
3.
Hampton Inn & Suites Las Vegas-Red Rock/Summerlin
4280 S Grand Canyon Drive, Las Vegas, NV 89147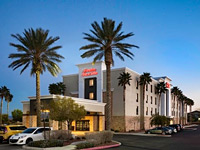 West-facing rooms at Hampton Inn Las Vegas/Summerlin have fine views of the Spring Mountains and the colorful cliffs of
Red Rock Canyon NCA
, the main entrance to which is just ten miles away. In the other direction, a quick drive all along Flamingo Avenue reaches the Las Vegas Strip after 7 miles. The 106 room/suite hotel is part of an extensive shopping/dining/entertainment complex right on the southwest edge of the city alongside Bruce Woodbury Parkway, and it enjoys a quiet setting, 700 feet away from the freeway. Amenities are free hot breakfast, free wi-fi, a pool & fitness center, a 24 hour business center and meeting space for 35 people.

4.
Home2 Suites by Hilton Las Vegas Southwest I-215 Curve
8470 W Sunset Road, Las Vegas, NV 89113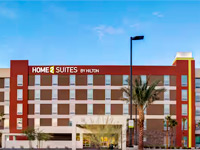 New for summer 2023, the Home2 Suites is situated in a developing neighborhood of west Las Vegas, along Sunset Road near the curve on I-215, 6 miles west of the Strip. In the vicinity are a small selection of restaurants, business premises, and shops including IKEA. Some guest rooms have views of the colorful cliffs of Red Rock Canyon, with the Spring Mountains beyond. All accommodations are suites, one bedroom and studio, equipped with a full kitchen. The hotel has a fitness center and outdoor pool, and it provides free hot breakfast.

5.
Home2 Suites by Hilton Las Vegas Northwest
8906 W Deer Springs Way, Las Vegas, NV 89149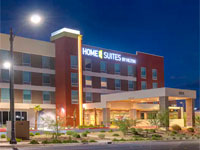 Accommodations at Home2 Suites by Hilton are studio or one bedroom suites; all have a full kitchen. The hotel opened summer 2022, in northwest Las Vegas along Deer Springs Highway at the Durango Road intersection, close to US 95 and the Las Vegas Beltway, and a short walk from Centennial Hills Hospital - the most northwesterly hotel in Las Vegas. Shopping and dining are nearby, at Montecito Crossing Mall.. Free breakfast is provided; also available are an outdoor pool, a fitness center and meeting/event space.
6.
Element Las Vegas Summerlin
10555 Discovery Drive, Las Vegas, NV 89135
The Element by Westin is part of the Summerlin district near the western edge of Las Vegas, just 1.5 miles from the desert hills of
Red Rock Canyon NCA
, reached via Blue Diamond Road a short distance north. The hotel backs on to the Las Vegas Beltway at the Town Center Drive exit, near several health centers and one mile from a good selection of restaurants along Flamingo Road. Accommodations are either regular rooms, equipped with kitchenette, or suites (studio and one bedroom), all with a full kitchen. Complimentary hot breakfast is served each morning, and the hotel has a pantry that provides 24 hour dining. recreation amenities are a 24 hour fitness center and an outdoor pool.

7.
Holiday Inn Express Hotel & Suites Las Vegas SW - Spring Valley
6220 S Rainbow Blvd, Las Vegas, NV 89118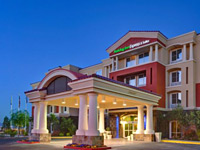 Towards the southwest corner of Las Vegas, the Holiday Inn Express I-215 serves the quickly expanding suburbs of this part of the city. The hotel has partly rural surroundings though it is only 4 miles from I-15 and 9 miles from the international airport. Exit 15 (S Rainbow Boulevard) of the 215 beltway is 2 blocks to the south, while a short distance north are various restaurants and shops. The Holiday Inn Express has a particularly good reputation, for its efficient staff, modern design & decor, cleanliness, and the facilities - which include a free airport shuttle, fitness center, outdoor pool, hot tub, free continental breakfast, guest laundry and a meeting room.

8.
Best Western Plus Las Vegas West
8669 W Sahara Avenue, Las Vegas, NV 89117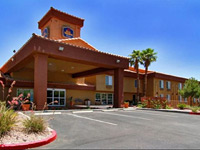 Best Western Plus Las Vegas West is a recently renovated boutique hotel near the community of Summerlin, towards the western edge of greater Las Vegas along Sahara Avenue. This is an upmarket residential area, and nearby attractions include the Canyon Gate Country Club (just the other side of Sahara), Badlands Golf Club, Tournament Players Club at Summerlin, and the Angel Park Golf Club. The three floor hotel has 59 rooms, an indoor pool/whirlpool, exercise facility, newsstand and facilities for meetings/business. As well as standard dooms, several types of suite are available - some with a kitchenette, others with a whirlpool bath. Free full breakfast is served.

9.
Fairfield Inn & Suites Las Vegas Northwest
5701 Sky Pointe Drive, Las Vegas, NV 89130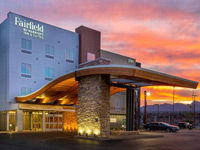 Open late 2019, the 87 room/suite Fairfield Inn is located beside US 95 at the Ann Road exit in the Centennial Hills district, just five miles from the edge of the city and the start of the desert, and 20 miles from the forested high country of
Mount Charleston
. There are several restaurants within walking distance, and Albertson's supermarket; otherwise, the surroundings are mostly residential. Hotel features include free hot breakfast, a fitness center and outdoor pool, meeting space and a gift shop.