1.
Hampton Inn Elko
674 Cimarron Way, Elko, NV 89801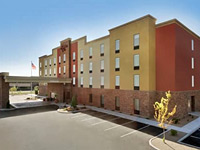 Hampton Inn Elko is located along Hwy 255 a short distance from Elko Regional Airport (free shuttle available) on the southwest side of the city. Nearby are a casino and a selection of restaurants and shops, including Smith's supermarket. Interstate 80 is half a mile north. Guest rooms include a number of suites featuring a sofa bed and extra living space. Free hot breakfast is provided, and a convenience store sells drinks, snacks and cookable meals, 24 hours a day. A 633 square foot meeting room caters for events of up to 30 guests. The hotel also has an indoor pool and a fitness center.

2.
TownePlace Suites Elko
2625 East Jennings Way, Elko, NV 89801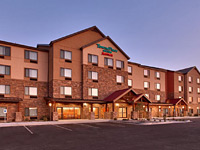 The one Marriott hotel in Elko is the 4 story, 85 room TownePlace Suites this was also the first hotel from this chain anywhere along I-80 for the 530 miles between Reno and Salt Lake City. Like most others in town, the property is built adjacent to exit 303 of the interstate, but on the less developed west side of the highway, next to Ruby View Golf Course. The bright and spacious suites are available in two bed, one bed and studio configurations, all equipped with a full kitchen; also available are a convenience store, free breakfast, a pool and fitness center.

3.
Holiday Inn Express & Suites Elko
2542 Ruby Vista Drive, Elko, NV 89801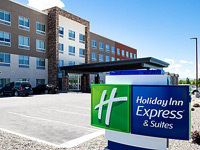 A new Holiday Inn Express hotel in Elko opened early 2020, part of a developing area of apartments and other businesses at the Jennings Way exit of I-80; a slightly elevated neighborhood with good views south across the Humboldt River valley. There are several restaurants within walking distance, mostly along Idaho Street on the far side of the interstate. The 98 room/suite hotel offers an indoor pool, a 24 hour business center and a fitness center. Free hot buffet breakfast is provided.

4.
Best Western Elko Inn
1930 Idaho Street, Elko, NV 89801
With amenities including an indoor heated pool/hot tub, fitness center, conference room, business center and free full breakfast as well as 108 clean, spacious guest rooms on two floors, the Best Western Elko Inn is well equipped for both travelers cross-country and those visiting Elko or the nearby national forest lands. The interior corridor inn is found towards the northeast of Elko along the main road through town (Idaho St), reached from exit 303 of I-80 and within walking distance of Elko Shopping Center Mall, restaurants and casinos.

5.
Comfort Inn Elko
2970 Idaho Street, Elko, NV 89801
Comfort Inn Elko is part of a group of shops, restaurants and other hotels near the northeast edge of town, in a narrow belt of land between I-80 and the Humboldt River. Exit 303 of the interstate is just 2 blocks away, while downtown Elko lies 1.5 miles southwest along Idaho St. This is quite a small hotel, but clean & quiet, catering for guests in 51 north or south facing rooms (equipped with microwave/refrigerator), and has an indoor pool, fitness room, health club/spa, sauna and breakfast bar.

6.
Quality Inn & Suites Elko
3320 EIdaho Street, Elko, NV 89801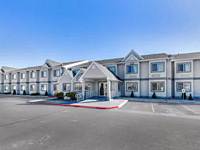 Simple, clean, comfortable accommodation at reasonable rates is on offer at Quality Inn Elko, a well-reviewed motel near the east edge of town, along Idaho Street. The lodge has a newer, interior-corridor layout with 61 rooms containing a microwave & refrigerator, looking out over mostly undeveloped land though with I-80 running close by just to the north. Within half a mile towards the town center are various restaurants, a shopping center, and the main casino in Elko, the Red Lion. The one main amenity of the Quality Inn is free continental breakfast.

7.
Ramada by Wyndham Elko Hotel at Stockmen's Casino
340 Commercial Street, Elko, NV 89801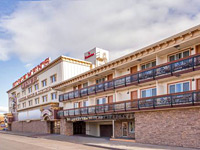 Formerly known as the Stockmen's Hotel, the Ramada is the main casino/hotel in downtown Elko, located in a bustling commercial district with bars, restaurants and other attractions, two blocks from the Humboldt River. The nearest I-80 exit (301) is 2 miles away. The hotel proves free hot breakfast, and other meals are available from the onsite restaurant. The casino features 90 slot machines and a showroom. The hotel also has an outdoor pool, in the secluded central courtyard, plus a coffee shop and six meeting rooms. Select accommodations include one or more of a hot tub bath, kitchenette or balcony.

8.
Baymont by Wyndham Elko
95 Spruce Road, Elko, NV 89801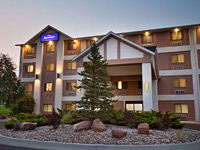 The Baymont Inn hotel in Elko has a quiet location on sloping ground at the edge of a shopping center that includes various restaurants and such stores as Walmart and Big K; on the north side of Interstate 80 at the Hwy 225 intersection. Elko Regional Airport is one mile south. The property is quite large, with four floors and 119 rooms, all containing a coffee maker, refrigerator and microwave. Rates are low, reflecting the limited amenities, of free wi-fi, a fitness center and a meeting room.

9.
Days Inn by Wyndham Elko
1500 Idaho Street, Elko, NV 89801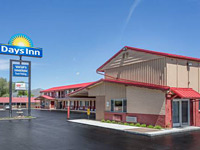 Rooms at Days Inn Elko have views northwest, across Idaho Street to a tree-lined city park with playground & picnic area, or southeast, over railway lines and the Humboldt River to open countryside beyond. The exterior corridor motel is surrounded by ample parking space, catering for the largest trucks (at the rear), charges low rates, and has amenities of free wi-fi, free continental breakfast and a microwave/refrigerator in each guest room.

10.
Travelodge by Wyndham Elko
1785 Idaho Street, Elko, NV 89801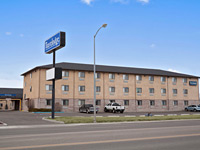 Elko Travelodge is a medium sized motel of three floors and 61 rooms, all of which contain a refrigerator and microwave, and look out over a peaceful neighborhood that includes three city parks, towards the north side of town along the main road to the center (Idaho Street). The usual two complimentary amenities of wi-fi and continental breakfast are provided, together with guest laundry and basic business services.

11.
Super 8 by Wyndham Elko
1755 Idaho Street, Elko, NV 89801-4025
The Super 8 adjoins City Hall and a sports park, located in a generally quiet neighborhood just off Idaho Street towards the center of Elko, 0.7 miles from the nearest I-80 exit. Elko Convention Center is just down the road and there are two restaurants opposite. The pet friendly, interior corridor motel offers just the basic amenities, of free wi-fi, free continental breakfast and coin-operated laundry.

12.
Rodeway Inn Elko
736 Idaho Street, Elko, NV 89801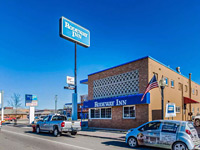 In the downtown Elko, the Rodeway Inn has an easily-reached location along the main road though town, Idaho Street (NV 535), a short distance from exit 301 of I-80. Superstores, restaurants, local transportation and casinos are all within 2 miles of the hotel, which offers free continental breakfast, guest laundry and microwaves in all rooms. Room rates are low but the inn has a good reputation in Elko, for its cleanliness, friendly staff and the above average quality of the furnishings.
13.
Motel 6 Elko
3021 Idaho Street, Elko, NV 89801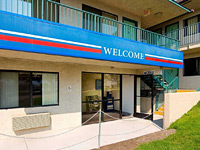 Motel 6 Elko backs on to Interstate 80 at exit 303 (Jennings Way), in a lightly developed neighborhood on the north side of town, though just a short walk from a shopping center with a selection of restaurants. The place is quite large, offering 122 rooms, in a long, two floor, exterior corridor building which has an outdoor pool at the rear and is partly shielded from the surrounding roads by bushy trees. The low rates are the main reason to stay, as the only other amenities are wi-fi and guest laundry.