Winnemucca
is the largest of the small number of cities along I-80 in north Nevada, with the best selection of lodging and other services. About half way (165 miles) between Reno and Wells, the city is centered on the Union Pacific railroad, with a mostly residential neighborhood to the south and the business district/downtown area to the north, bordered by the interstate, with the
Humboldt River
just beyond. Most facilities are along the main street, Winnemucca Boulevard.
There are several mountain ranges nearby, highest being the
Sonoma Range
to the south, but they are not part of national forest land and contain no sites of particular interest. The nearest attraction (45 miles) is
Rye Patch State Recreation Area
, a branched reservoir on the Humboldt River, enclosed by low desert hills.
Please refer to the
disclosure notice
for information about the affiliate (commissionable) links on this page.
Map of Hotels in Winnemucca, NV

1.
Holiday Inn Express Winnemucca
1987 W Winnemucca Blvd, Winnemucca, NV 89445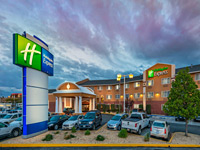 Winnemucca's Holiday Inn Express is the first hotel to greet travelers arriving from the southwest, located on Winnemucca Boulevard (NV 289) beside exit 176 of interstate 80, next to a Wal-Mart store, at the edge of town. A restaurant and R&L's Express Casino are right next door, while the center of Winnemucca is one mile northeast. The main hotel amenities are an indoor pool, whirlpool, guest laundry, ATM, business center and meeting space. Free hot breakfast buffet is provided each morning. All accommodations contain a microwave and mini refrigerator.

2.
Candlewood Suites Winnemucca
460 E Winnemucca Boulevard, Winnemucca, NV 89445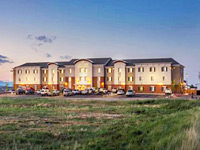 The Candlewood Suites is the only all-suite/extended stay hotel in Winnemucca, catering for guests in extra large and well-equipped rooms that all contain a full kitchen and executive work desk. The hotel has a northerly location in Winnemucca close to I-80 exit 178, near a few restaurants and gas stations; most facilities in town, including the local supermarket, are a mile or so south, though Winnemucca Convention Center is just 0.4 miles away. A fitness center, convenience store, business center and free wi-fi are the main amenities.

3.
Best Western Gold Country Inn
921 W Winnemucca Blvd, Winnemucca, NV 89445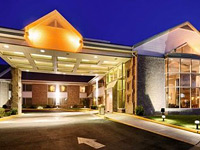 The 71 room, interior corridor Best Western Gold Country Inn sits just a few blocks from downtown Winnemucca and is easily reached from two exits of I-80; 176 south of town or 178 to the north. The hotel features an outdoor pool next to a small garden, spacious rooms with patios or balconies, free continental breakfast and a courtesy shuttle to the municipal airport, 6 miles south. There are several restaurants and casinos nearby, and a supermarket just down the street.

4.
Quality Inn Winnemucca
638 Madison Avenue, Winnemucca, NV 89445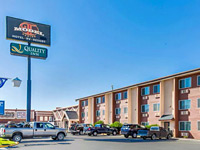 Quality Inn Winnemucca is one of many hotels along the main road through town, Winnemucca Boulevard (NV 289), half a mile southwest of the center. The inn has a wide range of facilities with a casino (Model T), lounge/bar, restaurant and convenience store all on site, plus an RV campground and outdoor pool. There is enough parking space for the largest trucks. The hotel operates a shuttle to selected sites nearby, including the Greyhound station, train station and local cinema. Guest rooms are large, if a little dated.

5.
Days Inn By Wyndham Winnemucca
714 W Winnemucca Blvd, Winnemucca, NV 89445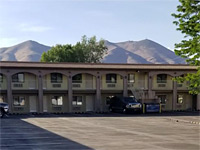 Free breakfast, free wi-fi, bbq grills and a business center are the limited amenities of Days Inn Winnemucca, a typical two floor, exterior corridor motel along the main road through town, US 95. In the vicinity are a movie theater and several restaurants, while all facilities in the area are within one mile.

6.
Super 8 by Wyndham Winnemucca
1157 W Winnemucca Blvd, Winnemucca, NV 89445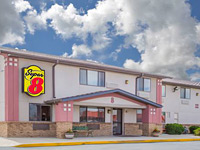 Although situated along busy Winnemucca Boulevard, the main road through town, the Super 8 is set back about 300 feet from the highway, behind two restaurants, and so offers quiet, peaceful lodging. Other nearby facilities are a supermarket adjacent and a shopping center on the far side of the road. East facing rooms have views across desert lands towards the wooded peaks of the Sonoma Range. The exterior has a colorful, new-looking appearance; inside, amenities are free wi-fi, free continental breakfast and a hot tub in selected accommodations.
7.
Motel 6 Winnemucca
1800 W Winnemucca Blvd, Winnemucca, NV 89445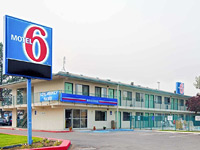 Motel 6 Winnemucca occupies an older, two floor, exterior corridor building along the main road through town, near I-80 exit 276. The property adjoins a truck stop, and the interstate runs past to the rear, so accommodations may be somewhat noisy, but rates are low and there are plenty of restaurants and small shops within walking distance. Amenities are an outdoor pool, wi-fi, coin-operated laundry and free coffee.