1.
Hilton Garden Inn Twin Falls
1741 Harrison Street North, Twin Falls, ID 83301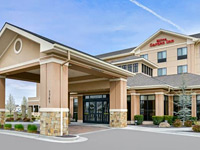 The recently built Hilton Garden Inn Twin Falls has a quiet location near the edge of the countryside, half a mile west of US 93 on the north edge of town, a short walk from a hike/bike path along the rim of the Snake River Canyon. The hotel receives favourable guest reviews, for the excellent customer service, the tasty, freshly-cooked breakfast, the comfortable (and adjustable) beds and the good range of other facilities, which include an on-site restaurant (open for breakfast, dinner & room service), a well equipped 24 hour fitness center, a pool, whirlpool, 24 hour business center and 2,600 sq ft of meeting/event space.
2.
Hampton Inn Twin Falls
1658 Fillmore Street North, Twin Falls, ID 83301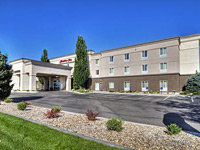 Hampton Inn Twin Falls, the smaller of two Hilton hotels in town, is part of an extensive shopping/dining district 2 miles north of the city center and 4 miles south of interstate 84. Other locations within two miles include Blue Lakes Country Club, Magic Valley Mall and College of Southern Idaho. The hotel accommodates guests in 75 nicely appointed, one or two bed rooms that are equipped with a refrigerator, microwave, coffee maker, hairdryer, sofa bed and executive desk. Free continental breakfast is available, plus all the usual facilities for leisure and business.

3.
TownePlace Suites Twin Falls
175 Pole Line Road East, Twin Falls, ID 83301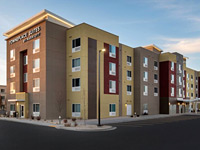 The 108 room TownePlace Suites opens summer 2019, built behind another Marriott hotel (Fairfield Inn) towards the north edge of the city, a short walk from the Snake River. There are many restaurants one mile east, along US 93. The hotel features all-suite, extended stay lodging, with accommodations in two bedroom, one bedroom and studio layouts, all equipped with a full kitchen. Hot breakfast and wi-fi are complimentary. Also available are the usual amenities for recreation, business and meetings.

4.
Holiday Inn Express Hotel & Suites Twin Falls
1554 Filmore Street, Twin Falls, ID 83301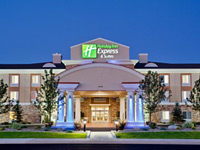 Like most Twin Falls hotels, the Holiday Inn Express is situated on the northeast side of the city in the middle of the main shopping/dining area, close to Magic Valley & Canyon Rim malls and various other large stores, though the immediate surroundings are quite quiet, along a side street 0.2 miles from the main road (US 93). The hotel provides spacious, modern accommodations, with 113 rooms & suites all featuring extra comfortable, triple-sheeted beds. Complimentary continental breakfast (including hot items) is served each morning, and all the usual facilities for work (free wi-fi, business center, meeting/event space) and leisure (indoor pool, hot tub, fitness center) are available.

5.
Best Western Plus Twin Falls Hotel
1377 Blue Lakes Boulevard North, Twin Falls, ID 83301-3310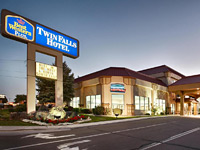 Although of older construction, Best Western Twin Falls Hotel has been regularly updated and offers a good range of facilities including a hot tub and fitness center, both open 24 hours a day, a heated indoor pool, a sports court, meeting/banquet space, and a refrigerator/microwave in all 118 rooms & suites. Free full breakfast is prepared each morning and for other meals there are many restaurants within a few minutes walk along the main road (US 93). The hotel is 2 miles north of downtown Twin Falls and 4 miles from I-84 (exit 173).

6.
SureStay Hotel by Best Western Twin Falls
1260 Blue Lakes Blvd N, Twin Falls, ID 83301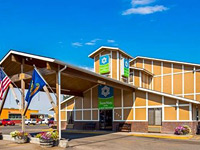 SureStay Hotel by Best Western occupies an older building along US 93, the main road into Twin Falls from I-84 and the north, adjacent to Lowe's superstore. Guest rooms are on two or three floors, accessed by interior corridors, and some are equipped with a hot tub bath and/or microwave/refrigerator. The pet friendly property also offers a fitness center and a business center. Free buffet breakfast is provided each morning.

7.
Fairfield Inn & Suites Twin Falls
1788 Washington Street North, Twin Falls, ID 83301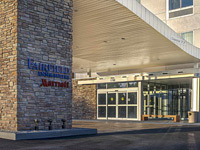 New for 2014, The Fairfield Inn is the first Marriott hotel to open in Twin Falls, and the sixth in Idaho. The 92 room/suite property is positioned a little to the west of most other hotels in the city, just off US 93 at the Washington Street intersection, within walking distance of several restaurants, a Walmart superstore, St Luke's Magic Valley Medical Center and an overlook on the rim of the Snake River valley. The hotel provides good quality free breakfast, including a selection of hot items, and it also offers the usual range of facilities for business, meetings and leisure. Interstate 84 is 4.7 miles away.

8.
Quality Inn & Suites Twin Falls
1910 Fillmore Avenue North, Twin Falls, ID 83301
Quality Inn Twin Falls is the first hotel to welcome travelers arriving from the north, from I-84, located one block from the Snake River at the edge of an extensive commercial area that includes a shopping mall, many restaurants, bars & shops. The 111 rooms are large, bright and modern, all equipped with a refrigerator, coffee maker & microwave, while some have a hot tub bath and sofa bed. Free continental breakfast (with hot waffles), free internet access, an indoor pool/whirlpool, an exercise room, laundry, business center and meeting room are some of the other facilities.
9.
Motel 6 Twin Falls
1472 Blue Lakes Boulevard N, Twin Falls, ID 83301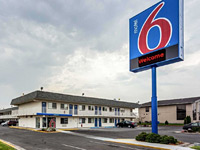 Four miles south of the I-84 intersection, Motel 6 Twin Falls is part of a large shopping/dining/business district along US 93, 1.5 miles from the city center. The inn has an older, exterior corridor design, the rooms in several connected blocks surrounded by the parking lot, and with an outdoor pool at the rear, shielded from the main road. Wi-fi, coin-operated laundry and free coffee are the only other amenities; the main reasons to stay are the low rates and central location.