Surroundings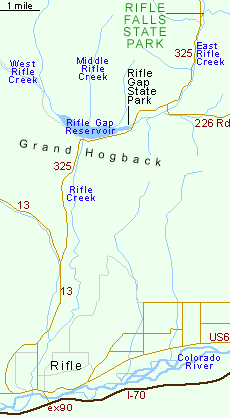 Map of Rifle Falls State Park
Although Rifle Falls lies at the edge of the largely undeveloped land that occupies most of this part of the state, the two approach roads cross agricultural country of ranches and scattered dwellings; the main route is from Rifle (interstate 70 exit 90), from where roads 13 and 325 head north, this latter passing through a narrow ravine in an otherwise unbroken escarpment (the
Grand Hogback
). This breach is known as Rifle Gap, and damming of the stream (Rifle Creek) flowing through has created
Rifle Gap Reservoir
, also a state park, and quite a scenic place, offering good access to the open, grassy shoreline and to many clean, sandy beaches. Highway 325 continues a few miles past the lake to Rifle Falls, entering one of the long, winding valleys that characterize this part of Colorado. The other approach route is along 226 Rd from the east, starting at
New Castle
(exit 105 of I-70); this road follows Elk Creek valley, which is grassy, quite wide and flat-floored, bordered by wooded slopes that rise up 1,500 feet to the mesa top. Around the junction with CO 325, the surroundings are less developed as the land is BLM-owned, and the road passes several places suitable for free camping, along tracks leading towards the edge of the valley.
Overview
Rifle Falls State Park is reached by a very short side road, and entrance ($7 per vehicle in 2014) is by the self-pay system since there is no permanent staffed visitor center - instead, the center at Rifle Gap serves both parks. The road passes the 13 site drive-in campground (another 7 sites are available for walk-in guests) and ends at a parking area for the two minute walk to the falls, and the longer (half mile), but still quite easy loop around them and the nearby caves. This is named the
Coyote Trail
; the only other paths in the park are the
Squirrel Trail
that parallels East Rifle Creek downstream, and the
Bobcat Trail
that also follows the creek, northwards, towards the nearby Rifle Falls State Fish Hatchery. Both these two are less than a mile long. Visitors with a Colorado license may fish in the creek, which is home to cutthroat, rainbow and brown trout.
The Falls
The three part waterfall is an uncommon feature, and presents an impressive, almost tropical scene, as the waters tumble down on a boulder-filled area with pools, cascades and lush greenery, plus patches of more colorful red and yellow plants. Once the creek formed a sheet waterfall - many smaller falls cascading over a wider area, and the course of the stream has changed quite a lot over the millennia, as evidenced by the long wall of travertine (deposited limestone) that extends several hundred feet either side of the present day falls.
The Coyote Trail
Hotels
The closest towns with hotels near Rifle Falls State Park are
Silt
(15 miles),
New Castle
(15 miles) and
Rifle
(13 miles) - follow the links for hotel descriptions and reservations.