1.
Courtyard Glenwood Springs
105 Wulfsohn Road, Glenwood Springs, CO 81601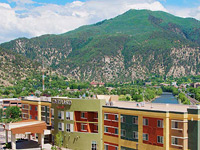 One of a pair of Marriott hotels to open in Glenwood Springs in 2010, the Courtyard has a scenic location on the south bank of the Colorado River, next to the local community center. A short walk west reaches a newly developed shopping center with stores including Lowe's and Target, while to the east, the downtown area is one mile away. All guest rooms have views of the mountains and/or river, are decorated in bold, bright colors, and furnished with luxury bedding. The spacious lobby features a bistro and bar, a Starbucks outlet, media wall and plenty of places for relaxing or working. Meetings and events of up to 200 people can be accommodated.

2.
Residence Inn Glenwood Springs
125 Wulfsohn Road, Glenwood Springs, CO 81601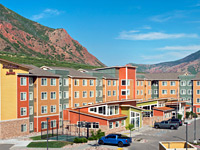 The first specialist extended stay hotel opened in Glendale Springs summer 2010, built on the quieter south side of the Colorado River, next to a Marriott sister property, the Courtyard. Residence Inn Glenwood Springs has a bright, eye-catching design, its exterior colored red, orange, green and yellow, and is the first of a new generation of hotels of this brand, featuring enhanced technologies and facilities. The accommodation is spacious and modern - nicely decorated suites containing a full kitchen, in studio, one bed or two bed layouts, some with a fireplace. All have spectacular views of the surrounding mountains. Leisure amenities are a sports court, barbeque grills, an indoor pool, fitness center and hot tub. Hot breakfast and evening receptions are complimentary to all guests. The nearest restaurants are one mile east around Hwy 82 in the town center.

3.
Glenwood Suites, an Ascend Collection Hotel
625 Gilstrap Ct, Glenwood Springs, CO 81601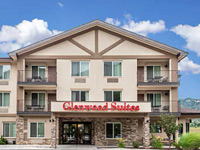 Like its Choice Hotels neighbor (the Quality Inn), Ascend Collection Glenwood Suites sits on the north bank of the Colorado River, surrounded by forested mountains, but within walking distance of shopping and dining at the West Glenwood Springs Mall. Half a mile east, Two Rivers Park is a popular location for concerts and outdoor movie screenings. The elegant, new, boutique hotel (formerly known as the Clarion) features 56 rooms, including several two-room suites, some with a whirlpool bath. All accommodation contains a microwave and refrigerator. Free deluxe continental breakfast, a coffee shop, fitness center, picnic area and convenience store are the main facilities, plus guests have free use of the pool at the adjacent Quality Inn.
4.
Hampton Inn Glenwood Springs
401 West First Street, Glenwood Springs, CO 81601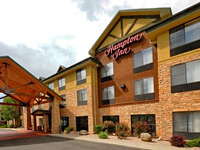 Hilton's representative in Glenwood Springs is the Hampton Inn, a 70 room property on the north side of I-80 near the Grand Avenue exit, with views of wooded hills in most directions. All accommodations contain a microwave, refrigerator & coffee maker; some have a sofa bed and/or whirlpool bath. Free hot breakfast is served; for other meals the nearest restaurants are one block south. Guests are also just a short walk away from a city park alongside the Colorado River. A fitness center, hot tub and indoor pool are available for relaxation.

5.
Holiday Inn Express Hotel Glenwood Springs (Aspen Area)
501 West First Street, Glenwood Springs, CO 81601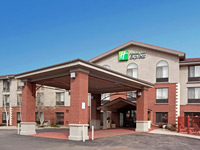 The well reviewed Holiday Inn Express hotel in Glenwood Springs has a quiet location towards the northwest corner of town, easily accessed from I-70 which runs by just to the south. The hot springs are 0.6 miles east, on the banks of the Colorado River, while the many shops and restaurants in the town center are a little further south. Amenities are typical for a hotel of this brand, including free continental breakfast, free wireless internet access, a pool (outdoor), hot tub and guest laundry. The 65 rooms are clean, bright & up-to-date, and most have fine views over the surrounding hills.

6.
Best Western Antlers
171 W 6th Street, Glenwood Springs, CO 81601-2911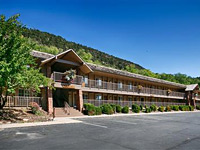 The 99 well furnished rooms at Best Western Antlers in Glenwood Springs are divided into several blocks surrounded by trees and gardens, backing on to a wooded hillside on the north edge of town - all part of a spacious, 5 acre site that also contains an outdoor pool, hot tub, children's playground and two tennis courts. Interior facilities include another pool and a dining area for the free continental breakfast. A short walk eastwards along the main road (W 6th St) reaches several restaurants & shops, and the hot springs after half a mile, while also nearby is Two Rivers Park, at the junction of the Colorado and Roaring Fork Rivers.

7.
Quality Inn & Suites on the River
2650 Gilstrap Court, Glenwood Springs, CO 81601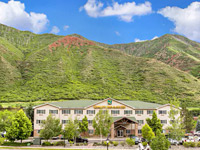 As its name suggests, the Quality Inn & Suites hotel in Glenwood Springs has a privileged location right on the banks of the Colorado River, just off I-70 (exit 114) and opposite West Glenwood Springs Mall. The inn is generally considered the top hotel in town, not just because of the scenic location, but also on account of the friendly staff, the large & well maintained rooms, the above average free breakfast, and the reasonable rates. There are several restaurants close by, though most facilities in town, including the famous hot springs, are 2.5 miles east. Leisure amenities at the hotel are an exercise room, hot tub, indoor pool and sun deck.