The Pacific coast of La Jolla, an upscale suburb of San Diego, is famous for its tidepools, exposed in many locations around low tide, filled with the usual variety of sea life including anemones, sea slugs, brittle stars and sea stars, and part of a scenic, varied landscape also including marine terraces, sea caves, rock formations, cliffs, bluffs, and sand or pebble beaches.

Rocks along this part of the coast are sandstone, siltstone and shale from the Point Loma Formation, a narrow band that forms cliffs at most 20 feet high, and is colored various shades of brown, yellow and dull red. The beaches too are generally narrow, and only a small section of the bluffs above are still in a natural state - roads and houses approach very close, though all can be followed by footpaths, and most parts of the intertidal zone are accessible; sheer cliffs, submerged even at low tide, occur in just a few places.

Torrey Pines, while to the south are several longer sandy stretches, with fewer intertidal rocks.

The tide pools are especially photogenic around sunset, though popular at all times. This part of the coast is also noted for wildlife, with large colonies of sea lions and harbor seals plus many birds including cormorants, gulls and brown pelicans. In recent years the ever-increasing number of the mammals has caused some problems due to interactions with visitors, when people approach too close. The nearby residential streets offer plenty of free parking, and about two hours is needed for a leisurely walk up and down this section of the coast.


Map of the La Jolla Coast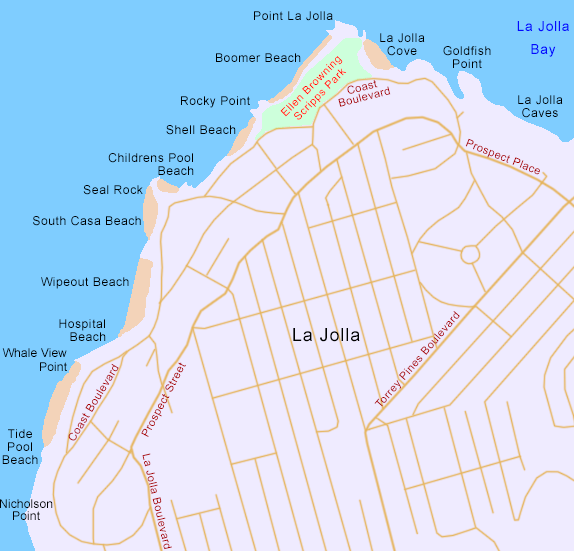 Tide Pool Beach to Childrens Pool Beach

The most famous rock pool location, informally called La Jolla Tide Pool Beach, is at the south end of Coast Boulevard, and just north of a rocky promontory, Nicholson Point, on which are several luxurious houses built right at the edge of the cliffs. On the beach are several stretches of flat, rocky terraces with many circular pools, split by a few wider channels. To the north is a sandy place and then another rocky interlude, Whale View Point and then Hospital Beach (mainly rocks), comprising more terraces and pools, and giving way, after a short steeper section, to Wipeout Beach, a strip of sand below bluffs. The far side is framed by a brief rocky point and then a smaller sandy area, South Casa Beach, with more tide pools on the far side, around Seal Rock. A curving breakwater just beyond protects a sheltered cove, Childrens Pool Beach, popular with seals and sea lions as well as children.


Shell Beach, Boomer Beach and Scripps Park

North of Children's Point Beach is a section of steeper coastline, with little or no sea level access - sloping bluffs where many sea birds gather. Beyond, a flight of steps leads down to Shell Beach, a mix of sand and pebbles, and more tide pools. On the far side is Rocky Point, another low promontory, north of which is Boomer Beach. Above stretches Ellen Browning Scripps Park, well-kempt lawns sprinkled with trees including palms and cypress, often used as a setting for weddings and public events. The park is named after a local journalist and philanthropist and was dedicated in 1927, a few years before her death. Along the edge of the park, overlooking the sea, are several green-roofed gazebos or belvederes, perfect places for picnics or for whale-watching.


Point La Jolla and La Jolla Cove
The north end of the park leads to
Point La Jolla
, a bigger headland, noted as the best place to see harbor seals and sea lions. There are plenty of tide pools here too. The land curves southeast to
La Jolla Cove
, another good wildlife site, then beyond, the coast becomes briefly cliff-lined, location of many caves, but also less accessible, with some parts reachable only by kayak. The cliffs stretch to the lengthy sands of La Jolla Shores Beach. Point La Jolla and vicinity marks the northernmost occurrence of the Point Loma formation, which extends south for 15 miles to
Cabrillo National Monument
.