1.
Holiday Inn Express Yreka-Shasta Area
707 Montague Road, Yreka, CA 96097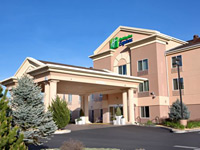 The newest hotel in Yreka is the Holiday Inn Express, which is built in the countryside a short distance east of I-5 exit 776, so all the 68 rooms & suites are quiet and have relaxing views over the surrounding fields and wooded hills, but the place is still just within walking distance (one mile) of shops, restaurants & historic buildings in downtown Yreka. The three floor hotel is clean and welcoming, and provides all the usual Holiday Inn Express amenities, including free hot breakfast buffet, a pool (indoor), fitness center, business center, meeting room and guest laundry.

2.
Best Western Miner's Inn
122 E Miner Street, Yreka, CA 96097-2937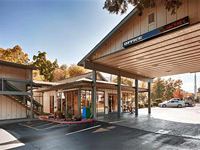 Right at the center of Yreka, CA, along historic Miners Street (just east of the junction with Main Street), the Best Western Miner's Inn offers 130 rooms and apartment suites, an outdoor pool, on-site restaurant and a conference center accommodating up to 250 guests. The hotel is next to I-5 exit 775, though sheltered from the highway by a belt of trees, and is within easy walking distance of all necessary facilities in downtown Yreka. Free continental breakfast is served. Natural attractions in this part of north California include
Mount Shasta
, 45 miles south and the
Lava Beds National Monument
70 miles east, this latter partly on unpaved roads.

3.
Comfort Inn Yreka I-5
1804 B Fort Jones Road, Yreka, CA 96097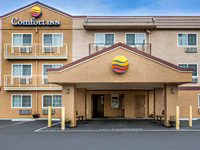 Comfort Inn Yreka is situated 2 miles south of the town center along Fort Jones Road (highway 3), in a generally rural location, yet close to a selection of restaurants, gas stations and several large stores including a Wal-Mart. Exit 773 of I-5 is just to the north. The hotel is an older property but well managed, with three floors, 50 rooms (containing microwave/refrigerator), an outdoor pool and free continental breakfast. One mile west, Greenhorn Park has a picnic area, footpaths, a children's playground and a display of old mining equipment.

4.
Baymont by Wyndham Yreka
148 Moonlit Oaks Avenue, Yreka, CA 96097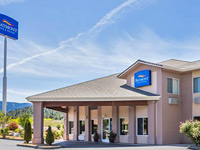 Baymont Inn Yreka sits at the south edge of town, beside Yreka Junction shopping center, which includes a Wal-Mart store and at least six restaurants. Guests are also within walking distance of the hills and footpaths of Greenhorn Park to the west, and of Siskiyou County Fairgrounds to the east. The two floor, interior corridor hotel is about 1,000 feet from I-5, shielded from the interstate by several adjacent businesses; it has a small garden at the front, parking around both sides of the building, and interior facilities of a pool, hot tub, fitness center and a dining room where the free continental breakfast is served. Several whirlpool bath suites are available.

5.
Econo Lodge Inn & Suites Yreka
526 S Main Street, Yreka, CA 96097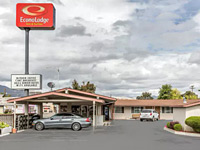 Yreka's Econo Lodge motel has a south central location along Main Street, close to exit 775 of I-5, adjacent to at least six restaurants and half a mile from the College of the Siskiyous. Some of the 44 rooms have views over the slopes of Butcher Hill to the east, others overlook the central courtyard/parking area and outdoor pool (seasonal). All rooms have a microwave & refrigerator, and the hotel serves free continental breakfast.

6.
Super 8 by Wyndham Yreka
136 Montague Road, Yreka, CA 96097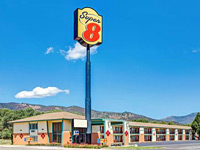 The northernmost hotel in Yreka is the 61-room Super 8, positioned 1,000 feet from I-5 at the Montague Road exit, separated from the interstate by a field and a wooded creek. The exterior corridor property is within sight of hills and forests in most directions, though the rooms have views inwards, across the central parking lot, which has a small outdoor pool at the back. Wi-fi and eight item continental breakfast are the two main complimentary amenities, while other leisure facilities are a hot tub and fitness room. All accommodations feature a microwave and refrigerator; a few contain a whirlpool bath. There are two adjacent restaurants, and many more half a mile south in the city center.