1.
Hampton Inn Turlock
1821 Lander Avenue, Turlock, CA 95380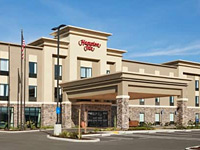 Facilities a few minute's walk from Hampton Inn Turlock include a supermarket, a pharmacy and at least four restaurants - the hotel is part of a small group of businesses on the south side of the city at the Lander Avenue exit of Hwy 99, close to the start of open countryside. Downtown Turlock is 2 miles north. Hot breakfast is complimentary, as are wi-fi, and printing services, at the 24 hour business center. A market sells snacks, drinks and cookable meals - heated using the microwaves in each guest room. A 744 sq ft conference room accommodates events of up to 40 people, while a pool & hot tub are available for recreation. The hotel opened summer 2016.

2.
Home2 Suites by Hilton Turlock
1831 Lander Avenue, Turlock, CA 95380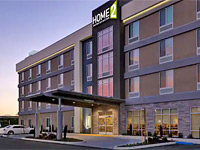 New for spring 2021, the Home2 Suites is built next to another Hilton property (Hampton Inn), at the edge of a small shopping/dining complex at the J14 exit of Hwy 99, one mile south of the city center. All accommodations are suites, studio and one-bedroom, and they include a full kitchen and sofa bed. Hot breakfast is complimentary, while a 24 hour market sells snacks, sundries and cookable meals. Firepits on the patio provide an alternative to in-room cooking. The hotel also offers an outdoor pool, a fitness center and a business center.

3.
Holiday Inn Express Hotel & Suites Turlock-Hwy 99
3001 Hotel Drive, Turlock, CA 95380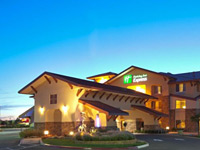 Holiday Inn Express Turlock is part of a new development in a generally rural area on the north edge of town, beside the Monte Vista Avenue exit of highway 99 and right next to a large shopping complex (Monte Vista Retail Center) that also has a good selection of restaurants; stores include Home Depot, Target and Lowe's. The center of Turlock is 4 miles away along the main road, and California State University Stanislaus is 1.4 miles east. Amenities at the 78 room/suite hotel include an outdoor swimming pool, health/fitness center, 1,500 sq ft of event space and free hot breakfast buffet.

4.
Candlewood Suites Turlock
1000 Powers Court, Turlock, CA 95380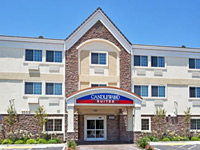 Candlewood Suites Turlock caters for the long stay traveler or those needing more space and facilities; the suites all contain a full kitchen (dishwasher, refrigerator/icemaker, microwave, stove) and a large work desk. The hotel sits amongst other recently constructed buildings on the west side of Hwy 99 by the Monte Vista Avenue exit - 2 miles north of Turlock town center and ten miles from Modesto. There are several restaurants and small stores nearby, though snacks and other items can be purchased on site at the Candlewood Cupboard market. Other guest amenities are a fitness center, laundry, business center, and a garden area with bbq grills.

5.
Best Western Orchard Inn
5025 N Golden State Blvd, Turlock, CA 95382-9552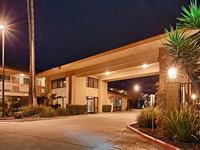 Best Western Orchard Inn has a countryside setting 4 miles northwest of downtown Turlock, next to highway 99 (Taylor Road exit) - rooms at the front look out over fields and vineyards which stretch for 20 miles east, towards the wooded foothills of the Sierra Nevada mountains. Also at the front is an outdoor pool & hot tub, and all the grounds are lined with palm trees and landscaped gardens which contribute to the relaxing ambience. There is one restaurant adjacent and others within half a mile, south along Golden State Boulevard. Complimentary deluxe continental breakfast is served.

6.
Fairfield Inn & Suites Turlock
3301 Countryside Drive, Turlock, CA 95380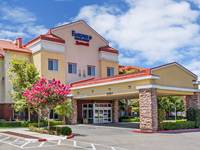 Marriott's first property to open in Turlock is the 81 room Fairfield Inn & Suites, built at the edge of the countryside next to the Monte Vista Center, on the north side of town just off Highway 99 to Modesto and Stockton. All accommodation features a microwave, sofa bed, work desk, free internet access, and use of bright, bold colors for the decor and furnishings. Free breakfast is served each morning, including a hot sandwich; there are plenty of restaurants on hand to provide other meals. For relaxation, guests have use of a fitness center, pool and whirlpool.

7.
Comfort Suites Turlock
191 North Tully Road, Turlock, CA 95380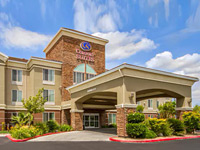 Comfort Suites Turlock is built in a lightly developed area alongside Hwy 99 (Main Street exit), on the southwest side of town, and it features 71 oversized, well equipped rooms each containing a microwave and refrigerator; a few have a hot tub bath. There are several restaurants and small stores a short walk away around the freeway exit, though the main shopping area in town is 1.2 miles north. Free continental breakfast, an outdoor pool/hot tub, free internet access and meeting space for 60 people are some of the other facilities.

8.
Days Inn by Wyndham Turlock
185 N Tully Road, Turlock, CA 95380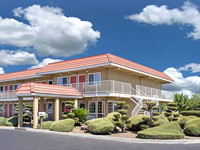 Guests at the pet friendly Days Inn Turlock are greeted by a display of topiary, at the east end of a traditional two-floor, exterior corridor building beside the central Hwy 99 exit (Main Street), within walking distance of several shops and at least eight restaurants. The city center is 1.5 miles east. The usual two complimentary amenities of wi-fi and continental breakfast are provided.

9.
Travelodge by Wyndham Turlock
201 W Glenwood Avenue, Turlock, CA 95380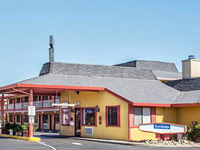 The Travelodge is the southernmost motel in Turlock and so the first to greet travelers along Hwy 99 from Merced and Fresno. The place is quite large, with 92 rooms, in four exterior corridor blocks, mostly facing southwest. One overlooks a tree-lined outdoor pool, beyond which stretches open farmland. The property adjoins Hwy 99 at the Lander Avenue intersection, right next to one restaurant and close to three more, on the far side of the freeway. Also available are bbq grills, a games room and free continental breakfast.