1.
Courtyard Merced
750 Motel Drive, Merced, CA 95340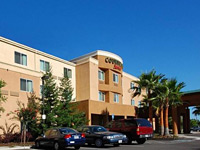 Courtyard Merced is one of the top hotels in town, on account of its modern decor, the clean & comfortable rooms, and the friendly staff. The property is located along Motel Drive, near to several other hotels, on the east edge of town; west facing rooms have views over Highway 99 and the farmland beyond, while those on the other side look out over a residential area that borders Route 140 (the road to Mariposa and Yosemite National Park). Freshly cooked breakfast is available at the hotel's Bistro restaurant; other amenities are a convenience store, indoor pool, whirlpool and exercise room.
2.
Hampton Inn & Suites Merced
225 South Parsons Avenue, Merced, CA 95340
Hilton's representative in Merced is the 83 room/suite Hampton Inn, adjacent to Hwy 99 on the south edge of town, part of a typical highway-side group of restaurants, gas stations, shops and other hotels, 2 miles from Merced County Fairgrounds. An outdoor pool, whirlpool and a small fitness room are available for relaxation, together with a business center and 39-person meetings facility for guests here on business. The good quality free breakfast includes a selection of hot items, and is provided in a carry-out version for guests leaving early.

3.
TownePlace Suites Merced
229 S Parsons Avenue, Merced, CA 95341
Open late 2018, the TownePlace Suites is now the southernmost hotel in Merced, overlooking Hwy 99 near the Childs Avenue intersection, at the edge of a quiet residential area; the city center is 2.5 miles away. There are several restaurants close by. The all-suite property offers guest rooms in two bedroom, one bedroom and studio floorplans, all with a full kitchen. Free hot breakfast is served each morning in the lobby, while bbq grills provide an alternative to in-suite cooking. The hotel also has a 24 hour fitness center and an outdoor pool.

4.
Holiday Inn Express Hotel & Suites Merced
151 S Parsons Avenue, Merced, CA 95341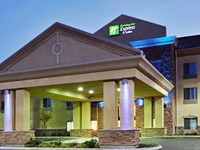 The recently built, 91 room Holiday Inn Express hotel in Merced sits along a quiet residential side street on the south side of town, just off Highway 99 and half a mile from Highway 140 to Yosemite National Park. There are three restaurants within a few minutes walk, though free breakfast buffet (including hot items) is provided free at the hotel. All accommodation features luxurious bedding, a large TV and free internet access; the 19 suites have divided living/sleeping areas plus an extra sofa bed. Also available are the usual pool/hot tub/fitness center, together with guest laundry, a business center and three meeting rooms.

5.
Best Western Plus Inn
1033 Motel Drive, Merced, CA 95340-5155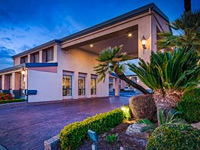 Best Western Inn of Merced is one of about 6 lodgings along the appropriately named Motel Drive, towards the east side of town and right next to CA 140 which reaches the western boundary of
Yosemite National Park
after 63 miles. Some of the hotel's 42 rooms have views over the parking area & outdoor pool, and across to farmland beyond nearby highway 99, while others overlook a residential district. Free continental breakfast is provided; other meals are available from the adjacent Sir James Steak House restaurant/lounge.

6.
Quality Inn Merced
730 Motel Drive, Merced, CA 95341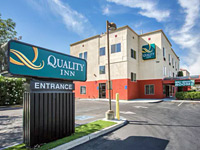 Merced's Quality Inn is situated on the east side of town by the junction of Highway 99 with Highway 140 (Yosemite Parkway) - the first of a small group of hotels along Motel Drive. It offers free deluxe continental breakfast, free wi-fi and an outdoor pool/hot tub. The 65 rooms are on three floors and all contain a coffee maker & ironing facility; some have a microwave, sofa bed and refrigerator. There is one restaurant adjacent and others half a mile away along 16th Street.

7.
Studio 6 Merced
1213 V Street, Merced, CA 95341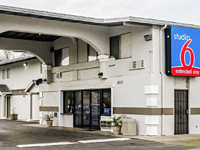 The Studio hotel in Merced is located next to the busy CA 140 - CA 99 junction on the west side of town, in a business district near to numerous shops and restaurants, a mile from both Merced Airport and the center of downtown along Main Street. The inn is a large property of 95 rooms, and it provides budget-priced, long stay lodging - all rooms contain a kitchenette, while general amenities are an outdoor pool and free wi-fi. Pets are allowed.

8.
Days Inn by Wyndham Merced/Yosemite Area
1215 R Street, Merced, CA 95340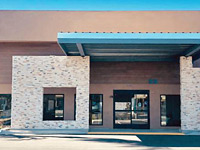 The Days Inn is an affordable, pet friendly, exterior corridor motel, offering just basic facilities, of free wi-fi and free continental breakfast. The two floor property adjoins a residential district along R Street, just south of Hwy 99, 1.8 miles from Merced Regional Airport. There are two restaurants in the vicinity, and many more on the far side of the freeway.

9.
Travelodge by Wyndham Merced Yosemite
1260 Yosemite Parkway, Merced, CA 95340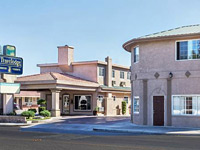 Travelodge Merced is a typical roadside motel of 46 refrigerator/microwave-containing rooms, some on two stories, others ground floor only, arranged along three sides of the central parking area, which has an outdoor pool and flower beds at the front, facing the main road (Hwy 140). From here, the Wawona entrance to
Yosemite National Park
is one hour's drive away. The junction with Hwy 99 is half a mile west and there are several restaurants close by to the east, plus a supermarket. The pet friendly motel provides free continental breakfast. Several kitchenette rooms are available.

10.
Rodeway Inn Merced
1001 Motel Drive, Merced, CA 95340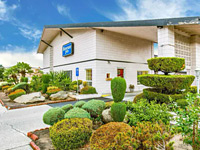 Rodeway Inn Merced is a typical small, roadside motel of 30 exterior corridor rooms on two floors overlooking the parking lot, built at the edge of a residential area on the north side of Hwy 99, one mile east of the city center. Rates are low as amenities are limited - an outdoor pool, free coffee, free wi-fi and a microwave in each room. Pets are welcome, for a fee.
11.
Motel 6 Merced
1983 East Childs Avenue, Merced, CA 95341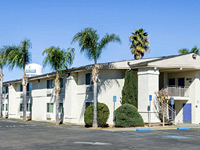 Highlight of Motel 6 Merced is the secluded courtyard garden at the center, containing an outdoor pool. Guest rooms are in two blocks at either side, and the whole complex is set back 300 feet from the access road so provides quiet accommodation. There are several restaurants adjacent. The motel is reached from the Childs Avenue intersection of Hwy 99, towards the east edge of the city. Other amenities are free wi-fi, free coffee and a refrigerator/microwave in select rooms.
12.
Motel 6 Merced North
1410 V Street, Merced, CA 95340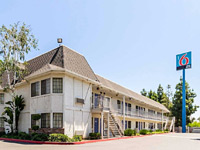 Businesses adjacent to Motel 6 Merced North are a restaurant, two garages and a Costco supermarket. The motel faces Hwy 99 at the V Street exit, on the west side of Merced, within walking distance of many more shopping and dining choices. Half the guest rooms overlook the pleasant outdoor pool at the center; the remainder have views of the freeway or the nearby buildings. Free morning coffee is provided, plus wi-fi. Pets are welcome.