1.
Staybridge Suites Temecula - Wine Country
27500 Jefferson Avenue, Temecula, CA 92590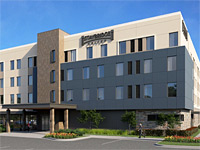 New for 2021, Staybridge Suites Temecula backs on to I-15 near the Winchester Road intersection (exit 61), at the edge of an extensive business park, also within walking distance of shopping and dining. Trails and preserves in the Santa Rosa Mountains are just a short drive away. The all-suite hotel offers accommodations in two bedroom, one bedroom and studio floorplans, all containing a full kitchen. Free hot breakfast is prepared each morning plus free receptions weekday evenings, and all the other standard facilities are available, including an outdoor pool.

2.
Embassy Suites Temecula Valley Wine Country
29345 Rancho California Road, Temecula, CA 92591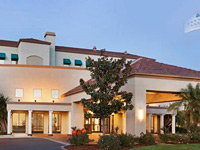 Highlight of Embassy Suites Temecula is the landscaped garden, which includes a large outdoor pool, an outside dining area, extensive lawns and even a small lake, complete with fountain. Half of the rooms enjoy garden views, while the others look out north towards Tower Plaza Shopping Center, or south across a residential estate to a city park and golf course. All accommodations are two room suites, containing a microwave, refrigerator, wet bar, work desk and sofa bed. Complimentary evening receptions are provided in the evenings, and free hot breakfast every morning; other meals can be purchased from the onsite Sweet Spot Sports Bar & Grille, or from many other neighborhood restaurants. Over 3,200 square feet of meeting space is sufficient for events of up to 200 people.

3.
Hilton Garden Inn Temecula
28210 Jefferson Avenue, Temecula, CA 92590
New for spring 2022, the 104 room Hilton Garden Inn Temecula is part of the group of hotels at the Rancho California Road exit of Interstate 15, less than a mile from the many shops, bars and restaurants of Old Town Temecula. There are several dining outlets in the vicinity, and one on the premises, open for dinner & evening drinks. Also available are a fitness center, an outdoor pool, meeting space and a convenience store. Nearby wineries include Callaway, Wilson Creek, Akash and Briar Rose.
4.
Hampton Inn & Suites Temecula
28190 Jefferson Avenue, Temecula, CA 92590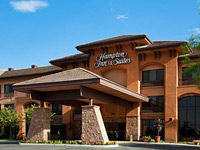 Despite a rather busy setting, with roads running right past on three sides, Hampton Inn Temecula is well shielded from the surroundings by lines of tall trees, and is set back from the main road behind a gas station and a row of small shops. The 99 room/suite hotel sits on the west side of I-15 at the Rancho California exit, just across from the many shops and restaurants in and around Temecula Town Center Mall. Guests can take advantage of a sheltered outdoor pool/hot tub, plus interior amenities of a 24 hour business center, a fitness center and a 50 person meeting room. Wi-fi and hot breakfast are provided free of charge.

5.
SpringHill Suites Temecula Valley Wine Country
28220 Jefferson Avenue, Temecula, CA 92590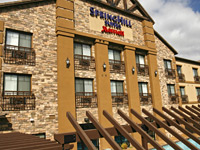 One of two Marriott properties in Temecula, the SpringHill Suites provides affordable, quality, long stay accommodation to the south California wine country. The hotel is built along Jefferson Avenue on the west side of town, beside I-15 exit 59 and a short walk from Temecula Town Center mall. All 134 studio suites have a pantry (microwave, refrigerator, sink), executive desk and free internet access; many enjoy nice views towards the wooded hills that rise up a mile to the west. Free breakfast buffet is served each morning and there are several restaurants within walking distance.

6.
Holiday Inn Express Temecula
27660 Jefferson Avenue, Temecula, CA 92590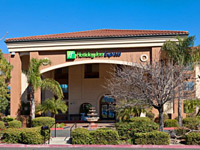 Temecula's Holiday Inn Express hotel provides the clean, comfortable and well managed lodging typical of the brand, with a good range of amenities that includes free hot breakfast, a pool/whirlpool, computer/business center, and guest laundry. All 90 rooms contain a microwave & refrigerator, and most have long distance views across the busy surroundings towards distant wooded hills. The hotel is just south of I-15 exit 61, near to The Promenade at Temecula, plus several other shopping malls, many restaurants, over 30 wineries and at least eight golf courses - closest is the SCGA at Murrieta, 3.5 miles north along Hwy 79.

7.
Best Western Plus Temecula Wine Country Hotel & Suites
41841 Moreno Road, Temecula, CA 92590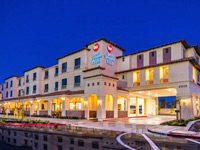 The Best Western Plus is part of a group of restaurants and small shops at the Rancho California Road exit of Interstate 15, on the north side of Old Town Temecula, and also within walking distance of trails into the nearby hills - a scenic location, near many golf courses and wineries. There are 60 guest rooms available, all equipped with microwave/refrigerator, sofa bed and 55 inch TV. Wi-fi, hot breakfast and all-day coffee are complimentary. For recreation, the hotel offers a fitness center and indoor pool.

8.
Best Western Country Inn
27706 Jefferson Avenue, Temecula, CA 92590-2638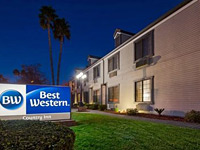 The Best Western is in the middle of the line of hotels along Jefferson Avenue near the west edge of Temecula, and it offers good, mid range accommodation in 74 spacious rooms, all containing a microwave, refrigerator and mini bar; some have a fireplace & whirlpool bath. A heated outdoor pool/hot tub are located by the rear of the hotel, sheltered by a line of trees from I-15 which passes by just to the east. Free deluxe continental breakfast is prepared each morning, and guests can make the short walk along the main street to many nearby restaurants. Temecula's historic Old Town district is 1.3 miles south.

9.
Fairfield Inn & Suites Temecula
27416 Jefferson Avenue, Temecula, CA 92589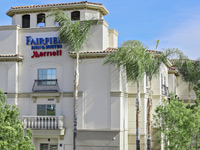 Fairfield Inn Temecula is another of the hotels along Jefferson Avenue, close to the main shopping area in town around exit 61 of interstate 15. The property is bright, welcoming and provides the usual high Marriott standards of cleanliness and customer service, making this a good base from which to explore the nearby Temecula Valley wine country, the Cleveland National Forest, or the more distant but still easily reachable attractions of nearby San Diego, Palm Springs or south Los Angeles. The Fairfield Inn features 94 spacious rooms each with microwave, refrigerator and extra comfortable bedding; the other main amenities at the hotel are the usual free breakfast, exercise room, guest laundry, pool and hot tub.

10.
Quality Inn Temecula Wine Country
27338 Jefferson Avenue, Temecula, CA 92590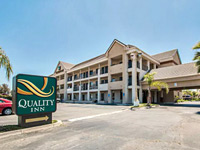 Like most hotels in Temecula, CA, Quality Inn Wine Country sits along Jefferson Avenue on the west side of town, next to interstate 15 - access is from exit 61, Winchester Road. Although close to the edge of the countryside, the immediate neighborhood is a bustling commercial district with many restaurants and shops, including the Promenade Mall and Palm Plaza. The rather more peaceful ambience of Old Town Temecula is 2 miles south. Facilities at the 3 floor, 74 room hotel comprise free hot breakfast, an outdoor pool, hot tub, guest laundry and a meeting room.

11.
Rodeway Inn Temecula
28718 Front Street, Temecula, CA 92590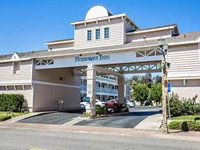 The Rodeway Inn is one of the few motels in the Old Town district of Temecula, located at the south end of Front Street, and so within walking distance of many restaurants, bars and antique shops. More modern shopping is available at Temecula Town Center, 1.5 miles north on the far side of interstate 15. The hotel is quite small (39 rooms), but clean, spacious & friendly, with amenities of free continental breakfast, a small outdoor pool/hot tub, and guest laundry. All rooms have a microwave, and are arranged on two floors linked by exterior corridors, in two blocks facing the courtyard parking area
12.
Motel 6 Temecula - Historic Old Town
41900 Moreno Drive, Temecula, CA 92590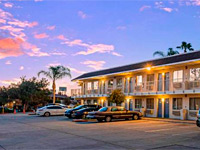 On the north edge of Old Town Temecula, the Motel 6 provides budget-priced lodging with basic amenities: coin-operated laundry, wi-fi, free coffee and an outdoor pool, set in a pretty courtyard garden at the center, overlooked by about a third of the rooms. I-15 runs past to the east, mostly hidden behind a row of trees. The motel is right next to Temecula Valley Museum and a city park, while many shops and restaurants are within easy walking distance.