1.
Hotel Paradox, Autograph Collection
611 Ocean Street, Santa Cruz, CA 95060
Hotel Paradox is a member of Marriott's Autograph Collection of distinctive, individual properties, and its style and decor draws influences from the local culture and landscapes, in particular the mountains and the forest, the latter immediate evident since the front desk is constructed from the trunk of a huge eucalyptus tree. The hotel is situated along Ocean Street in the center of Santa Cruz, one mile from the nearest beach, and backs onto a city park adjoining the San Lorenzo River; within walking distance of many restaurants, bars and shops. Onsite dining is provided by Solaire Restaurant & Bar, open for lunch and dinner. A large indoor-outdoor pool complex at the rear includes a spa, fire pit and rentable cabanas. The hotel can accommodate meetings and events of up to 490 people.

2.
Hilton Santa Cruz/Scotts Valley
6001 La Madrona Drive, Santa Cruz, CA 95060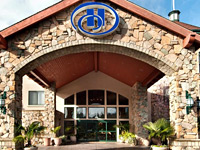 Although advertised as being in Santa Cruz, the Hilton is much closer to Scotts Valley - the full service hotel is situated on the south side of town at the edge of a quiet, residential area, near CA 17 but set back a little from the highway. Rooms have views either of a patch of redwood forest to the west, fields to the south or the good sized parking lot, at one side of which is a secluded outdoor pool. The on-site restaurant, Stonehouse Bar & Grill is open for breakfast, lunch & dinner; for other dining choices the nearest places are half a mile north in the center of Scotts Valley. Amongst the other facilities are a fitness studio, business center and a selection of meeting rooms.

3.
Courtyard Santa Cruz
313 Riverside Avenue, Santa Cruz, CA 95066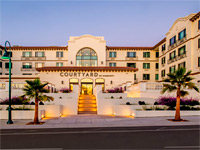 Courtyard Santa Cruz has an excellent location along Riverside Avenue, within sight of the San Lorenzo River, and 1,000 feet from the Beach Boardwalk amusement park. Also within walking distance are Santa Cruz Wharf, Pacific Avenue, the Riverwalk, and many restaurants & bars. Onsite dining is available at the Bistro, open for breakfast, dinner and evening drinks. Other amenities are a convenience store, an outdoor pool, a fitness center, and Spa Nalini, which has four treatment rooms. Accommodations include one bedroom king and queen suites, including a sofa bed.
4.
Hampton Inn Santa Cruz West
2424 Mission Street, Santa Cruz, CA 95060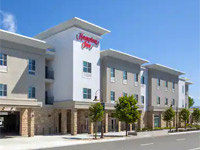 The Hampton Inn is a west Santa Cruz hotel, facing Hwy 1, Mission Street (north side), less than one mile from a scenic, rocky section of the Pacific coast; the nearest sandy stretch (Natural Bridges State Beach) is a little way west. The neighborhood is mostly residential, though plenty of shops, bars and restaurants are within walking distance. The hotel provides good quality free buffet breakfast, and has other amenities of an indoor pool, sundeck, business center and meeting space. Pet friendly rooms are available.
5.
Hampton Inn Santa Cruz
1505 Ocean Street, Santa Cruz, CA 95060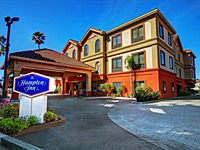 Hampton Inn Santa Cruz sits at the north end of Ocean Street near the junction of highways 1 and 17; a busy location, but just a short walk from trees and parkland along the San Lorenzo River. There is one restaurant adjacent and others within walking distance along the main road, which reaches the Pacific Ocean 1.7 miles south. The hotel is a little smaller than average for this brand, with 46 refrigerator/microwave-equipped rooms, contained within a compact three floor building that also has an indoor pool, business center and a dining area where the daily free hot breakfast is served.

6.
Holiday Inn Express Hotel & Suites Santa Cruz
1410 Ocean Street, Santa Cruz, CA 95060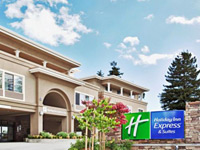 The recently built,100 room Holiday Inn Express Santa Cruz is a modern, elegant addition to the choice of lodging along tree-lined Ocean Street, near the junction with CA 1 (the Pacific Coast Highway). All the beaches and many other attractions in town are less than 3 miles away, while the hills to the north harbor several groves of giant redwoods within a half hour drive, including
Big Basin Redwoods State Park
. Accommodation includes 16 suites with divided sleeping/living areas and a private balcony; all rooms are equipped with a refrigerator, microwave and work desk. A good quality free continental breakfast is served each morning, with several hot items. For relaxation the Holiday Inn Express offers a pool, fitness room and sauna.

7.
SureStay Hotel by Best Western Santa Cruz
516 Water Street, Santa Cruz, CA 95060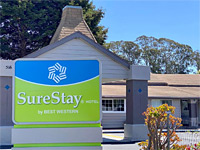 The SureStay by Best Western hotel in Santa Cruz has a traditional, exterior corridor design, most rooms looking inwards over the central parking lot, which is lined by a selection of tropical plants and has a small outdoor pool tucked away in one corner. There are several restaurants on Ocean Street, one block west, and guests are also just a short walk from a pleasant hiking trail along Carbonera Creek to the east. Guest rooms feature a microwave, refrigerator and free wi-fi, while the other hotel amenities are free continental breakfast and a business center.

8.
Best Western Plus All Suites Inn
500 Ocean Street, Santa Cruz, CA 95060-6602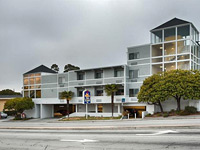 Near the center of Santa Cruz at the busy Soquel Ave/Ocean St intersection, the Best Western All Suite Inn is within 3 miles of all important sites in town, including the beaches, shopping mall, golf courses, and University of California-Santa Cruz. There are many restaurants close by, and the riverside amenities of San Lorenzo Park are one block west. A range of accommodation options are available, from single rooms to fireplace suites, some with whirlpool baths & business desks, all containing a refrigerator, coffee maker and ironing facilities. The hotel serves free full breakfast, and has a steam room, hot tub and fitness center, though no pool.

9.
Best Western Inn
126 Plymouth Street, Santa Cruz, CA 95060-2932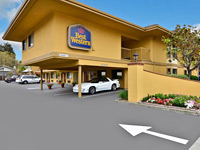 The smaller of the two Best Western hotels in Santa Cruz is located along a side road (Plymouth St), just south of the major highway 1-17 intersection on the north edge of town. Best Western Inn has only 26 rooms, in a 2 floor building with exterior corridors, but the accommodation is clean, the neighborhood fairly quiet & residential, and the hotel is within walking distance of several shops, restaurants, a park and the San Lorenzo River. The town center and Santa Cruz Beach are 1.5 miles away. Free hot breakfast is served, while for leisure the hotel offers a hot tub, spa and steam room.

10.
Fairfield Inn & Suites Santa Cruz
2956 Mission Street, Santa Cruz, CA 95060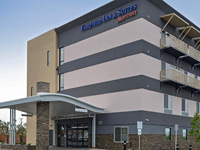 The first Marriott property in Santa Cruz opened in 2016, built next to Highway 1 (though shielded behind a line of trees) away from most other hotels in the city - on the west side of town, close to the start of open country, and overlooking the wooded corridor of Moore Creek, which meets the Pacific Ocean one mile south at Natural Bridges State Beach. There are various restaurants and shops close by, and Santa Cruz Mission is also within easy walking distance. All guest accommodations contain a microwave and refrigerator, while the suites have a separate living room; some feature a private balcony with ocean views. General hotel amenities are an outdoor pool, whirlpool, fitness center, business center and coin-operated laundry. The free breakfast includes a selection of hot items.

11.
Comfort Inn Santa Cruz
110 Plymouth Street, Santa Cruz, CA 95060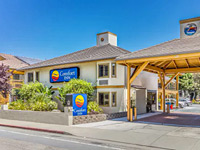 Adjacent to the Best Western, the Comfort Inn Santa Cruz is a pleasant, recently-renovated motel along Plymouth Street near Highway 1, with a small roadside entrance that opens out to a sheltered courtyard with outdoor pool, hot tub & sun deck. The proximity to the highway makes this a good base from which to explore the many attractions of Monterey Bay and the coastal redwood forests in the hills to the north. Nearby are several 24 hour restaurants, Grant Street Park, San Lorenzo River and UC Santa Cruz. The hotel serves enhanced continental breakfast.

12.
Comfort Inn Santa Cruz Beach/Boardwalk Area
314 Riverside Avenue, Santa Cruz, CA 95060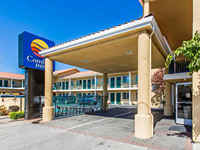 The 28 room Comfort Inn provides basic, clean accommodation just 2 blocks from the famous Santa Cruz Boardwalk amusement arcade, located right on the beach. Rooms are on 2 floors, overlooking a small parking area and outdoor pool, along Riverside Avenue within sight of the San Lorenzo River. This part of town has many restaurants and a few shops; the main business districts of Santa Cruz are a mile or so to the north. Other services on offer are free continental breakfast, free newspaper and free wireless internet access.

13.
Quality Inn Santa Cruz
1101 Ocean Street, Santa Cruz, CA 95060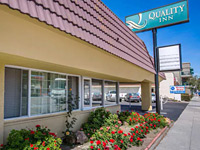 One of many small, 2 floor motels in Santa Cruz, the Quality Inn has a central location along Ocean St, the main route to the boardwalk and beaches. There are many choices for shopping & dining nearby, and with Highway 1 just 0.3 miles to the north, the hotel is well connected to other nearby towns and attractions. The 63 rooms look out over the parking area & pool, and all contain a microwave & refrigerator.

14.
Howard Johnson by Wyndham Santa Cruz Beach Boardwalk
130 West Cliff Drive, Santa Cruz, CA 95060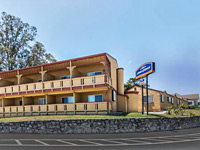 The Howard Johnson is a southwest Santa Cruz motel, just 500 feet from the beach and the municipal boardwalk, at the south end of Pacific Avenue. Some of the 30 rooms have views of the central courtyard and outdoor hot tub while others look east towards the city and the ocean; these feature a good size patio or balcony. There are two restaurants directly opposite and more around the wharf; also close by is Depot Park, with sports facilities and playground. Free continental breakfast is provided.

15.
Super 8 by Wyndham Santa Cruz/Beach Boardwalk East
338 Riverside Avenue, Santa Cruz, CA 95060-5524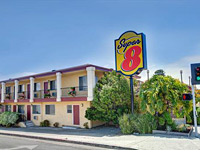 North-facing rooms at Super 8 Santa Cruz have views across a road to the lower end of the San Lorenzo River; the exterior corridor motel has a central location in the city, half a mile from the Beach Boardwalk amusement park, beside the Pacific Ocean. The place is small, with just 24 guest rooms, all featuring a microwave, a refrigerator and free w-fi. Eight item continental breakfast is also complimentary. A few accommodations contain a whirlpool bath. The nearest restaurants are along the oceanfront.