1.
The Volare, an Ascend Hotel Collection Member
111 S Avenida De La Estrella, San Clemente, CA 92672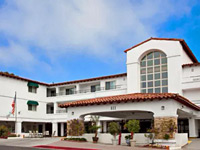 The Volare presents an attractive frontage, with whitewashed walls, red tile roofs, covered walkways and tropical plants; inside are 72 good sized rooms & suites, some containing a whirlpool bath. Others have a private balcony, and many of these allow for a partial sea view - the Pacific Ocean is a little less than one mile west, and the hotel is situated on a small hill, slightly higher than the intervening residential streets. Besides the beaches, the Volare is within walking distance of shops, restaurants and galleries in the town center, along El Camino Real. Dining is also available from the on-site restaurant, open for breakfast, lunch & dinner, plus room service. The adjacent lounge bar serves drinks and snacks, while other facilities include an outdoor pool, hot tub, fitness center, guest laundry and basic business services. The hotel sits right next to I-5 (the San Diego Freeway), by exit 75.
2.
Hampton Inn & Suites San Clemente
2481 S El Camino Real, San Clemente, CA 92672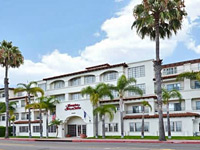 Free hot breakfast is provided each morning at Hampton Inn San Clemente, plus a takeout version (Mon-Fri) for guests in a hurry. Half a dozen restaurants are within walking distance, along the main road (El Camino Real), which here parallels the east side of I-5. East-facing rooms at the hotel have more relaxing views, over the greens and fairways of San Clemente Golf Course. This location is one mile south of the town center, and just less than a mile from the nearest beach (Calafia State Park). The other main facilities are free wi-fi, an outdoor pool (also with golf course views), a fitness center and a 24 hour business center. All accommodations (65 of them) are modern two room suites.

3.
Holiday Inn Express San Clemente North
35 Via Pico Plaza, San Clemente, CA 92672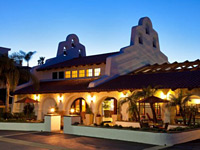 The new Holiday Inn Express hotel in San Clemente is built at the end of a side road behind a shopping plaza, right next to interstate 5 but shielded from it by a row of trees, and in a mostly residential area. The Pacific Ocean is one mile away and San Clemente Pier is 2 miles south. There are several restaurants adjacent, though free hot breakfast is available at the hotel, which also provides free internet access, a fitness center, outdoor pool, laundry and basic business services. The hotel opened summer 2009, following a full renovation of an earlier property (Country Plaza Inn).

4.
Best Western Plus Casablanca Inn
1601 N El Camino Real, San Clemente, CA 92672-4964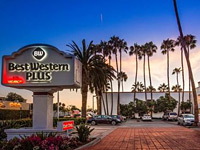 Best Western Casablanca Inn is one of the closest San Clemente hotels to the Pacific Ocean - a 0.3 mile walk down a gentle hill reaches beautiful North Beach, and also its adjacent metro station, for the Gold Line which allows stress-free travel all the way to Los Angeles and San Diego. Most of the hotel's 63 bright & spacious rooms have nice views either of the ocean, the central courtyard garden, or the sparkling outdoor pool. Some have one or more of a balcony, oversized work desk, hot tub bath, refrigerator and microwave. The main road past the hotel (El Camino Real) is lined with many small shops and restaurants, though breakfast (continental) is available free at the hotel. The Best Western also offers an exercise room and limited meeting/banquet space.

5.
Comfort Suites San Clemente
3701 S El Camino Real, San Clemente, CA 92672-3452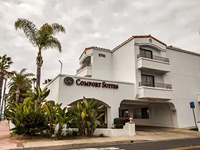 Like most hotels in San Clemente, CA, the Comfort Suites is situated along the main road, El Camino Real, in this case on the south side of town, one block from the edge of Camp Pendleton Marine Corps Base; central San Clemente is around 2 miles north. The nearest beach is less than a mile away, and interstate 5, which runs right past the hotel, provides quick access to other places up and down the coast. The hotel receives favorable guest reviews for its friendly staff, reasonable rates and the free hot breakfast; it features 65 oversized rooms, all equipped with a microwave, refrigerator and pillowtop mattress. Several suites are available with a balcony and hot tub bath. Leisure amenities are the usual hot tub, fitness center and pool - this latter quite large, and sheltered beneath tall palm trees.

6.
Travelodge by Wyndham San Clemente Beach
2441 South El Camino Real, San Clemente, CA 92672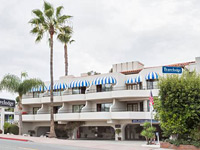 The Travelodge is an easily-walkable 0.7 miles from the nearest beach; across adjacent Interstate 5 then along a residential street, which is bordered to the south by bluffs and overgrown dunes. To the east, the hotel borders the greens and fairways of the 18-hole San Clemente Golf Course, and there are plenty more scenic areas within a few miles. A small selection of shopping and dining can be found a short distance north. With just 23 guest rooms, the Travelodge is a small place, but popular; guests appreciate the good location, the clean accommodations, the reasonable rates and the friendly staff. All rooms have a microwave and refrigerator, and some have a balcony.

7.
Rodeway Inn San Clemente
1301 N El Camino Real, San Clemente, CA 92672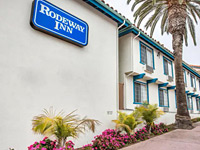 San Clemente's Rodeway Inn has a quiet location in a residential part of town, beside a park with sports facilities and children's playground - along El Camino Real about half way (0.6 miles) between I-5 and the beach. Rooms are accessed from exterior corridors at the back, above the parking lot; some feature one or more of a sofa bed, balcony and coffee maker, while all have a refrigerator & microwave. Free continental breakfast is the main amenity. The best choice of shopping is half a mile north, along Avenida Pico.