1.
Holiday Inn Oceanside NW - Harbor Area
1401 Carmelo Drive, Oceanside, CA 92054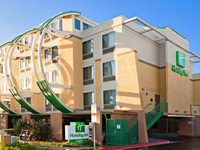 The Holiday Inn of north Oceanside is located at exit 54B of I-5 - close to the edge of Camp Pendleton, a short walk from Oceanside Harbor and 2.8 miles from the local airport. The full service property includes its own restaurant, offering breakfast, lunch, dinner & 24 hour room service, plus a range of facilities for business, events and meetings. Accommodation comprises 110 modern, luxurious rooms, some with ocean views; other facilities include a fitness center, pool, gift shop, meeting space and a lounge/bar.

2.
Courtyard San Diego Oceanside
3501 Seagate Way, Oceanside, CA 92056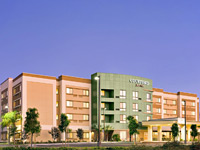 Courtyard San Diego Oceanside is the second Marriott hotel near the Seagate Corporate Center, in the hills on the east side of town, close to many shops, restaurants and other businesses. The 76 and 78 freeways enable quick travel to other area locations including the Pacific Ocean beaches, 4.5 miles west. Guests enter the hotel via a modern, welcoming lobby, complete with media wall, bar, business center and dining area for the free hot breakfast served each morning. All rooms and suites are equipped with a microwave, refrigerator and luxury bedding, and are part of a handsome, four floor building that also contains a fitness center and three meeting rooms.

3.
Residence Inn San Diego Oceanside
3603 Ocean Ranch Blvd, Oceanside, CA 92056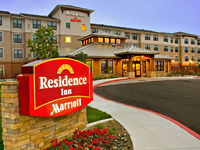 The Residence Inn hotel in Oceanside sits at the center of a large area of new development on the hills a few miles inland from the coast, in a generally residential district though with various shops, offices and restaurants being constructed in the immediate vicinity. The four story inn features 125 modern, comfortable suites, each containing a full kitchen and such stylish additions as plasma TVs and granite work surfaces. Free buffet breakfast and evening reception are provided; the other main amenities are an outdoor heated pool, hot tub, fitness room, bbq area and fire pit. Nearby attractions include Legoland (8.5 miles), Plaza Camino Real (3.5 miles) and Oceanside Beach (4.5 miles).

4.
SpringHill Suites San Diego Oceanside/Downtown
110 N Myers Street, Oceanside, CA 92054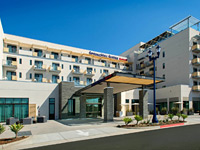 Besides the beach, just 500 feet away, SpringHill Suites Oceanside is also a short walk from a 16 screen movie theater, the local Metrolink station, Oceanside Pier, and numerous shops, restaurants & bars. The all-suite, six story hotel opened early 2014 just off Mission Avenue, and all rooms on the west side have spectacular ocean views. Other highlights are free hot breakfast, an outdoor rooftop pool, free wi-fi, two meeting rooms and a fitness center. All accommodations contain a microwave and refrigerator. The nearest interstate (I-5, exit 53) is 0.8 miles away

5.
The Fin Hotel, Tapestry Collection by Hilton
133 South Coast Highway, Oceanside, CA 92054
The Fin Hotel is a small, boutique property in downtown Oceanside, a member of Hilton Hotels' Tapestry Collection, situated along the Coast Highway one block from the Oceanside Transportation Center and a third of a mile from the nearest beach. Many restaurants and bars are within walking distance. The interior corridor hotel offers amenities of free wi-fi, free hot breakfast, a business center, room service and concierge service

6.
Ramada by Wyndham Oceanside
1440 Mission Avenue, Oceanside, CA 92058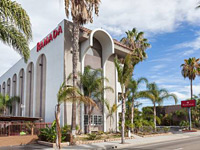 The pet friendly Ramada hotel in Oceanside occupies a relatively old four floor building with exterior corridors, the rooms looking northwards across the parking area to the busy suburban neighborhood - along Mission Avenue, just east of the I-5 intersection. Downtown Oceanside and the Pacific Ocean beaches are one mile away, but there are various shops and restaurants much closer. Free continental breakfast is provided, while drinks & snacks can be purchased from a small convenience store, including food cookable using the in-room microwaves. The hotel has a business center and fitness center, though no pool.

7.
Best Western Plus Oceanside Palms Hotel
909 N Coast Highway, Oceanside, CA 92054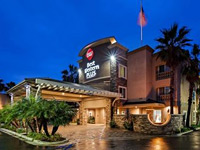 Best Western Palms enjoys a fine location near the north edge of Oceanside, easily accessed from I-5 though far enough away to escape the traffic noise, and just 0.3 miles from the beach (0.8 miles by road or on foot). The San Luis Rey River Trail runs past one block north. There are several restaurants along the main road (Coast Highway), while free full breakfast is provided by the hotel. Other amenities are a fitness center, hot tub, outdoor pool, coin-operated laundry, sundry store and meetings/business facilities.

8.
Best Western Oceanside Inn
1680 Oceanside Blvd, Oceanside, CA 92054-5427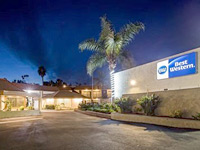 Best Western Oceanside Inn benefits from a good location near the center of town, adjacent to interstate 5 (exit 52) and 0.8 miles away from the nearest beach - west, along Oceanside Avenue. The neighborhood is relatively quiet, with a line of trees hiding the hotel from the interstate, and wooded, residential land extends in most directions. The inn offers 80 spacious rooms, half of which have relaxing views over the tropical courtyard garden, outdoor pool and hot tub. Other amenities include a fitness room, guest laundry and free full breakfast.

9.
Comfort Suites Marina, Oceanside
888 N Coast Highway, Oceanside, CA 92054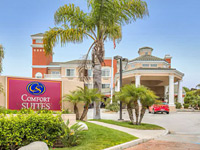 The Comfort Suites in Oceanside is one of the closest hotels to the marina, located along the Coast Highway - a few blocks north of downtown Oceanside and less than a mile from the waterfront (and the south entrance to Camp Pendleton Marine Corps Base). It is also right next to exit 54A of interstate 5, the junction with Route 76. Many of the 40 rooms have nice views over the town, the harbor & the ocean, and all contain a microwave and refrigerator; also available are several two room suites. The 3 floor inn has an outdoor pool and serves free breakfast, with several hot items.

10.
Quality Inn & Suites Oceanside
3170 Vista Way, Oceanside, CA 92056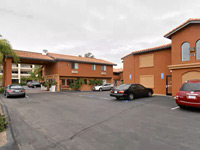 Oceanside's Quality Inn hotel has a pleasant setting overlooking the golf course of El Camino Country Club, alongside the 78 Freeway which links Oceanside and Carlsbad with Vista, San Marcos and Escondido. Interstate 5 runs 1.5 miles to the west, with the nearest beach half a mile further. The hotel is a new-looking, medium-sized property (62 rooms & suites, 2 floors), featuring an outdoor pool, fitness center, newsstand, whirlpool and free hot breakfast. Other meals are available from Hooters restaurant/bar, just next door. Some guest rooms contain a microwave, refrigerator and sofa bed.

11.
Days Inn by Wyndham Oceanside
1501 Carmelo Drive, Oceanside, CA 92054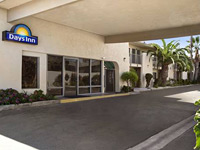 The Days Inn is 0.2 miles from Oceanside Harbor, on the far side of a railway line, and half a mile from the nearest beach, at the mouth of the San Luis Rey River. The inn has a good sized parking lot, shared with a Mexican restaurant, plus an outdoor pool/hot tub tucked away at the rear, well away from the access road. Inside, the only facilities are guest laundry, a business center and a dining room for the free continental breakfast, but the motel is popular on account of its low rates and excellent location. I-5 runs past one block east; access is from the Harbor Drive exit.

12.
Econo Lodge Oceanside
1403 Mission Avenue, Oceanside, CA 92058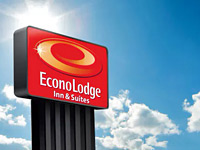 The Econo Lodge is a central Oceanside hotel, just east of I-5 along Mission Avenue, close to the City Center Golf Course. The interstate puts all San Diego area attractions within easy reach - nearby sites include Mission San Luis Rey (5 miles), Carlsbad Premium Outlets Mall (6 miles) and Legoland (7 miles). The 79 rooms are on the small side but comfortable and well equipped, all containing a microwave and refrigerator, coffee maker and ironing facilities. Free continental breakfast is served.

13.
Super 8 by Wyndham Oceanside Downtown
822 N Coast Highway, Oceanside, CA 92054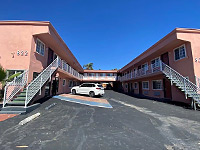 Guest rooms at the Super 8 in Oceanside are on two floors of several exterior corridor blocks, arranged around the rather small parking lot. All contain a microwave and refrigerator; a few hot tub bath suites are also available. General amenities are limited to basic free breakfast and free wi-fi. The motel is positioned beside the Hwy 76 - Interstate 5 intersection (south side), a five minute walk from the nearest beach. There is one restaurant adjacent and plenty more to the south, along the Coast Highway.

14.
Rodeway Inn Oceanside
1103 N Coast Highway, Oceanside, CA 92054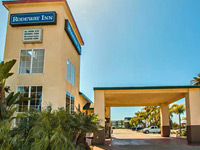 Although right beside Interstate 5, Rodeway Inn Oceanside has a peaceful setting overlooking the San Luis Rey River, nearly opposite Marina Del Mar and a quarter of a mile from the Pacific Ocean. The inn is an old style exterior corridor property of 80 rooms, facing the sheltered parking area, at one side of which is a small outdoor pool. A hike/bike trail runs past to the north, along the river banks. Motel amenities include free breakfast, free wi-fi, meeting space, basic business services and a refrigerator/microwave in each room.
15.
Motel 6 - Oceanside Marina
901 North Coast Highway, Oceanside, CA 92054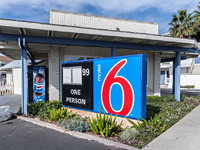 The budget-priced, exterior corridor guest rooms at Motel 6 Oceanside are contained within several two story blocks arranged around the parking lot and outdoor pool/whirlpool; most have views eastwards across the Coast Highway and the mixed residential/business neighborhood. The motel is 0.4 miles from the city center, 0.7 miles from Oceanside Pier, and just down the street from several restaurants. Rooms are modern in style, and brightly decorated; other amenities are free wi-fi, laundry. free coffee and a microwave/refrigerator in select accommodations.
16.
Motel 6 Oceanside
3708 Plaza Drive, Oceanside, CA 92056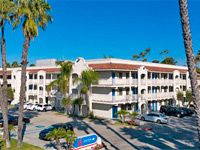 Motel 6 Oceanside has a prominent location beside Highway 78 at the College Boulevard intersection, within walking distance of Ti-City Medical Center, MiraCosta College and College Plaza Shopping Center, this latter just across the street. The motel is large, with 124 rooms on three exterior corridor floors, surrounded by an extra spacious parking lot, which is partly shielded from the nearby main roads by palms and other tall trees. Accommodations are brightly decorated and have modern furnishings. Some overlook the outdoor pool and tropical garden.