1.
The Westin Carlsbad Resort & Spa
5480 Grand Pacific Drive, Carlsbad, CA 92008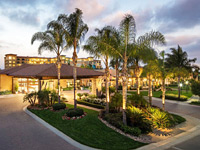 Westin Carlsbad, a luxurious, full-service resort, occupies an extensive site in the hills towards the east side of the city, in between the Crossings at Carlsbad golf course and LEGOLAND California, to which guests have use of a private entrance. The nearest beaches are 2 miles away. Recreation facilities are a large outdoor pool, in a scenic location at the rear of the property, a 24 hour fitness center, and the Ocean Pearl Spa, which offers a wide range of treatments and services. Food & beverage outlets are the ocean-view 20Twenty Restaurant, a poolside bar, also serving lunch & dinner, and a cafe open for breakfast & lunch. All guest rooms have a balcony, and some enjoy coastline views.

2.
Sheraton Carlsbad Resort & Spa
5420 Grand Pacific Drive, Carlsbad, CA 92008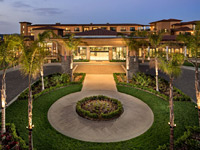 The Sheraton is one of three adjacent resort hotels just east of LEGOLAND, also close to Crossings at Carlsbad, Agua Hedionda and Mc Clellan Palomar Airport. The many facilities include three restaurants, a full service spa, an oversized outdoor pool and over 70,000 square feet of function space, enough for events of up to 1,200 people. Accommodations range from traditional guest rooms to two bedroom suites; all feature a private balcony, and many have distant views of the ocean, two miles west.

3.
The Cassara Carlsbad, Tapestry Collection by Hilton
5805 Armada Drive, Building B, Carlsbad, CA 92008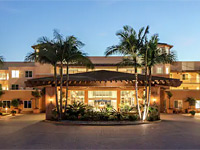 New for 2021, the Cassara Carlsbad Resort has a spectacular setting on a slightly elevated site overlooking 12 acres of the famous Carlsbad Flower Fields, along Armada Drive, and just across the street from LEGOLAND and the Sea Life Aquarium; 1.2 miles by road but much shorter via the hotel's private pedestrian entrance. A complimentary shuttle is operated to locations within five miles, such as the beach, the city center, and Carlsbad Premium Outlets. The spacious guest rooms overlook one of the two oversized pools, surrounded by landscaped gardens that include cabanas and a poolside bar.

4.
Hilton Grand Vacations at MarBrisa
1594 Marbrisa Circle, Carlsbad, CA 92008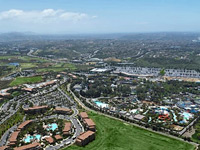 Accommodations at Hilton Grand Vacations comprise luxury suites, in studio, one bedroom, two bedroom and three bedroom layouts, all with a private balcony or patio, and equipped with a kitchenette, or in many cases, a full kitchen - part of an extensive (43 acre) resort complex centered on two oversized pools amidst landscaped gardens. The hotel has a quiet, semi-rural location just north of LEGOLAND California and the SEA LIFE Aquarium, and also close to the Crossings at Carlsbad golf course. Other facilities on site include several hot tubs, a sports court, childrens' playground, bbq grills, fire pits, fitness center and a restaurant/bar, which is open all day and also provides room service.

5.
Hilton Carlsbad Oceanfront Resort & Spa
1 Ponto Road, Carlsbad, CA 92011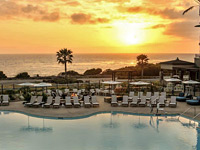 Only the two lanes of Carlsbad Boulevard separate Hilton Carlsbad from the beach and the Pacific; the luxurious, full service, 215 room/suite resort has a spectacular oceanfront setting towards the south side of town, 0.7 miles from the nearest I-5 exit. Half the rooms have ocean views, and some also overlook the extensive outdoor pool area, which includes a hot tub, childrens' pool, fire pit and coastal gardens. The on-site restaurant/bar (Chandler's) serves breakfast, lunch, diner & evening drinks, and provides all-day room service. The other main facilities are the 5,600 sq ft Ocean Crest Spa, a well equipped fitness center and 25,000 sq ft of indoor/outdoor function space, ideal for weddings.

6.
Holiday Inn Carlsbad
2725 Palomar Airport Road, Carlsbad, CA 92009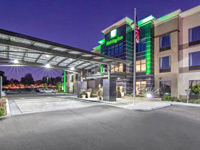 Holiday Inn Carlsbad is situated along Palomar Airport Road on the east side of Carlsbad, about half way (7 miles) to the adjoining city of San Marcos. The surrounding hilly neighborhood contains mostly business premises though there are a few restaurants nearby, on the far side of the highway, and one onsite, open all day and also providing room service. The hotel has three floors, 133 guest rooms, and modern meetings facilities catering for up to 400 people. Outdoor event space is also available, in the beautifully landscaped, resort-style courtyard. Leisure amenities are an outdoor pool/hot tub, complete with cabanas, plus a sports court, fitness center and putting green.

7.
Courtyard San Diego/Carlsbad
5835 Owens Avenue, Carlsbad, CA 92008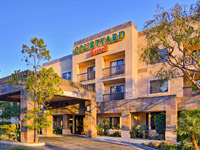 The Courtyard hotel in Carlsbad has a rather out of the way location in the coastal hills at the edge of a business park next to McClellan Palomar Airport, though still less than 3 miles from the Pacific Ocean, interstate 5 and the town center. The main local attraction is Legoland, 3.5 miles by road. The hotel is a 3 story building of 139 rooms & 6 suites, all clean and comfortable, and with a particularly tropical courtyard garden at the rear, in the middle of which is an outdoor heated pool & hot tub. The one dining outlet on site is the Bistro, open for breakfast &amp dinner; the nearest full service restaurants are a mile or more away.

8.
Residence Inn San Diego Carlsbad
2000 Faraday Avenue, Carlsbad, CA 92008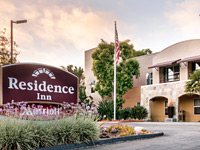 Like one of the other Marriott hotels in Carlsbad (the Courtyard), the Residence Inn is situated a few miles from the Pacific coast in the Carlsbad Business Park, on hilly land close to the local airport - at the corner of College Boulevard & Faraday Ave, 2.5 miles east of I-5 exit 47. This extended stay hotel has 121 one- or two-bedroom suites, all with a complete kitchen including a dishwasher. Complimentary food is provided twice a day; a hot breakfast, and the manager's evening reception. The accommodation block is built around 3 sides of an enclosed garden containing an outdoor pool, hot tub, and plenty of palm trees.

9.
Staybridge Suites Carlsbad
2735 Palomar Airport Road, Carlsbad, CA 92009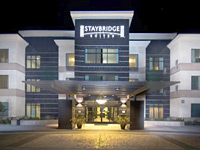 Staybridge Suites Carlsbad is built in a hilly, partly wooded neighborhood one mile east of McClellan-Palomar Airport and 6 miles from downtown Carlsbad. Legoland is 4 miles away. The extended stay accommodations comprise 106 suites in studio, one bedroom and two bedroom layouts, all of which include a sofa bed and a fully equipped kitchen. Hot breakfast buffet and weekday evening receptions are complimentary. The nearest restaurant is in the Holiday Inn next door; other shared facilities include the courtyard gardens, outdoor pool and sports court. The Staybridge Suites has its own meetings space and fitness center.

10.
Homewood Suites by Hilton Carlsbad-North San Diego County
2223 Palomar Airport Road, Carlsbad, CA 92011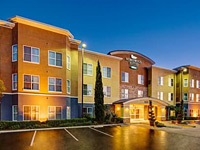 Serving McClellan-Palomar Airport (just across the road), Carlsbad, the center of which is 5 miles northwest, and all of north San Diego County, the Homewood Suites by Hilton is a modern, extended stay/all-suite hotel with excellent staff, affordable rates and a quiet location - along Palomar Airport Road, 3 miles east of I-5 exit 47. Both hot breakfast and an evening snack (Mon-Thu) are provided free of charge; for other meals there are a small number of restaurants within walking distance. The hotel also has a gift shop, fitness room, outdoor pool, business center and meeting space. All rooms include a full kitchen.

11.
Hilton Garden Inn Carlsbad Beach
6450 Carlsbad Blvd, Carlsbad, CA 92011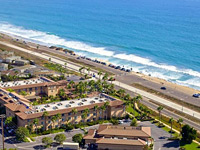 The elegant, palm tree-lined frontage of Hilton Garden Inn Carlsbad Beach is just 200 feet from the golden sands bordering the Pacific Ocean, separated from it by the twin lanes of Carlsbad Boulevard. The three floor hotel is centered on a beautiful tropical courtyard garden, with pool, hot tub, walkways and dining area, and it offers many facilities including a restaurant/bar (Carlsbad Beach Bistro), open for breakfast, lunch, dinner, evening drinks and room service (4 pm to 10 pm). Drinks and snacks are also available for purchase from the on-site convenience store. The hotel's meeting facilities can cater for events of up to 400 people, complimented by a 24 hour business center. Access is easy since I-5 runs past 0.2 miles east, while shopping is available at Carlsbad Premium Outlets Mall on the far side.
12.
Hampton Inn Carlsbad-North San Diego County
2229 Palomar Airport Road, Carlsbad, CA 92011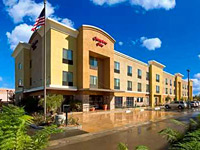 One of a small number of hotels adjacent to McClellan-Palomar Airport, the Hampton Inn is a quick drive away from the I-5, I-15 and 78 freeways, for easy travel to other area locations. The surrounding neighborhood is a quiet business district, which includes a small selection of restaurants. The 94 room hotel shares its somewhat limited parking space with a Hilton sister property (Homewood Suites); it has a secluded outdoor poll/hot tub at the rear, lined by trees, and interior amenities of fitness & business centers, meeting space, guest laundry and a gift shop. Free hot breakfast is served.

13.
Home2 Suites by Hilton Carlsbad
1901 Wright Place, Carlsbad, CA 92008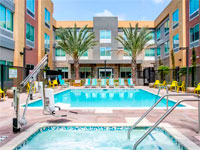 Home2 Suites by Hilton is a 2020 addition to the hotel choices near Legoland, south of Carlsbad - just off Palomar Airport Road, at the edge of a business park. Also close by is the Crossings at Carlsbad, and McClellan-Palomar Airport. The apartment-style accommodations are available in studio and one-bedroom configurations, and all include a fully equipped kitchen. Wi-fi and hot breakfast are complimentary. The hotel has an outdoor pool, a business center and a fitness center.

14.
SpringHill Suites San Diego Carlsbad
3136 Carlsbad Boulevard, Carlsbad, CA 92008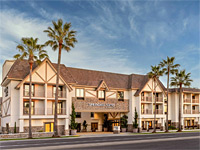 Marriott's most affordable all-suite/extended stay brand opened in Carlsbad late 2020; the SpringHill Suites is built on the east side of Carlsbad Boulevard right in the center of town, just 350 feet from the beach, and also within easy walking distance of many restaurants, bars and shops. The 104 studio suites feature a microwave, refrigerator and sofa bed, while the hotel also offers a 24 hour market, a pool, hot tub, fitness center and two meeting rooms. Hot buffet breakfast is complimentary.

15.
Holiday Inn Express Hotel & Suites Carlsbad Beach
751 Raintree Drive, Carlsbad, CA 90211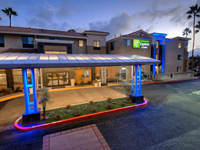 The two main attractions near Carlsbad's Holiday Inn Express are Legoland (4 miles) and the state beach (3.5 miles). The property is part of a small group of hotels along Avenida Encinas, just west of I-5 exit 45, on the south edge of Carlsbad - in a residential area though one block from a large shopping center. The hotel grounds, which include an enclosed courtyard garden and outdoor pool, are enlivened by a few palm trees and other exotic plants, in keeping with the mild climate. Services include free hot breakfast, a business center, guest laundry and a microwave & refrigerator in each room. Some guest rooms have ocean views.

16.
Best Western Carlsbad By The Sea
751 Macadamia Drive, Carlsbad, CA 92011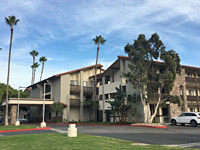 South Carlsbad State Beach is half a mile from Best Western Carlsbad, a popular, exterior corridor hotel adjoining the west side of Interstate 5 near the Poinsettia Lane exit. The three floor property is centered on an enclosed garden with outdoor pool & hot tub, overlooked by half the guest rooms; the remainder have views over the partly residential neighborhood. All contain a microwave and refrigerator, while a few (the suites) have a sofa bed and kitchenette; maximum occupancy is 6 people. Free hot breakfast is prepared each morning and there are various restaurants on hand to supply other meals, mostly to the south.

17.
Best Western Plus Beach View Lodge
3180 Carlsbad Blvd, Carlsbad, CA 92008-2908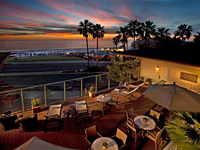 Best Western Beach View Lodge has a fine location near the center of Carlsbad, CA, and about 200 feet from the beach, close enough for the ocean to be seen from many of the 41 rooms, and from the hotel's outdoor pool, courtyard & sundeck. Besides the sands, many shops & restaurants are an easy walk away, and other sites along the coast are easily reached via interstate 5, 0.8 miles east via Carlsbad Village Dr. The largest of the 21 California Missions (
San Luis Rey de Francia
) lies seven miles to the north. Room rates at the Best Western Beach View Lodge are traditionally quite reasonable compared to other oceanfront hotels around San Diego.

18.
Fairfield Inn & Suites San Diego Carlsbad
1929 Palomar Oaks Way, Carlsbad, CA 92008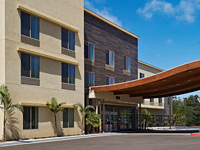 June 2015 was the opening date for the 99 room/suite Fairfield Inn Carlsbad, the third Marriott hotel in the city, located, like several other newly constructed properties, along Palomar Airport Road at the edge of an extensive business/technology district. The hotel is 3 miles (by road) from Legoland, 2.5 miles from the coast and 5 miles from the city center. Highlights include a 24 hour convenience store, free daily hot breakfast, free wi-fi, an outdoor pool and meeting space for up to 100 people. All guest rooms are equipped with a microwave, while select suites have a hot tub bath.

19.
Days Inn by Wyndham Carlsbad
3700 Pio Pico Drive, Carlsbad, CA 92008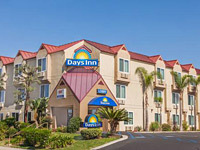 The Days Inn hotel near Legoland has a good location at the edge of a residential district alongside interstate 5, about a mile south of Carlsbad town center and 3 miles from the popular Legoland California theme park. The nearest restaurants are a short walk south along Tamarack Avenue, which leads to Carlsbad State Beach less than one mile away. The hotel is a compact building of 3 floors and 46 above average-sized rooms (containing microwave & refrigerator), built in a square around a small courtyard, with a heated outdoor pool at one corner. Free continental breakfast is served.
20.
Motel 6 Carlsbad, CA - North
3666 Pio Pico Drive, Carlsbad, CA 92008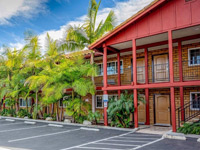 The Motel 6 is one of several budget-priced motels along Pio Pico Drive, the eastern I-5 frontage road beside exit 49 - close to the center of Carlsbad, though adjoining a residential area. The exterior corridor property is centered on a pleasant courtyard lined by palm trees and other plants, and it offers amenities of free wi-fi, free coffee, an outdoor pool and coin-operated laundry. The location is easily-reached, and within walking distance of shopping & dining.
21.
Motel 6 Carlsbad Beach
750 Raintree Drive, Carlsbad, CA 92011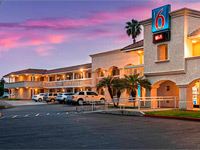 Guests at Motel 6 Carlsbad South are a short walk from the many shopping and dining outlets at Poinsettia Village, and are also close (half a mile) from the Pacific Ocean at South Carlsbad State Beach. Interstate 5 runs past to the rear; access is from exit 45, Poinsettia Lane. The property is larger than average (160 rooms) for this chain, and has modern accommodations, decorated in bright colors. The exterior corridor building is centered on a courtyard garden with palm trees and an outdoor pool; it also contains a coin-operated laundry facility. Wi-fi is available.
22.
Motel 6 Carlsbad East
6117 Paseo Del Norte, Carlsbad, CA 92011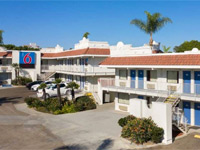 Amenities at Motel 6 Carlsbad East are typically limited, comprising only free morning coffee, wi-fi, guest laundry and an outdoor pool; the main reasons to stay are the low rates, clean rooms and the convenient location - beside I-5 at the Palomar Airport Road exit. Attractions within 2 miles include Legoland, Carlsbad Premium Outlets, The Crossings Golf Course and Carlsbad State Beach. There are plenty of restaurants within easy walking distance, and Costco supermarket.