1.
Courtyard Salinas Monterey
17225 El Rancho Way, Salinas, CA 93907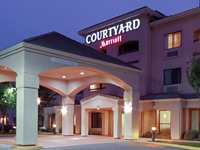 Amongst the top rated hotels in Salinas, CA, the Courtyard by Marriott offers 90 large, clean & comfortable rooms, a cafe/lounge, fitness center, business center, guest laundry, indoor heated pool and hot tub - all managed by courteous, efficient staff. The hotel occupies a relatively new building, situated next to residential district on the north edge of Salinas, two blocks from US 101 and 16 miles from the Pacific Ocean at Monterey. Within walking distance are various large stores and a good selection of restaurants.

2.
Residence Inn Salinas Monterey
17215 El Rancho Way, Salinas, CA 93907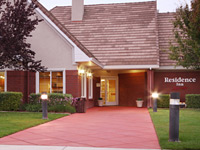 Right next to a Marriott sister hotel (the Courtyard) stands the Residence Inn Salinas, catering to extended stay travelers, large groups, or just those needing more space and facilities; this is an all-suite property of 107 rooms, each with a full kitchen, extra sofa bed, and separate sections for living & sleeping. The grounds are well maintained, decorated by flowering bushes, and contain a sports court though no pool - that is indoors, together with a whirlpool and a fitness center. Complimentary hot breakfast is provided each morning, and a free reception is held in the evenings, when drinks & snacks are served.
3.
Hampton Inn & Suites Salinas
523 Work Street, Salinas, CA 93901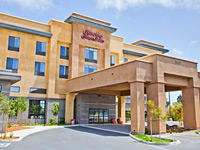 The Hampton Inn is a spring 2014 to the hotel choices in central Salinas, built beside US 101 at the John Street exit, in a business/industrial part of the city; the nearest restaurants are half a mile north. Salinas Municipal Airport is 2 miles east. All the spacious, modern guest rooms contain a refrigerator and microwave, while the studio suites have a sofa bed and extra living space. Wi-fi, hot breakfast and all-day tea/coffee are complimentary. A business center and 1,000 sq ft meeting room are at the disposal of guests here to work. Snacks and sundries can be purchased from a convenience store, open 24 hours.

4.
Holiday Inn Express Hotel & Suites Salinas
195 Kern Street, Salinas, CA 93905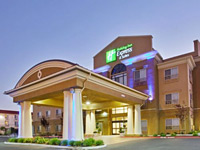 The recently built Holiday Inn Express Salinas occupies the last piece of vacant land along Kern Street, a short road with many hotels, next to exit 328 of US 101. There are 74 comfortable, well furnished rooms & suites in the building, some with views over farmland to the north, and every one equipped with a microwave & refrigerator. All the other standard Holiday Inn Express amenities are present - free hot breakfast buffet, a fitness center, pool (indoor), guest laundry and a convenience store. Event facilities comprise three meeting rooms and a business center.

5.
Best Western Salinas Monterey Hotel
175 Kern Street, Salinas, CA 93905-2016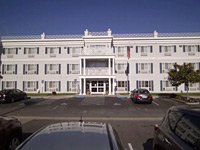 Most hotels in Salinas are found along one short road (Kern Street), beside US 101 near the northeast edge of town. One of the newest is Best Western Salinas/Monterey, an elegant, pale-gray, three floor building with 58 rooms, an outdoor pool & hot tub, fitness center, sauna and business center. Breakfast (continental) is available free, while lunch and dinner can be purchased from the adjacent Margie's Diner restaurant. All other services can be found towards the center of Salinas, just the other side of Highway 101.

6.
Best Western Plus Salinas Valley Inn & Suites
187 Kern Street, Salinas, CA 93905-2016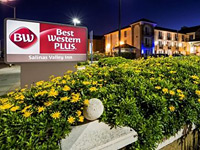 The Salinas Valley Inn is one of two Best Western hotels along Kern Street, at the north end of the road looking out over an area of farmland; like the Salinas Monterey Hotel this is a medium-sized (62 room), 3-floor property offering the expected amenities of free breakfast, an outdoor pool, fitness center, guest laundry and spa. One difference is that enhanced accommodation choices are available, including several sizes of suite. The inn is within walking distance of local sites such as Cesar E Chavez Community Park (hiking trails & a picnic area), the Exposition Grounds, and Market Street which leads to downtown Salinas.

7.
Comfort Inn & Suites Salinas
181 Kern Street, Salinas, CA 93905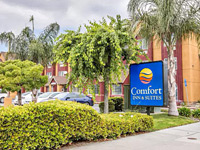 Comfort Inn Salinas is situated along Kern Street, about 1 mile from downtown and just east of Highway 101 (access is from the Market Street exit). With the coast 11 miles away and Monterey a further 8 miles south, the inn, like the neighboring motels, is a good choice for those visiting the many attractions of Monterey Bay, being rather cheaper than hotels nearer the ocean. The modern, 3 floor building has 62 rooms, all with a microwave & refrigerator; other amenities are an indoor heated pool/hot tub, fitness center, free continental breakfast, guest laundry and plenty of free parking - room for boats, trucks and RVs.

8.
Quality Inn Salinas
144 Kern Street, Salinas, CA 93905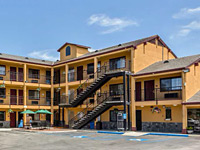 Just east of downtown Salinas along Kern Street, the Quality Inn provides basic but clean and comfortable lodging, right next to Highway 101 - 60 miles south of San Jose and within 25 miles of all important attractions of the Monterey Peninsula. Free continental breakfast is provided, while for other meals there are many restaurants nearby, both local diners and chain fast-food establishments. The three story inn has 32 rooms, each equipped with a microwave/refrigerator.

9.
Howard Johnson by Wyndham Salinas
131 John Street, Salinas, CA 93901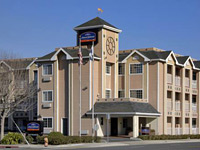 Guests at the three floor, interior corridor Howard Johnson Inn Salinas appreciate the clean accommodations and the city center location - along John Street, half a mile from US 101. There are two restaurants within one block. The usual two complimentary amenities of wi-fi and continental breakfast are provided, plus a microwave/refrigerator in all guest rooms. Other nearby locations include the National Steinbeck Center (0.6 miles), Salinas Recreation Center (0.3 miles) and Salinas Valley Hospital (1 mile).

10.
Super 8 by Wyndham Salinas
131 Kern Street, Salinas, CA 93905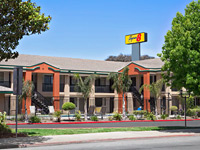 Free continental breakfast, free wi-fi, an outdoor pool and a business center are the principal amenities of Super 8 Salinas, a typically small and reasonably priced motel situated along Kern Street, right beside US 101, about a mile from the city center. There are numerous restaurants nearby. The two floor, exterior corridor motel is partly shielded by trees from the sometimes busy surroundings, and is enclosed by a good-sized parking lot.
11.
Motel 6 Salinas North - Monterey Area
140 Kern Street, Salinas, CA 93905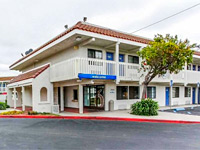 The limited amenities of the budget-priced, pet friendly Motel 6 Salinas North comprise wi-fi, an outdoor pool and free morning coffee. Half the guest rooms have views of the pool and the enclosing lawn, while the remainder look out across the large parking area (which includes truck spaces at the rear) to the mixed commercial/residential neighborhood. A small number of restaurants are close by. The motel is about a mile east of Salinas city center, beside US 101 at the Market Street exit.