1.
Country Inn & Suites By Radisson, Monterey Beachfront-Marina, CA
3280 Dunes Drive, Marina, CA 93933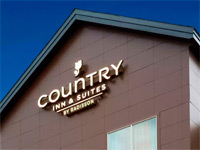 Along Dunes Drive near Marina State Beach, Quality Inn Monterey Beach Dunes offers 114 comfortable rooms in a 3 floor building with views out over the Pacific Ocean. This part of the coastline is quite undeveloped, consisting of miles of sand stretching from the state beach just south, to Salinas River State Park in the north. The inn is easily accessed from the Reservation Road exit of Highway 1, and is 10 miles from the many attractions of the Monterey Peninsula. There is one restaurant adjacent; more choices, and all other facilities, are found in Marina town center a short drive southeast. Amenities include free breakfast, free wi-fi, guest laundry and an outdoor pool/hot tub, in the middle of a sheltered courtyard garden.
2.
Hampton Inn & Suites Marina
120 Reservation Road, Marina, CA 93933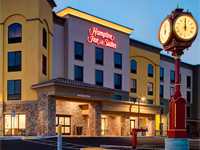 Hampton Inn Marina, the first Hilton hotel in town, opened early 2023, offering all the expected amenities including free hot breakfast, an indoor pool and a 24 hour fitness center. The 90 room property is built in a partly wooded residential neighborhood on the east side of Hwy 1 at the Reservation Road intersection, just across the street from Walmart, and half a mile from the parking lot for Marina State Beach. There is one restaurant adjacent (Denny's) and many more within one mile to the south, in the downtown area.

3.
Home2 Suites by Hilton Marina
225 10th Street, Marina, CA 93933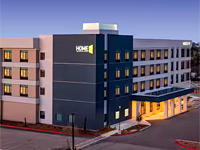 The Home2 Suites is a 2024 addition to hotels in Marina, located along Imjin Parkway, less than a mile from the nearest beach - part of Fort Ord Dunes State Park, on Monterey Bay; some of the upper floor guest rooms have bay views, from the private balconies. For recreation the hotel offers a 24 hour fitness center and a heated indoor saltwater pool. Guests are within walking distance of a selection of restaurants, and stores including Target and Kohl's. All accommodations are suites, studio and one bedroom, and all have a full kitchen.

4.
SpringHill Suites Marina The Dunes On Monterey Bay
215 10th Street, Marina, CA 93933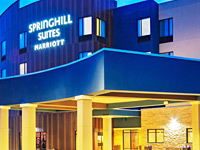 The SpringHill Suites is a south Marina hotel, near adjacent Seaside and 7 miles from the larger city of Monterey. The hotel offers spacious, well-equipped accommodations - all rooms are studio suites with microwave/refrigerator, work desk and separate living area. The free breakfast includes several hot items, while for other meals the nearest restaurants are about half a mile south, though the hotel is a short walk from several stores including Target. Other amenities are a 24 hour market, a brightly decorated lobby, a fitness center and an indoor pool. The sands of Fort Ord Dunes State Park are 1.5 miles west.

5.
Ramada by Wyndham Marina
323 Reservation Road, Marina, CA 93933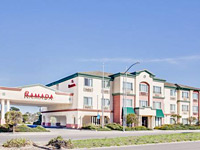 The Ramada hotel in Marina occupies a clean-looking, interior corridor building along Reservation Road, backing on to undeveloped land bordering the municipal airport, within walking distance of shopping and dining. Marina State Beach is a little further away (1.2 miles), on the far side of Hwy 1. The front of the hotel faces the road; the parking lot is at the rear, accessed by a covered driveway. Accommodations include standard rooms, all containing microwave/refrigerator and most with a sofa bed, plus several suites, some equipped with a hot tub bath. Other amenities are a business center, convenience store, meeting space, a fitness center and free continental breakfast.

6.
Holiday Inn Express Hotel & Suites Marina
189 Seaside Circle, Marina, CA 93933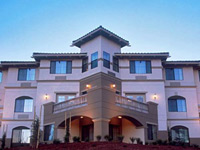 The pick of the budget hotels in Marina, CA, is probably the Holiday Inn Express, on the corner of Reservation Rd & Seaside Ave, a mile east of downtown, a mile west of the ocean, and within 2 miles of both the local airport and California State University-Monterey Bay. This is clean, modern hotel of 57 rooms & 23 suites, in a quiet residential area next to two city parks - close to Highway 1 but far enough away to escape any noise of traffic. The main amenities are a sauna, health/fitness center, guest laundry and of course free continental breakfast.

7.
Best Western Beach Dunes Inn
3290 Dunes Road, Marina, CA 93933-2005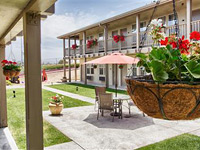 The Best Western hotel in Marina has a particularly scenic setting on the edge of the sand dunes bordering Monterey Bay - the inn is just 0.2 miles from the Pacific Ocean, and some of the 84 rooms have views of the sea. This quiet neighborhood is separated from the main part of town by Highway 1 which runs by just east; the many shops and restaurants in Marina are a 1.5 mile drive away. The 2 floor, motel-style building includes a spa, children's playground, guest laundry, and a dining area where free continental breakfast is served.

8.
Comfort Inn Marina
140 Reservation Road, Marina, CA 93933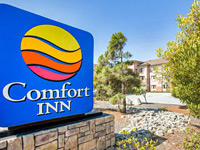 At 140 Reservation Road, the Comfort Inn hotel in Marina is near the west edge of town, in a quiet area just off Highway 1 and 0.9 miles from the coastline at Marina State Beach. Half a block south is Locke Paddon Wetlands Park, good for hiking, picnicking and bird watching. Accommodation consists of 62 rooms, generally large, clean and well furnished, some equipped with microwave & refrigerator. For leisure the inn provides an exercise room, sauna and sun deck, though no pool. The usual free continental breakfast is served, with other meals available from a large selection of nearby restaurants.
9.
Motel 6 Monterey - Marina
100 Reservation Road, Marina, CA 93933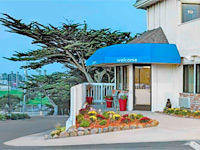 Highlight of Motel 6 Marina is the secluded courtyard garden at the center, overlooked by half of the exterior corridor rooms; the remainder have views over the partly residential surroundings, and westwards towards the sand dunes bordering the coast. Although the ocean is just out of sight, guests are only 0.3 miles from the nearest beach, in Marina State Park, and a similar distance from three city parks. The motel's parking lot is shared with a 24 hour Denny's restaurant. Coin-operated laundry and wi-fi are the only facilities.