1.
Hampton Inn & Suites Ridgecrest
104 East Sydnor Avenue, Ridgecrest, CA 93555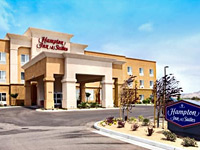 Free hot breakfast is served each morning at Hampton Inn Ridgecrest, and a take-out version is available for guests departing early. The inn has a quiet location in town, 400 feet from China Lake Boulevard, bordering undeveloped land to the east. The three floor building is surrounded by gardens and a god sized parking lot, with a sheltered outdoor pool/sundeck/hot tub on one side. All guest rooms contain a microwave & refrigerator, while the studio suites offer extra living space and a sofa bed. A fitness center, business center, meeting space and coin-operated laundry are also provided.

2.
SpringHill Suites Ridgecrest
113 E Sydnor Avenue, Ridgecrest, CA 93555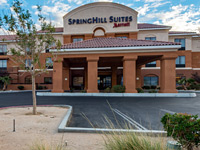 The SpringHill Suites by Marriott brings economically priced, all suite accommodation to Ridgecrest - the clean, modern property has 93 oversized rooms that all contain a microwave, sink and refrigerator, plus a large work desk and a full size pull-out sofa bed. Free breakfast buffet is served each morning and there are many restaurants along the main road - China Lakes Boulevard. The hotel is located on the north side of Ridgecrest, a short distance from the main entrance to China Lake Naval Air Weapons Station.

3.
Clarion Inn Ridgecrest
901 N China Lake Blvd, Ridgecrest, CA 93555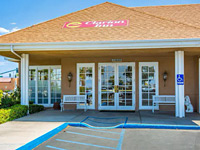 Most of the large stores in Ridgecrest are a short walk from the Clarion Inn, including Home Depot and K-Mart - the hotel is quite centrally positioned at the Drummond Avenue - China Lake Boulevard intersection, adjacent to Ridgecrest Regional Hospital. There is one restaurant/lounge onsite and many more within half a mile. Guest rooms are in several blocks around an outdoor pool and garden, all surrounded by ample parking space. A selection of meeting rooms can accommodate events of up to 360 people. Wi-fi is complimentary though breakfast is not.

4.
Best Western Plus China Lake Inn
400 S China Lake Blvd, Ridgecrest, CA 93555-4610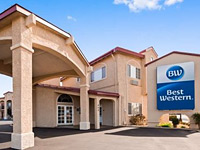 The Best Western China Lake Inn has a south central location in Ridgecrest, along China Lake Boulevard (CA 178) in a mostly residential district though close to various shops and half a dozen restaurants. The inn occupies a 52 room building on two exterior corridor floors, with parking at the front and a small outdoor pool, hot tub & bbq area at the rear; all guest accommodations contain a microwave, refrigerator, ironing facilities & coffee maker. China Lake, and the entrance to the huge Naval Weapons Center, is 2 miles north along the main road.

5.
Quality Inn Ridgecrest near China Lake Naval Station
507 S China Lake Blvd, Ridgecrest, CA 93555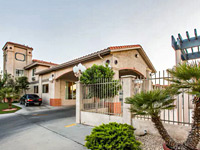 One of a group of hotels along China Lake Boulevard a few blocks south of the center of Ridgecrest, the Quality Inn is a quite a large property with 86 microwave/refrigerator-equipped rooms, some with views southwards towards the edge of town and the start of the desert. The main amenities are guest laundry, wireless internet access and an outdoor pool (seasonal) at the front, next to the main road. The inn provides free continental breakfast and is close to at least five restaurants.

6.
Econo Lodge Inn & Suites Ridgecrest
201 Inyo-Kern Road, Ridgecrest, CA 93555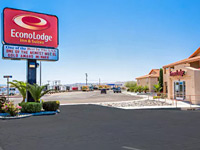 At the northeast corner of Ridgecrest along Hwy 178, opposite the entrance to China Lake Naval Weapons Center, the Econo Lodge Inn offers an outdoor pool, free hot breakfast, and all rooms with microwave & refrigerator. To the east, the main road passes the side road to the strange
Trona Pinnacles
after 20 miles and enters
Death Valley National Park
after 70 miles. There are three restaurants adjacent to the hotel and many more within a mile southwards, towards the town center.

7.
Super 8 by Wyndham Ridgecrest
426 S China Lake Boulevard, Ridgecrest, CA 93555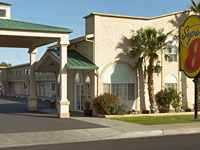 The refrigerator/microwave-equipped guest rooms at the exterior corridor Super 8 Ridgecrest face north, looking over the parking lot towards an adjacent building. This is a small, limited-facility motel, reflected in the low rates, offering only free wi-fi and free continental breakfast. The location is relatively quiet; at the edge of a residential area on the south side of town, 0.4 miles from Ridgecrest City Hall. Two restaurants are adjacent.

8.
Rodeway Inn & Suites Heritage Ridgecrest
1050 N Norma Street, Ridgecrest, CA 93555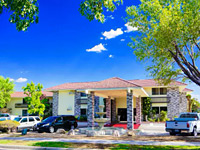 The Rodeway Inn has a quiet location in Ridgecrest along a lesser road, and set back from the street behind an adjacent business. Guest rooms are in three blocks around the secluded courtyard garden, which contains an outdoor pool, and the place is enclosed by plenty of parking space. There are several restaurants in the vicinity, and a city park just to the west. Interior facilities are a fitness center, business center and a dining room for the free breakfast, including some hot items. Select guest rooms have a sofa bed.