1.
Ramada by Wyndham San Diego National City
700 National City Boulevard, National City, CA 91950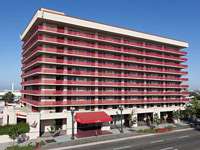 Amongst the main places to stay in National City, CA, the next town along the Pacific coast south of San Diego, is the 180 room Ramada, a substantial, nine floor hotel occupying one block between 7th/8th St and Roosevelt/National City Boulevard. I-5 runs by just to the west, reaching downtown San Diego after 4 miles; places within a few miles include the US Naval Station, South Bay Plaza and Sweetwater Shopping Center. Most rooms have access to a balcony, with good views over National City or San Diego Bay. Full service amenities at the pet friendly Ramada include a restaurant, a large heated outdoor pool, whirlpool, sundeck, fitness center, convenience store and nearly 3,000 sq ft of meeting/banquet space.

2.
Holiday Inn Express San Diego South - National City
1645 East Plaza Blvd, National City, CA 91950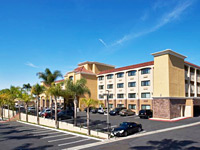 Highlight of Holiday Inn Express National City is the expansive free breakfast buffet, featuring a variety of hot items, and the hotel also has all the usual facilities for leisure (outdoor pool, whirlpool, fitness center) and business. Accommodations comprise 91 rooms, half one bed, half two bed, all equipped with a microwave, refrigerator and luxurious bedding. There are several dozen restaurants within walking distance, around the Plaza Towne Shopping Center, and also a city park & golf course, a few blocks away. I-805 runs past to the east, leading towards downtown San Diego (5 miles north), and Tijuana, Mexico (11 miles south).

3.
Best Western Plus Marina Gateway Hotel
800 Bay Marina Drive, National City, CA 91950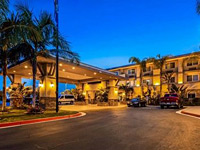 The Best Western hotel in National City is situated along Bay Marina Drive, which leads to San Diego Bay half a mile west. The Marina Gateway Hotel is quite a large property of 4 floors and 172 rooms/suites, all smartly decorated and offering a refrigerator, free internet access, executive desk & coffee/tea maker. Some rooms have a private balcony, with views either of the Bay or the inland mountains. Also on the premises is a restaurant/sports bar (room service available), an outdoor pool, hot tub, fitness center, and various facilities for business, meetings and events.

4.
Quality Inn National City I-5 Naval Base
3878 Dalbergia Court, National City, CA 92113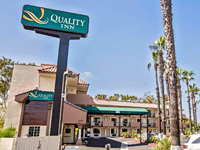 The Quality Inn along Dalbergia Court lies a few blocks north of the center of National City, 4 miles from downtown San Diego. It is right next to interstate 5 (exit 12), opposite the large US Naval Base on San Diego Bay. Although close to the highway, the inn is surrounded by grass and palm trees, giving it a pleasant aspect; inside, rooms are medium sized, equipped with a microwave and a refrigerator. For leisure there is an exercise room but no pool.

5.
Howard Johnson by Wyndham National City
521 Roosevelt Avenue, National City, CA 91950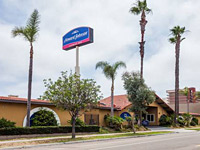 At the 8th Street exit of Interstate 8, the Howard Johnson is a welcoming, budget-priced, exterior corridor motel of 65 rooms, in two blocks (one two story, one ground floor only) either side of the parking lot. A pool and hot tub are the outdoor amenities, while inside are a business center and a dining room where the free continental breakfast is provided. The interstate runs past to the west, separated by a line of trees and the access road.

6.
Super 8 by Wyndham National City Chula Vista
2435 Sweetwater Road, National City, CA 91950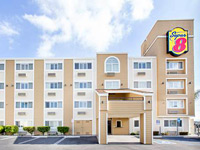 The Super 8 in National City is one of the larger properties of this brand, with four floors; an interior corridor building at the edge of a residential district close to the busy intersection of I-805 and Hwy 54, half a mile from two shopping malls and a good selection of restaurants. Chula Vista is 3 miles south. Two complimentary amenities are wi-fi and continental breakfast, while the other main facility is an outdoor pool

7.
Rodeway Inn National City
607 Roosevelt Avenue, National City, CA 91950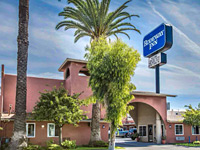 The Rodeway Inn is part of a group of motels beside I-8 at the 8th Street exit, a short walk from various restaurants and small shops. The exterior corridor guest rooms are divided between two blocks facing each other across the parking lot, which is accessed through a limited height driveway. Free continental breakfast, free wi-fi, guest laundry and copy/fax services are the only amenities. Accommodations contain a refrigerator and microwave.