1.
Holiday Inn San Diego-La Mesa
8000 Parkway Drive, La Mesa, CA 91942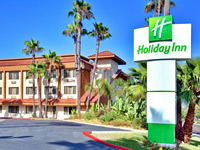 Ten miles east of San Diego, Holiday Inn La Mesa is part of a corridor of shops and businesses on the north side of interstate 8 that includes the Grossmont Center Mall. The three floor hotel enjoys a tree-lined site on the edge of a residential area, with a small outdoor pool at the rear, and an on-site bar/restaurant, the La Mesa Cafe, serving breakfast and dinner. There are plenty more food and beverage outlets within walking distance. The full service, recently renovated property also offers a fitness center, guest laundry, business center and two meeting rooms.

2.
Best Western Plus La Mesa San Diego
9550 Murray Drive, La Mesa, CA 91942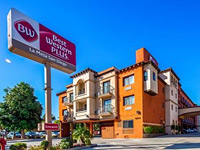 Half way between the centers of La Mesa and El Cajon, the Spanish/adobe-style Best Western Plus La Mesa contains 78 clean, extra large rooms, each equipped with microwave & refrigerator, plus all the standard amenities. The inn faces the north side of interstate 8, reached from exit 14C (Severin/Fuerte Drive) - a short distance east of the Grossmont Shopping Center, and close to many restaurants. Guests can take advantage of free hot breakfast buffet, an outdoor pool, hot tub, laundry facility and a business center.

3.
Best Western Lamplighter Inn & Suites
6474 El Cajon Blvd, La Mesa, CA 92115-2645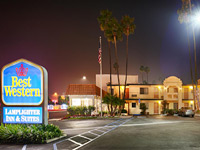 The 61 room Best Western Lamplighter Inn is a northeast San Diego hotel, on the west side of La Mesa and also close to the districts of Lemon Grove, Grantville and San Carlos - one of several lodging places along busy El Cajon Boulevard. There are many shops and restaurants a short walk away, and San Diego State University is a mile to the north. The inn has a motel-style design, with its 61 rooms in two blocks either side of the parking area, and a large tree-lined outdoor pool at one side. The staff are especially helpful, the rooms and grounds very well kept, and the hotel is a good, economical choice for accommodation around La Mesa.

4.
Howard Johnson by Wyndham San Diego State University Area
6440 El Cajon Blvd, San Diego, CA 92115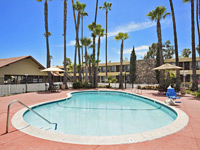 Howard Johnson San Diego borders a patch of grassland, with a city park just beyond, though elsewhere the surroundings are completely developed; a busy mix of houses, shops, restaurants and other businesses, along El Cajon Boulevard. San Diego State University is less than a mile north. The two exterior corridor accommodation blocks are shielded from the main road by the office building, and overlook a palm-lined parking lot which has an outdoor pool at the center. Free continental breakfast, bbq grills, free wi-fi, guest laundry and a microwave/refrigerator in each guest room are the main amenities.

5.
Days Inn by Wyndham La Mesa/San Diego/SDSU
7475 El Cajon Blvd, La Mesa, CA 91941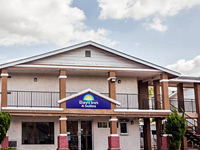 San Diego State University is two miles west of Days Inn La Mesa; other nearby locations include Lake Murray, Mission Trails Regional Park and Grossmont Center Mall, while the closest trolley station (La Mesa Boulevard) is one mile east. The refrigerator/microwave-equipped guest rooms are divided between two exterior corridor blocks at either side of the parking lot, which is enlivened by a few palm trees and other tropical plants. Some accommodations contain a kitchenette. The motel has a small outdoor pool at one side, in sun only during morning and early afternoon. Continental breakfast is provided free of charge.
6.
Motel 6 La Mesa
6952 University Avenue, La Mesa, CA 91942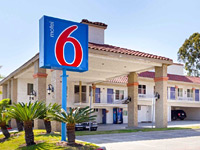 Motel 6 La Mesa has a westerly location in the city along University Avenue, 9 miles from downtown San Diego. The neighborhood is mostly residential, but with various restaurants and small shops along the main road; the nearest mall (Marketplace at the Grove) is one mile south beside the 94 freeway. Guests rooms at the Motel 6 are on two floors, arranged around three sides of the rather small parking lot, and all feature a microwave, refrigerator and free wi-fi. Despite the limited facilities (free morning coffee is the only other amenity), the motel enjoys a good reputation, for clean rooms and friendly staff.
7.
Motel 6 San Diego - La Mesa
7621 Alvarado Road, La Mesa, CA 91941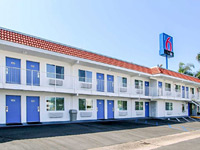 All rooms at Motel 6 La Mesa face east, looking across the parking lot and an adjacent business towards the Fletcher Parkway exit of I-8; the property is bordered by the interstate on one side and the green line of the San Diego trolley system on the other. The nearest station (70th Street) is half a mile west. Shopping and dining can be found close by on the far side of the freeway. The exterior corridor, two story, budget-priced motel offers wi-fi and free morning coffee.