1.
Residence Inn San Diego Chula Vista
2005 Center Park Road, Chula Vista, CA 91915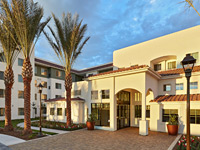 The all-suite/extended stay Residence Inn by Marriott is part of the Otay Ranch Town Center development on the east edge of the city, alongside Hwy 125, five miles north of the Mexican border. There are many restaurants and large stores nearby, surrounded by extensive residential estates, though unspoilt countryside is just a short drive away to the east, including the hills of San Diego National Wildlife Refuge. Guests have a choice of 148 kitchen suites (two bedroom, one bedroom and studio), and a full range of amenities for meetings, business and leisure. Free hot breakfast is served each morning, and free socials weekday evenings. A complimentary grocery shopping service is available.

2.
Homewood Suites by Hilton Chula Vista Eastlake
2424 Fenton Street, Chula Vista, CA 91914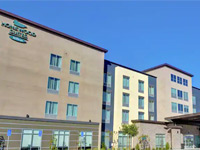 Newly constructed 2019-20, Homewood Suites Chula Vista is part of a business district on the east edge of the city, just off Otay Lakes Road, a few blocks from Hwy 125. Eastlake Country Club is just across the street. The hotel caters primarily for extended stay guests, offering accommodations in studio, one bedroom and two bedroom configurations; all have a full kitchen and 55 inch TV. Both daily hot breakfast and weekday evening receptions (Mon-Thu) are complimentary. Snacks and sundries can be purchased from a 24 hour shop, while other items can be ordered using the grocery shopping service. Also available are a fitness center, outdoor pool and 100 person meeting room.
3.
Hampton Inn Chula Vista Eastlake
2424 Fenton Street, Chula Vista, CA 91914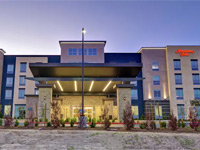 The Hampton Inn has an easterly location in Chula Vista, 2 miles from the restaurants and shops of Eastlake Village Center. The hotel opens early 2020, sharing a site with the Homewood Suites, part of a business district opposite Eastlake Country Club. Free hot breakfast is available, also provided in a takeout version, and there are several restaurants within walking distance. The business center and convenience store are both open 24 hours. All guest rooms are equipped with a microwave and refrigerator.

4.
Holiday Inn Express Hotel & Suites San Diego South-Chula Vista
632 E Street, Chula Vista, CA 91910
Chula Vista's Holiday Inn Express is the newest hotel in town, an impressive four story building lined with the obligatory palm trees, situated on E Street, a few blocks west of the town center and within easy reach of I-5, I-805 & the South Bay Freeway. All the rooms contain a microwave, refrigerator, coffee maker and ironing facilities. The two main leisure amenities are a fitness center and an outdoor heated pool, at the rear of the hotel well away from the main road. The hotel serves free hot breakfast buffet and has a convenience store though no restaurant; the nearest diners are one block east and west. There is one meeting room available, capacity 150 people.

5.
Best Western Plus Otay Valley Hotel
4450 Main Street, Chula Vista, CA 91911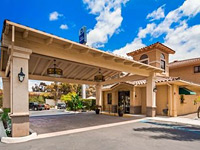 Best Western Plus Otay Valley Hotel occupies a new-looking, 3 floor building surrounded by palm trees next to I-805 (exit 3; Main St), close to Otay, Castle Park and Otay Mesa as well as Chula Vista, and offers perhaps the best lodging of the somewhat limited choice of hotels south of San Diego. The Mexican border is 4 miles further south, while two of the main area attractions (Knotts Soak City USA Waterpark and Coors Amphitheatre) are 2.3 miles east. For relaxation, the Best Western has an outdoor pool, hot tub and fitness center; other amenities are guest laundry, a microwave/refrigerator in each room, and free hot breakfast.

6.
Comfort Inn Chula Vista
91 Bonita Road, Chula Vista, CA 91910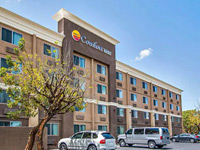 Wi-fi and continental breakfast are the two complimentary amenities of Comfort Inn Chula Vista, which occupies an older, four floor building by the Bonita Avenue exit of I-805, half way (8 miles) between the city center and the Mexican border. The surroundings are mostly residential but there are a couple of restaurants adjacent, and many more on the far side of the freeway around Westfield Plaza Bonita. The interior corridor hotel has an outdoor pool & hot tub at the front and is surrounded by a rather small parking area. The free breakfast comes with a selection of hot items. Rooms are available with kitchenette facilities.

7.
Quality Inn Chula Vista San Diego South
710 E Street, Chula Vista, CA 91910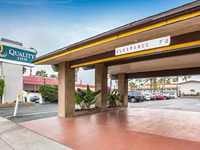 In downtown Chula Vista, CA (along E Street), the Quality Inn offers 76 rooms in a two floor, motel-style building with good local transport connections - I-5 is one block west, the South Bay Freeway a short distance north, and the San Diego Trolley stops right next door. Also within a few minute's walk are several restaurants including Denny's. The recently renovated inn has amenities of a business center, fitness center and guest laundry, plus an outdoor pool and on-site cafe, serving breakfast (free) and lunch.

8.
Howard Johnson Hotel & Suites by Wyndham San Diego Area/Chula Vista
235 Woodlawn Avenue, Chula Vista, CA 91910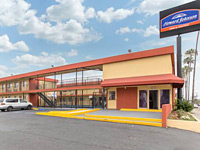 Howard Johnson Chula Vista is a typical budget motel that offers the usual, basic range of amenities (free continental breakfast, free wi-fi, guest laundry, a pool and business center), and is contained within a relatively old building, with three floors and exterior corridors. Select rooms feature a kitchenette. The motel is situated along Woodlawn Avenue, one block from Interstate 5 (access is from the E Street exit), in a busy suburban neighborhood but less than half a mile from the unspoilt countryside of Saltwater Marsh National Wildlife Refuge. There are many restaurants close by, and the E Street trolley station is right next door.

9.
Days Inn by Wyndham San Diego Chula Vista South Bay
699 E Street, Chula Vista, CA 91910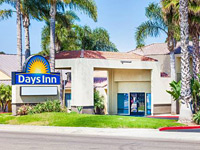 Guest rooms at Days Inn Chula Vista are on two floors, entered via exterior corridors, and have views of the limited-size parking lot at either side. Some overlook an outdoor pool which, like the two accommodation blocks, is lined by a few palm trees. The motel is part of a group of restaurants and other businesses beside Interstate 5 (E Street exit), within walking distance of Sweetwater Marsh National Wildlife Refuge on the shores of San Diego Bay. Downtown San Diego is seven miles north. A fitness center, business center and meeting space are the other main facilities. Free continental breakfast is provided.

10.
Rodeway Inn & Suites Chula Vista
372 Broadway, Chula Vista, CA 91910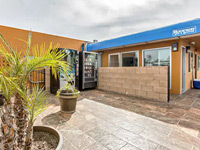 Rodeway Inn Chula Vista is an affordable, basic motel on the west side of Broadway, one mile from a wildlife refuge on the shore of San Diego Bay, and 8 miles from the international border. The place is small, with rooms on one or two storys, and the only amenities are free coffee and free wi-fi. Most accommodations feature a microwave, refrigerator and sofa bed. There are many restaurants close by, especially to the south, in and around Chula Vista Center.
11.
Motel 6 San Diego - Chula Vista
745 E Street, Chula Vista, CA 91910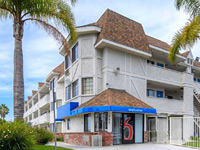 Guest rooms at Motel 6 Chula Vista are brightly decorated, and modern in appearance, contained within a pair of three story, exterior corridor blocks either side of a palm-lined courtyard garden and outdoor pool. The economically-priced property is situated beside Interstate 5 at the E Street exit, adjacent to two restaurants and a gas station; a busy, urban area though just a short walk from the start of a trail towards the undeveloped coastline of San Diego Bay National Wildlife Refuge. Other amenities of the Motel 6 are wi-fi, coin-operated laundry and free coffee.
12.
Motel 6 San Diego - Southbay
1101 Hollister Street, San Diego, CA 92154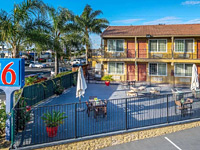 Motel 6 San Diego - Southbay is situated by the busy intersection of Coronada Avenue with Interstate 5, 5 miles south of the center of Chula Vista and 4.5 miles from the international border. Rooms are in two blocks facing the central parking lot, and all contain a microwave and a refrigerator. Free morning coffee is provided. The motel has a small courtyard garden at the front, and there is one restaurant adjacent.