1.
Courtyard San Jose South/Morgan Hill
18610 Madrone Parkway, Morgan Hill, CA 95037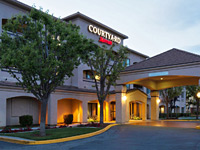 On the north side of Morgan Hill, the 90 room Courtyard by Marriott hotel is a clean, quiet and comfortable place to stay, with a pretty, semi rural location alongside Highway 101. 1.5 miles east, Anderson Lake provides boating, fishing and hiking. There are several nearby restaurants along Cochrane Road, though breakfast (not free) and dinner are served on site at the Bistro, while evening drinks are available in the hotel lounge. Leisure amenities are a fitness center, hot tub and indoor pool. Other features include a sleek, modern lobby with media wall and comfortable work areas, a convenience store, and a barbecue area.

2.
Residence Inn San Jose South/Morgan Hill
18620 Madrone Parkway, Morgan Hill, CA 95037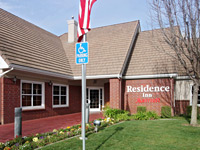 For extended stays in Morgan Hill, the top choice is the Residence Inn along Madrone Parkway - right next to the other Marriott hotel in town, the Courtyard. The three floor inn has 90 suites that contain a full kitchen plus individual areas for sleeping, dining, working and relaxing. Not only is a free full breakfast served but also a free evening reception (Mon-Thu) when beer, wine and a light dinner are provided. Morgan Hill has a small selection of shops but better choices are found either south at Gilroy or north at the edge of San Jose - both about 10 miles away. Guests may relax in the indoor pool, whirlpool and fitness center.
3.
Hampton Inn Morgan Hill
16115 Condit Road, Morgan Hill, CA 95037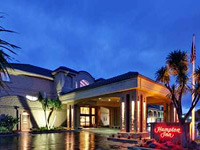 Open winter 2012, the new Hampton Inn hotel in Morgan Hill provides elegant accommodations in a countryside setting right beside US 101 (at the Tennant Avenue exit), which allows quick travel to places north or south including San Jose (20 miles), Salinas (37 miles) and Monterey (48 miles). The 4 story hotel contains 100 rooms & suites featuring free internet access, luxury bedding and a refrigerator/microwave; those on the east side have pleasant views over farmland towards the hills of Henry W Coe State Park. The hotel provides free hot breakfast, and has three rooms for meetings & events. Guests can relax in the pool, whirlpool or fitness center.

4.
Holiday Inn Express Hotel & Suites San Jose-Morgan Hill
17035 Condit Road, Morgan Hill, CA 95037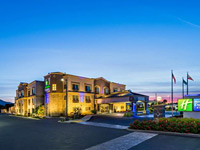 The Holiday Inn Express hotel in Morgan Hill, CA, has a rural setting surrounded by fields, a mile east of the town center alongside Highway 101, and about half way (10 miles) between Gilroy and the southern suburbs of San Jose. Central feature of the hotel is a floor to ceiling atrium lobby filled with tropical plants, and which provides the setting for the free manager's reception (Mon-Thu) where drinks & snacks are available. Free hot breakfast buffet is also provided, every day. The 84 rooms & suites are all spacious and clean, equipped with microwave and refrigerator; other facilities are an indoor pool, fitness center, whirlpool and sauna.

5.
Comfort Inn Morgan Hill
16225 Condit Road, Morgan Hill, CA 95037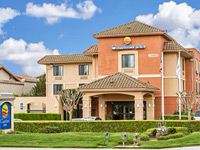 Like most hotels in Morgan Hill, the Comfort Inn is located along Condit Road, parallel to US 101 on the east side of town, in the middle of peaceful Santa Clarita Valley. There are many parks, golf courses and country clubs nearby, including Henry W Coe, Coyote Lake, Anderson Lake, Coyote Creek and Calero Reservoir - while another popular local attraction is the outlet mall at Gilroy, 8.5 miles south. The inn provides good quality accommodation, with comfortable rooms (all with microwave/refrigerator), nice (free) continental breakfast, and leisure amenities of an exercise room, outdoor pool, hot tub, sun deck and sauna.

6.
Quality Inn & Suites Morgan Hill
16525 Condit Road, Morgan Hill, CA 95037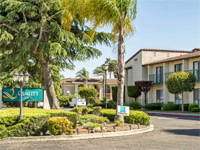 Many of the 83 rooms of the Quality Inn Morgan Hill look out over grassy fields towards the wooded foothills of the Diablo Range, which border the east side of Santa Clarita Valley. The hotel is situated alongside Highway 101 on Condit Road, within walking distance of a small selection of restaurants, and 20 miles south of the center of San Jose. Rooms are arranged around a central courtyard with outdoor pool and hot tub; interior facilities are a free (hot) breakfast bar and guest laundry.

7.
Microtel Inn & Suites by Wyndham Morgan Hill
16245 Condit Road, Morgan Hill, CA 95037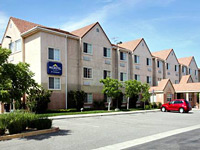 Like most Morgan Hill hotels, the Microtel Inn is built along Condit Road, which parallels the east side of US 101 about one mile from the city center, in an otherwise rural neighborhood; the only other facility nearby is Morgan Hill Aquatics Center, just across the street. The inn features affordable, spacious, interior corridor lodging, albeit with limited facilities: free wi-fi, free breakfast (continental) and coin-operated laundry. Some rooms contain a microwave and refrigerator.