1.
Hilton Garden Inn Gilroy
6070 Monterey Road, Gilroy, CA 95020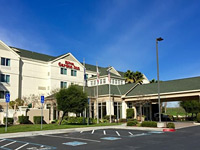 The Hilton Garden Inn is a south Gilroy hotel, beside the Monterey Road exit of US 101, overlooking farmland to the west but close to a large industrial area to the east, mostly on the far side of the freeway. There are several restaurants around the intersection and a better selection one mile north, near South Valley Shopping Center. Hotel highlights are a good sized outdoor pool surrounded by gardens, a 24 hour convenience store, meeting space for up to 250 people, and the Great American Grill, which is open for breakfast, dinner and evening room service.
2.
Hampton Inn & Suites Gilroy
5975 Travel Park Circle, Gilroy, CA 95020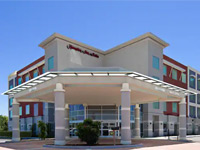 Open summer 2020 - the first new hotel in Gilroy for nearly 20 years, the Hampton Inn is a substantial four floor property of 101 rooms & suites, prominently located beside the US 101/Monterey Road intersection on the south edge of the city, close to the start of open countryside. Gilroy Premium Outlets is 3 miles north. Free hot breakfast is prepared each morning, while for other meals there are four restaurants in the vicinity. All accommodations contain a coffee maker, microwave and refrigerator. Recreational amenities are an outdoor pool and a fitness center.

3.
The Inn at 8435
8435 San Ysidro Blvd, Gilroy, CA 95020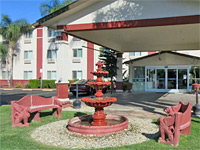 The Inn at 8435, from Choice Hotels, is an affordable property with a good range of facilities including free hot breakfast, free wi-fi, a fitness center and a nice, secluded outdoor pool. The inn occupies a three floor, interior corridor building on the northeast edge of town, between US 101 and Gilroy Premium Outlets Mall, beyond which stretches empty farmland. There are many restaurants within walking distance, closest being Denny's right next door. Guest rooms contain a refrigerator and microwave.

4.
Best Western Plus Forest Park Inn
375 Leavesley Road, Gilroy, CA 95020-3606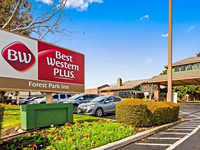 Recently acquired by the Best Western chain, the Forest Park Inn of Gilroy is a clean, friendly place to stay - located along the main approach to town from US 101 (Leavesley Road), though most rooms are about 200 feet from the road and so provide a quiet night's sleep. All of the 122 rooms (on 3 stories) enjoy a private balcony and are equipped with microwave & refrigerator; some overlook the hotel's outdoor pool. The other main amenities are a steam room, hot tub, exercise room, guest laundry, free full breakfast and meeting space accommodating events of up to 150 people. Gilroy Premium Outlets Mall is 0.7 miles east. The adjacent Black Bear Diner is a full service restaurant open for breakfast, lunch and dinner.

5.
Quality Inn & Suites Gilroy
8430 Murray Avenue, Gilroy, CA 95020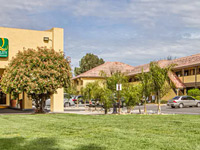 Guest rooms at Quality Inn Gilroy are in two exterior corridor blocks, either side of the long, narrow parking lot, which has a small outdoor pool/hot tub at the far end. The hotel has quite a secluded location, accessed via a little side road, and partly shielded by palm trees from the sometimes busy surroundings - at the Leavesley Road exit of US 101, a short walk from the Premium Outlets Mall. Other amenities are free hot breakfast, free wi-fi, a business center and coin-operated laundry.

6.
Days Inn by Wyndham Gilroy
8292 Murray Avenue, Gilroy, CA 95020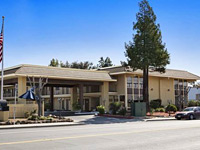 Gilroy's Days Inn hotel sites beside the Leavesley Road intersection with US 101, a location it shares with most other lodging in town. Gilroy Premium Outlets is just the other side of the freeway and there are numerous restaurants within walking distance. The inn occupies a relatively old but recently renovated, exterior corridor building, which has a good sized parking area all around and an outdoor pool/hot tub at the front. All rooms feature free wi-fi, a microwave and a refrigerator. Free continental breakfast is offered.
7.
Motel 6 Gilroy
6110 Monterey Hwy, Gilroy, CA 95020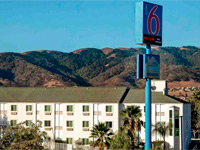 Motel 6 Gilroy is one of the larger and more modern properties of this popular, affordable chain; a substantial, three floor, interior corridor building of 127 rooms, on the south side of town beside US 101 from Monterey. The spacious parking lot is shared with one restaurant; other dining places, and shops, can be found one exit north, at the intersection with Hwy 152. Some of the guest rooms overlook the outdoor pool and sundeck. Amenities are wi-fi, coin-operated laundry and free morning coffee. Select rooms contain a kitchenette.