1.
Courtyard Los Angeles Hawthorne
4427 W El Segundo Blvd, Hawthorne, CA 90250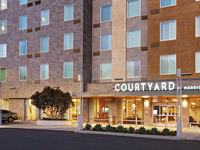 The Courtyard occupies half of a rcently constructed, five storey building along El Segundo Boulevard, just west of the intersection with Hawthorne Boulevard, in a commercial neighborhood 5 miles from Los Angeles International Airport and near a number of aerospace businesses including Tesla and SpaceX. The onsite restaurant is open for breakfast, dinner & evening drinks, and there are many more dining outlets within walking distance. The hotel contains 221 guest rooms & suites; general amenities are meeting space, fitness/business centers, bbq grills, sports court and pool.
2.
Hampton Inn Los Angeles International Airport/Hawthorne
4320 W Imperial Highway, Hawthorne, CA 90250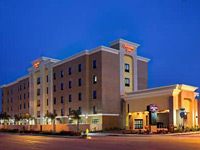 Hampton Inn Hawthorne benefits from an easily-reached location along Imperial Highway, one block from I-105 and 4.5 miles east of LAX; free shuttle service is available. The Hawthorne/Lennox Metro station (Green Line) is just 500 feet away. Other complimentary amenities are parking, hot breakfast and wi-fi, while general hotel facilities are a 24 hour snack shop, fitness center & pool, 24 hour business center & meeting space. All guest accommodations contain a microwave and refrigerator. There are plenty of restaurants along nearby Hawthorne Boulevard.

3.
TownePlace Suites Los Angeles Hawthorne
4427 W El Segundo Blvd, Hawthorne, CA 90250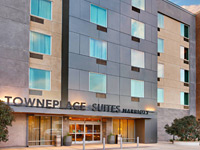 The 133 room TownePlace Suites shares a building with another Marriott hotel, the Courtyard, located just west of the El Segundo Blvd/Hawthorne Blvd intersection near City Hall. All accommodations are suites (two bedroom, one bedroom & studio), complete with full kitchen and sofa bed. Amenities for the two properties include a restaurant, bbq area, pool, sports court and one meeting room, capacity 120 people. The hotel is 5 miles from LAX and 2 miles from Hawthorne Municipal Airport.

4.
TownePlace Suites Los Angeles LAX/Manhattan Beach
14400 Aviation Boulevard, Hawthorne, CA 90250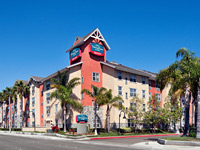 The TownePlace Suites sits next to another Marriott property (SpringHill Suites) along Aviation Boulevard in southwest Hawthorne, and offers similarly high standards of cleanliness and customer service, with slightly better facilities. All studio, one bed or two bed suites contain a full kitchen plus separate living/sleeping/working areas - part of a modern, 4 story building that overlooks a business area half a mile west of I-405. There are several restaurants near the interstate though most attractions are a little further away, including Manhattan Beach (2.5 miles), South Bay Galleria Mall (3.5 miles) and Hollywood Park (5.5 miles). The hotel has an outdoor pool, business center, guest laundry and a modern fitness center.

5.
SpringHill Suites Los Angeles LAX/Manhattan Beach
14620 Aviation Boulevard, Hawthorne, CA 90250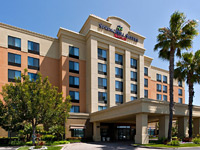 Marriott's SpringHill Suites in Hawthorne features 164 bright, modern studio suites - 25% larger than the average hotel room - each equipped with large work desk, microwave, refrigerator, free internet access, and luxurious bedding. Guest laundry, free hot breakfast, an outdoor pool and hot tub are some of the other facilities. The hotel is part of a business district along Aviation Boulevard, on the border between Hawthorne and Manhattan Beach - 5 miles south of LAX and 2.5 miles from the Pacific Ocean. The nearest freeway is I-405, one block east.

6.
Holiday Inn Express Hotel & Suites Los Angeles Hawthorne
11436 Hawthorne Blvd, Hawthorne, CA 90250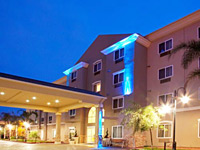 Besides LAX Airport, just 4 miles away (served by free shuttle), the new Holiday Inn Express hotel in Hawthorne is well connected to other Los Angeles locations by I-105 which runs past one block north - the nearest beach (Playa del Rey) is 5 miles due west, and Beverly Hills, Hollywood, Santa Monica & downtown Los Angeles are all within 15 miles. The immediate neighborhood, by the junction of Hawthorne Boulevard and Imperial Hwy, has a mixture of private residences & small shops - and several restaurants, though breakfast is provided free at the hotel. Accommodation comprises 120 rooms & suites, all very clean and modern.

7.
Candlewood Suites LAX Hawthorne
11410 Hawthorne Blvd, Hawthorne, CA 90250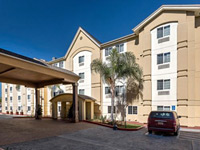 Right next to another IHG property (the Holiday Inn Express) along the Imperial Highway, Candlewood Suites Hawthorne East caters more to the extended stay traveler - the four floor property contains 100 well equipped suites all containing a full kitchen including a dishwasher and refrigerator with ice maker. Food for cooking is available 24 hours a day from the Candlewood Cupboard convenience store or from Ralphs Supermarket 2 blocks south; the other main facilities on site are a fitness room, free laundry, free DVD rental library, and a patio/bbq area.

8.
Comfort Inn Cockatoo Hawthorne
11500 Acacia Avenue, Hawthorne, CA 90250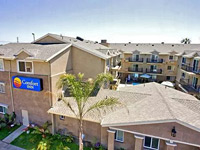 Comfort Inn Cockatoo in Hawthorne is situated 4 miles from Los Angeles International Airport, close enough for the hotel to operate a free shuttle, via I-105 which runs past two blocks north. A selection of shops and restaurants can be found within walking distance along the two main roads nearby (Hawthorne Boulevard/Imperial Hwy), and the hotel is also close (1.5 miles) to the Hollywood Park racetrack. The inn is a comfortable, affordable mid range property that offers 87 refrigerator/microwave-equipped rooms, deluxe fee continental breakfast, an outdoor pool, laundry, copy/fax services and a guest-use computer.

9.
Ramada by Wyndham Hawthorne/LA Stadium
5250 W El Segundo Boulevard, Hawthorne, CA 90250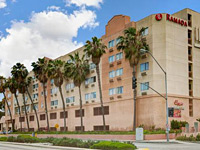 Ramada Plaza Hawthorne is centered on a fully enclosed courtyard garden that includes an outdoor pool and plenty of comfortable seating; a peaceful place, in contrast to the busy surroundings. The hotel is entirely enclosed by roads, with El Segundo Boulevard to the north and the exit ramp of I-405 curving past to the south, so the rooms are not the quietest around, but the location is good, just 4 miles south of Los Angeles Airport and connected to other locations by the adjacent freeway. A free airport shuttle is provided during peak times. The other main amenities are a fitness center, meeting space and onsite restaurant.