1.
Marriott Torrance
3635 Fashion Way, Torrance, CA 90503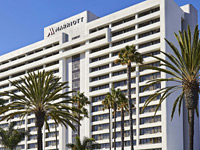 The most upscale of several Marriott hotels in Torrance is part of a quiet business district just down the street from the 300-store Del Amo Fashion Center in the middle of the exciting South Bay area, 2.3 miles from the Pacific Ocean (Redondo Beach) and 10 miles south of LAX. It is also one of the larger hotels around - a fairly old, 17 story building of 487 rooms, all very clean, well maintained and equipped with the latest luxury Marriott bedding. The hotel has 20,000 sq ft of meeting space, an all day restaurant, a Starbucks coffee house, and a lounge/wine bar complete with resident sommelier. The rear of the building faces quite a large garden, centered around a circular outdoor pool and plenty of patio space.

2.
DoubleTree Guest Suites Torrance/South Bay
21333 Hawthorne Blvd, Torrance, CA 90503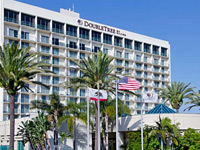 The well established Doubletree hotel is part of the main commercial district in Torrance, along Hawthorne Boulevard - just across the street from Del Amo Fashion Center and one mile from more large stores at Torrance Promenade. The 371 guest rooms are divided between two main blocks, one of four storys, the other of 12, and most feature a private balcony. Some overlook the central garden and outdoor pool, which is partly lined by rock formations and mini waterfalls. Andres Restaurant is open for breakfast and dinner, Tea Tree Cafe features lighter fare, while Vintage Lounge serves dinner and evening drinks. Other hotel highlights are a bright spacious lobby with tropical aquariums, business & fitness centers, a gift shop and 16,000 square feet of meeting space.

3.
Holiday Inn Torrance
19800 S Vermont, Torrance, CA 90502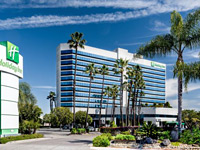 It has a quiet but uninteresting location, in a business/industrial park next to the I-405/I-110 intersection (14 miles south of downtown Los Angeles), yet 329 room Holiday Inn Torrance earns its reputation as the best full service hotel in town on account of its value, cleanliness, the pleasant staff and the comprehensive facilities, which include a restaurant (Ginger Cafe), serving Asian-influenced California dishes, open all day plus room service until 10 pm. Drinks and snacks are also available from the adjacent lounge/bar. The Asian theme extends to a koi pond in the lobby, free Japanese (and continental) breakfast for Executive Floor guests, Japanese-style furnishings in many of the rooms, and Japanese cable TV. The hotel's large outdoor rooftop pool has a sunny, southwest-facing aspect, and is surrounded by palm trees and tropical plants; the many other facilities include a hot tub, fitness center, gift shop, convenience store, business center, free 5 mile local area shuttle, and 11 meeting rooms.

4.
Courtyard Los Angeles Torrance South Bay
1925 West 190th Street, Torrance, CA 90504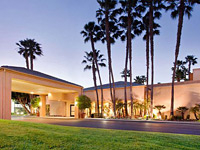 Recent improvements to the well established Courtyard Los Angeles Torrance South Bay include the latest Marriott bedding, larger work desks and a business library in the lobby. The hotel faces I-405 about 2 miles west of the I-110 intersection, on the north side of Torrance and adjacent to the Southwest Village business district - midway between Los Angeles and Long Beach. Some of the 151 rooms look inwards over the central courtyard garden and outdoor pool; all are generally large, clean and equipped with free internet access. The hotel also offers a cafe serving breakfast, a fitness center and two meeting rooms.

5.
Courtyard Los Angeles Torrance/Palos Verdes
2633 Sepulveda Boulevard, Torrance, CA 90505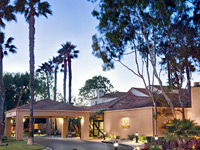 The more central of two Courtyard properties in Torrance is located along Sepulveda Boulevard a mile east of Del Amo Fashion Center and 3.5 miles from the Pacific coast. The hotel provides 149 good sized, well maintained rooms (equipped with executive desk, microwave & sofa bed) arranged around the familiar landscaped courtyard garden, setting for the heated outdoor pool & hot tub. Freshly cooked breakfast is available from the Bistro, with many nearby restaurants on hand to provide other meals. Guests here to work can take advantage of free internet access, a business center and two meeting rooms.

6.
Residence Inn Los Angeles Torrance/Redondo Beach
3701 Torrance Boulevard, Torrance, CA 90503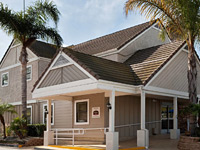 Torrance's Residence Inn by Marriott has the original layout for this brand, with the 248 suites spread out over many two floor apartments separated by paths and small tree-lined courtyards; accommodation includes two bed penthouse suites where the sleeping rooms are on the top level, above the living/working area. All suites are equipped with a full kitchen, sofa bed & free internet access, and many have a fireplace. The hotel has quite a central location in town, along Torrance Boulevard one block from Del Amo Fashion Center and near to restaurants & smaller shops on Hawthorne Boulevard. The Pacific Ocean at Redondo Beach is a quick 2 mile drive west. The Residence Inn also features free breakfast, free evening reception, an outdoor pool & hot tubs, bbq area, business center and fitness center.

7.
Bluestem Hotel an Ascend Hotel Collection Member
2448 Sepulveda Blvd, Torrance, CA 90501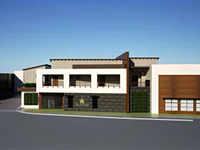 The Bluestem Hotel has a traditional two floor, exterior corridor layout, though with a modern, boutique design, opening 2018 after extensive renovation of a previous property. The main amenities are business & fitness centers, free deluxe continental breakfast and a microwave/refrigerator in all guest accommodations. The hotel is located along Sepulveda Boulevard close to the intersection with Crenshaw Boulevard, towards the south edge of Torrance, near Carson and Lomita. Del Amo Fashion Center is 1.4 miles west.

8.
Staybridge Suites Torrance/Redondo Beach
19901 Prairie Avenue, Torrance, CA 90503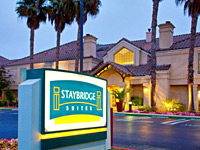 Staybridge Suites Torrance features 144 extra large rooms all containing a full kitchen, separate sleeping/living areas and an executive work desk - the hotel caters mainly to the long stay or corporate housing market, but the central location close to Redondo Beach, South Bay Galleria Mall and the Del Amo Fashion Center ensures its appeal to leisure travelers as well, especially families. Accommodation is divided into several blocks around a central courtyard garden plus outdoor pool and sports court; also available are a convenience store, exercise room, hot tub, bbq grills, laundry and two meeting rooms. Both breakfast buffet and an evening reception (Tue-Thu) are provided free to all guests. The hotel is located in a quiet, business neighborhood along Prairie Ave, 1.5 miles south of I-405.

9.
Best Western Plus Avita Suites
3531 Torrance Boulevard, Torrance, CA 90503-4802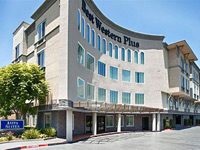 The Best Western hotel in Torrance welcoms guests to 66 modern, elegant, well equipped studio or one bed suites - they all have a kitchenette (microwave, refrigerator, sink), HDTV, high quality furnishings and luxurious bedding. Rates are reasonable despite the good range of facilities, which includes free full breakfast, free wifi, a fitness center, laundry, convenience store, meeting room and basic business services - no pool, however. There are many restaurants nearby, along Torrance Boulevard, which leads directly to the Pacific Ocean at Redondo Beach, 2.3 miles west. The hotel is walking distance (one block) from the huge Del Amo Fashion Center Mall.

10.
Ramada by Wyndham Torrance
2880 Pacific Coast Hwy, Torrance, CA 90505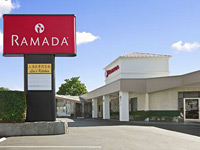 The Ramada is a south-side Torrance hotel, situated along the Pacific Coast Highway within sight of the hilly, partly wooded land of the Palos Verdes Peninsula. Torrance Airport is just up the street, while 3 miles east, the road reaches Los Angeles Harbor College, Heather Park Golf Course, Machado Lake and the Kaiser Permanente Medical Center. Accommodations are contained within two U-shaped exterior corridor blocks, centered on the parking areas, with a garden and patio in between, and an outdoor pool towards the front, though still well shielded from the main road. Free continental breakfast is provided, while other meals can be purchased from a Chinese restaurant on the premises. The hotel has meeting space for up to 50 people.

11.
Howard Johnson by Wyndham Torrance
3673 Torrance Blvd., Torrance, CA 90503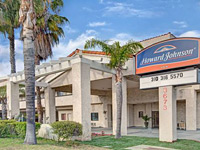 All the microwave-equipped guest rooms at the exterior corridor Howard Johnson Torrance face west, looking across the tree-lined parking lot towards an adjacent hotel (Residence Inn), beyond which is a row of shops and restaurants along Hawthorne Boulevard. There are numerous other shopping and dining outlets nearby, including Del Amo Fashion Center three blocks south. Wi-fi and continental breakfast are complimentary, and room rates are low, but there are no other major facilities. Select accommodations contain a kitchenette.

12.
Days Inn by Wyndham Torrance Redondo Beach
4111 Pacific Coast Hwy, Torrance, CA 90505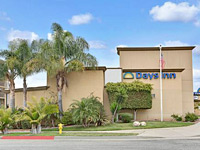 The pet friendly Days Inn is quite a large hotel of 92 rooms, located along the sometimes busy Pacific Coast Highway but angled away from the road so that most accommodations and nice and quiet, especially those contained within a separate block at the rear. The secure parking lot is entered via a 16 foot driveway through the front of the building, or a side gate on the adjacent residential street. The good range of facilities includes an outdoor pool, patio, business center and 2,000 sq ft of meeting/event space. Continental breakfast is complimentary. Just across the street is a shopping center with a food supermarket and a decent selection of restaurants. Rooms are available with a hot tub bath.

13.
Super 8 by Wyndham Torrance LAX Airport Area
2360 Sepulveda Blvd, Torrance, CA 90501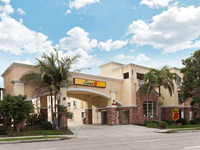 The Suoer 8 is one of several small, basic motels along Sepulveda Boulevard, within walking distance of the popular Charles H Wilson Park, which features picnic areas, sports facilities, a tree house, childrens' playground and various other attractions. Airports in the vicinity are LAX (11 miles north) and Long Beach (13 miles east). Guest rooms are on three floors, entered via exterior corridors and equipped with free wi-fi. Free continental breakfast is provided, with eight items. There are several restaurants and shops nearby, in both directions along the main road.