1.
SpringHill Suites Escondido Downtown
200 La Terraza Blvd, Escondido, CA 92025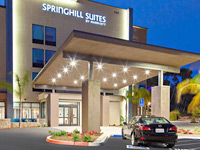 Open May 2019, the SpringHill Suites is the first Marriott hotel in Escondido, accommodating guests in 107 studio suites, all with separate living areas and kitchenette facilities. The property also contains a 375 square foot meeting room, a 24 hour fitness center, coin-operated laundry and a spacious lobby, where the free hot breakfast is served, while the grounds include an outdoor pool. The hotel is quite centrally located, at the Valley Parkway exit of Interstate 15, within walking distance of shopping and dining.

2.
Holiday Inn Express Hotel & Suites San Diego-Escondido
1250 West Valley Parkway, Escondido, CA 92029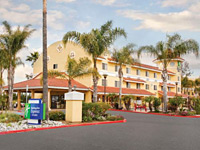 Generally regarded as the best hotel in Escondido, CA, the Holiday Inn Express has an easily reached location next to I-15 (exit 31: Valley Parkway), in an busy area with many restaurants and stores, including those of Escondido Promenade Mall just to the south. Downtown San Diego is 30 miles further south, but the proximity of the interstate puts all area attractions just a short drive away. The 84 rooms & suites are on three floors, and many have views of the rolling hills that surround the town. The hotel is set back a little from the main road so has a relatively quiet setting, partly hidden from I-15 by a line of trees. The main amenities are free hot breakfast, an outdoor pool, whirlpool, guest laundry and fitness center.

3.
Best Western Escondido Hotel
1700 Seven Oakes Road, Escondido, CA 92026-3308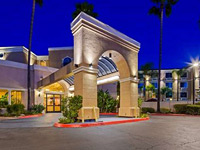 Near the north edge of Escondido, the Best Western Escondido Hotel offers 100 rooms (all with microwave amd refrigerator) on four floors, free continental breakfast, an outdoor pool and a whirlpool. The neighborhood is mostly residential, with the lawns of Rod McLeod Park on one side and interstate 15 running by a short distance west - access is via El Norte Parkway (exit 33). Downtown Escondido is 2 miles south, with San Diego 35 miles away. The nearest restaurants are a few blocks east or west along the parkway.

4.
Comfort Inn Escondido San Diego North County
1290 West Valley Parkway, Escondido, CA 92029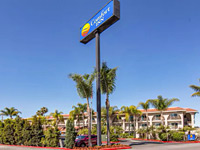 Escondido's Comfort Inn occupies quite a large, 93 room building close to numerous malls, shops and restaurants. The hotel is 15 miles from the nearest beach, 30 miles north of San Diego along interstate 15, and 50 miles from
Anza Borrego Desert State Park
. The inn provides accommodation towards the cheaper end of the market, with amenities of outdoor heated pool, whirlpool, exercise room, free deluxe continental breakfast, and a refrigerator in each guest room.

5.
Quality Inn Escondido Downtown
501 W Mission Avenue, Escondido, CA 92025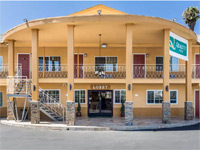 Quality Inn Escondido accommodates guests in a long, narrow, two floor building with exterior corridors, facing the parking lot, which is set back a little from the access road (Centre City Parkway) - in the downtown area of the city, two blocks from the I-15/Hwy 78 intersection. Amenities are an outdoor pool, business center, free hot breakfast, and a microwave/refrigerator in all guest rooms. There are many shops, restaurants and bars within walking distance.

6.
Econo Lodge Inn & Suites Escondido Downtown
515 W Washington Avenue, Escondido, CA 92025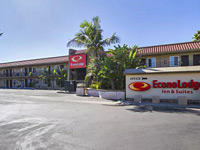 The refrigerator/microwave-equipped guest rooms at Econo Lodge Escondido are contained within a long, narrow, east-facing building on Washington Avenue, close to the city center, a short walk from California Center for the Arts, Palomar Health Campus and Escondido Square shopping center. The pet friendly motel is sheltered from the main roads by a line of trees and an adjacent restaurant. Leisure amenities are an outdoor pool, hot tub and a sunny patio, while a business center and meeting room are at the disposal of people here to work. Continental breakfast is complimentary.

7.
Rodeway Inn Escondido
250 W El Norte Parkway, Escondido, CA 92026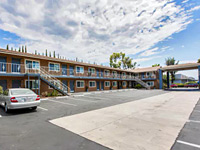 Along El Norte Parkway on the north side of Escondido, the Rodeway Inn is a small place, just 25 rooms, but provides basic, clean accommodation for visitors to the San Diego Area. Exit 33 of interstate 5 is one mile west; most area attractions are within a 30 mile drive. The hotel has a relatively quiet location along a residential side road, though there are plenty of shops and restaurants less than half a mile away. The rather limited amenities include free continental breakfast, guest laundry, a refrigerator/microwave in each room, and a few suites with a kitchenette.
8.
Motel 6 Escondido
900 N Quince Street, Escondido, CA 92025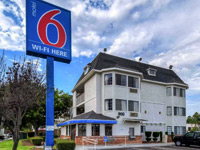 The Motel 6 in Escondido has a relatively central location in town, beside Hwy 78 at the City Center Parkway intersection, in between Lowe's superstore and several smaller shops. Around a dozen restaurants are within a few minute's walk. Like most Motel 6 properties the guest rooms are contained within an old-style, exterior corridor building, here of three floors, with the parking lot on one side and a garden and outdoor pool on the other. The other, limited amenities are wi-fi, coin-operated laundry and free coffee. Pets are welcome.