1.
DoubleTree Golf Resort San Diego
14455 Penasquitos Drive, San Diego, CA 92129-1603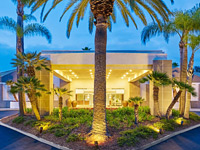 The verdant green color of the fairways of the 18 hole golf course adjoining DoubleTree Resort San Diego contrasts with the dark slopes of the Black Mountains, which rise up a few hundred feet west, part of an extensive park, crossed by several hiking trails. The resort is situated at the Carmel Mountain Road exit of Interstate 15, just across from Carmel Plaza which includes many shops & restaurants, and a 12 screen cinema. Besides the golf, leisure facilities at the DoubleTree include two pools, five tennis courts and a full fitness center with free weights. Breakfast is served at Terraces Cafe overlooking the course, while lunch, dinner & room service is provided by Mulligan's Sports Lounge. The hotel also offers 14,000 sq ft of meeting space.

2.
Courtyard San Diego Rancho Bernardo
11611 Bernardo Plaza Court, San Diego, CA 92128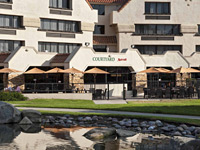 The Courtyard by Marriott hotel in Rancho Bernardo is one of the older properties of this brand but maintains the high standards expected, providing comfortable, spacious accommodation in 210 rooms - part of a sizeable, four story building that also contains a restaurant (open for breakfast and dinner), gift shop, business center and six meeting rooms. The hotel has spacious grounds that include a swimming pool, hot tub and a small lake, circled by a footpath and surrounded by trees. All places in the San Diego area are within easy reach via interstate 15 which runs past the hotel on the west side - access is from exit 24 (Rancho Bernardo Road).

3.
Residence Inn San Diego Rancho Bernardo/Carmel Mountain Ranch
11002 Rancho Carmel Drive, San Diego, CA 92128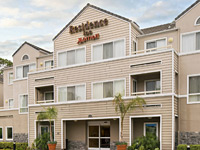 The well regarded Residence Inn Rancho Bernardo receives good reviews for its helpful staff, the clean and well maintained rooms, and the convenient location, right next to I-5 just off the Carmel Mountain Road. The all suite hotel has 124 rooms (each with a full kitchen), in several blocks spread out over quite a spacious, tree-lined site a little way from the access road, so providing a quiet, relaxing place to stay. There are many restaurants and shops within walking distance, including the large stores of the Carmel Mountain Plaza. Complimentary buffet breakfast is prepared each morning, plus a free weekday evening reception; the other main facilities are a heated outdoor pool, hot tub and bbq picnic area.

4.
Staybridge Suites San Diego Rancho Bernardo Area
11855 Avenue of Industry, San Diego, CA 92128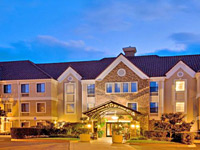 Close to Mira Mesa and Poway as well as Rancho Bernardo, the Staybridge Suites is quite a new, extended stay hotel in a business district alongside I-15 (near exit 22; Camino del Norte), though also close to many restaurants, three golf courses, and a large shopping center beginning two blocks south. 116 one bedroom, two bedroom or studio suites are available, all with a full kitchen including a dishwasher. For relaxation, guests may use the outdoor pool, fitness center or sports court. Free hot breakfast is provided, while snacks can be purchased in the hotel's convenience store. The property was formerly known as Staybridge Suites Hotel Carmel Mountain.

5.
Hilton Garden Inn San Diego/Rancho Bernardo
17240 Bernardo Center Drive, San Diego, CA 92128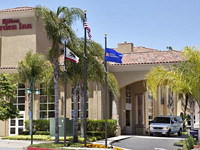 Interstate 15 runs right past the west side of Hilton Garden Inn Rancho Bernardo, shielded by a line of trees, though most rooms face away from the freeway, looking out over the courtyard gardens to the south or adjacent residences to the north. Facilities include a 24 hour convenience store, a fitness center, outdoor pool/whirlpool, 24 hour business center and meeting space for up to 80 people. The Garden Grille restaurant provides breakfast, dinner, evening drinks and evening room service. A free weekday shuttle is operated to locations within five miles, such as Carmel Mountain Plaza, Black Mountain Park and 4S Commons Town Center.

6.
Holiday Inn Express San Diego-Rancho Bernardo
17065 W Bernardo Drive, San Diego, CA 92127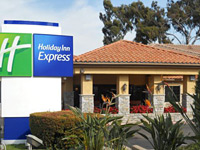 Serving the upmarket, hilly, residential area of Rancho Bernardo as well as north-south travelers on I-15, Holiday Inn Expess San Diego-Rancho Bernardo offers good, basic accommodation with above average amenities of free hot buffet breakfast, an outdoor pool & whirlpool, clean rooms equipped with microwave & refrigerator (some have a private balcony), complimentary 5 mile local area shuttle, business center and six meeting rooms. There are also a variety of suites, some on two levels. The hotel is located just west of exit 25 of the interstate, a mile from two country clubs (Bernardo Heights & Rancho Bernardo), and close to a small selection of restaurants.