1.
Hampton Inn & Suites Blythe
2011 East Donlon Street, Blythe, CA 92225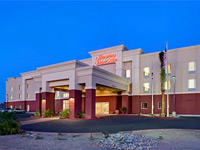 Hampton Inn Blythe occupies a newly constructed (2015) building on the east side of the city at the US 95/I-10 intersection, surrounded by farmland in most directions - about half way (2.5 miles) between downtown and the Colorado River. The location is quiet and peaceful though lacking any services - the nearest restaurants are half a mile north along Hobsonway. Free hot breakfast is provided by the hotel, however, available in a takeout version (Mon-Fri) for guests leaving early, and served in an elegant, two floor dining room. All guest rooms feature a microwave and refrigerator, while the studio suites have extra living space and a sofa bed. Drinks & snacks can be purchased from a 24 hour convenience store. Also available are a 50 person meeting room, an outdoor pool and a barbecue area.

2.
Clarion Inn Blythe
900 W Hobson Way, Blythe, CA 92225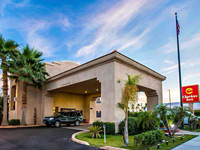 Formerly Hampton Inn, the new Clarion Inn Blythe has two floors, exterior corridors and 59 rooms, some offering a wet bar and sofa bed, and all looking out over a neighborhood of shops, restaurants and other hotels, one block from I-10 near the Lovekiln Boulevard exit. The south side of the building shelters a pleasant outdoor pool, while inside, the main amenities are an exercise room, business center, guest laundry and an dining area for the free continental breakfast. All accommodations contain a microwave and refrigerator.

3.
Best Western Sahara
825 W Hobson Way, Blythe, CA 92225-1415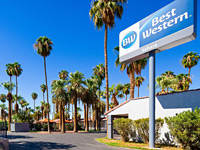 Best Western Sahara is situated towards the west edge of Blythe, a block north of interstate 10 (exit 239, next to a small shopping center). The Arizona border, and the cooling waters of the Colorado River, are 4.5 miles west. The hotel's accommodation block (46 rooms, all on the ground floor) and the large outdoor pool at the center of the parking lot are bordered by many tall palm trees, reflecting the desert location. Free continental breakfast is provided and across the road is a full service restaurant/lounge, with many other dining options within 0.1 mile.

4.
Comfort Suites Blythe
700 W Donlon Street, Blythe, CA 92225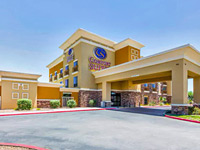 Recently built Comfort Suites is a 2010 addition to the group of hotels on the west side of Blythe, at the Lovekiln Boulevard exit of I-10, a short walk from many restaurants, on both sides of the interstate. The all-suite accommodation comprises 63 oversized rooms equipped with refrigerator, microwave, sofa bed, hair dryer and pillow top mattresses, while the other amenities are the expected pool (outdoor), hot tub, fitness room and business center, plus a small convenience store. Wi-fi is complimentary, as is the continental breakfast.

5.
Quality Inn Blythe
600 West Donlon Street, Blythe, CA 92225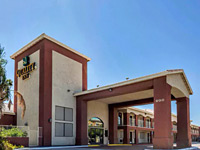 Blythe's Quality Inn motel offers 65 east or west facing rooms in a small commercial district close to the southwest edge of town; nearby are several restaurants including a Denny's. The hotel has a good range of amenities including a pool (indoor), whirlpool, fitness center, business center/meeting room and free full breakfast. The many leisure opportunities along the Colorado River are 4 miles away and there are several interesting sites in the surrounding desert though the nearest major location (
Joshua Tree National Park
) is 70 miles away.

6.
Travelodge by Wyndham Blythe
900 W Rice Street, Blythe, CA 92225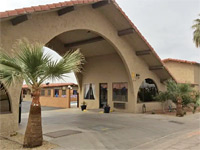 All guest rooms at Travelodge Blythe are on the ground floor, accessed from the parking lot, which is entered via an archway beside the reception office. The motel has a small outdoor pool, and other amenities of coin-operated laundry, free wi-fi and free continental breakfast. Accommodations are equipped with a coffee maker, microwave and refrigerator. The Travelodge is part of a group of lodging at the Lovekiln Blvd exit of Interstate 10, within walking distance of shopping and dining.

7.
Super 8 by Wyndham Blythe
550 W Donlon Street, Blythe, CA 92225-2704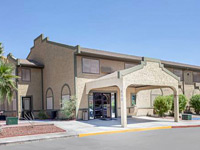 The Super 8 is conveniently located at the westernmost of Blythe's three I-10 exits (Lovekiln Boulevard), next to several other motels; a simple, two floor building with interior corridors and plenty of parking space to one side, with room at the rear for the largest trucks. The pet friendly property offers the usual two complimentary amenities of wi-fi and continental breakfast, together with guest laundry and an outdoor pool, overlooking the main road at the front. Guest rooms contain a microwave and refrigerator.
8.
Motel 6 Blythe
500 W Donlon Street, Blythe, CA 92225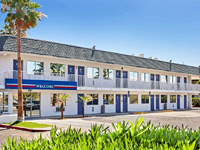 The Motel 6 is part of the main lodging area in Blythe, on the west side of the city next to I-10 exit 239, and it has the familiar layout for this chain, the guest rooms contained within a two floor, exterior corridor building surrounded on all sides by the parking lot; truck spaces are available at the rear. Some west-facing rooms overlook the outdoor pool. The motel provides free morning coffee, and has other amenities of wi-fi and coin-operated laundry. Over a dozen restaurants are within a few minute's walk.
9.
Motel 6 Blythe - South
801 E Hobson Way, Blythe, CA 92225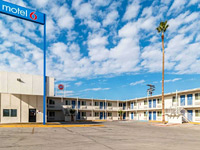 The Motel 6 along Hobson Way has the typical two floor, exterior corridor design; the rooms face the central parking area, with views across the road towards Blythe Village Shopping Center, which includes Albertsons supermarket. All accommodations contain a microwave & refrigerator; the only other amenities are complimentary wi-fi and free morning coffee. There are several restaurants close by, and other shops. I-10 exit 240 is a quarter of a mile south.