Tuba City
is one of the few significant towns in the vast
Navajo Reservation
of northeast Arizona, situated towards the west edge of the reservation along US 160, which joins US 89 a short distance west and continues northeast towards
Kayenta
and
Monument Valley
. The town center lies a few blocks north of the main road; locations here include the local high school, a regional health center and one chain hotel, while most of the shops and other facilities are along US 160.
This part of Arizona is mostly flat, sandy and not scenically interesting, though Tuba City is close to the
Painted Desert
, seen for example along US 89 north of Cameron. There are some lesser-known photogenic landscapes in the vicinity, however, based around
Moenkopi Wash
and its tributaries, including
Blue Canyon
(27 miles),
Coal Mine Canyon
(16 miles) and
Ha Ho No Geh Canyon
(23 miles); all have an amazing array of eroded, multicolored sandstone formations.
Please refer to the
disclosure notice
for information about the affiliate (commissionable) links on this page.
Map of Hotels in Tuba City, AZ

1.
Quality Inn Navajo Nation
10 Main Street, Tuba City, AZ 86045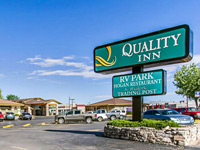 The Quality Inn Navajo Nation, one of the few hotels in Tuba City, is located one mile from the main highway (US 160), at the northwest corner of the intersection of Main St and Moenave Rd. This isolated region is part of the Navajo Reservation, towards the north of the Painted Desert, and is close to various other natural attractions such as the Little Colorado River and Marble Canyon. The hotel is within walking distance of most major sites in Tuba City, including Tuba Trading Post, Dine' College, and a selection of restaurants.