, alongside the main park road (US 34) shortly before it starts the great ascent up Trail Ridge over the continental divide, and just south of the section of highway closed in winter by snow. The trailhead is open year round, therefore, and gives access to several places including three high points (Valley View near Red Mountain, 10,175 foot La Poudre Pass and 11,331 foot Thunder Pass), though all are reachable in full or in part by a forest track, which reduces the satisfaction of the effort spent hiking up. Instead, most people come here for the 3.1 mile walk to
, a short-lived gold, silver and lead mining settlement that thrived for little more than a year (1879-1880), even though very little remains today apart from planks of a few log cabins. The trail passes through quite thick woodland but has some nice views - of the Colorado River, of grassy meadows and of the high Never Summer Mountains to the west - and has the added interest of following the very uppermost part of this great Southwest river; the Colorado's source is 6.5 miles from the trailhead at La Poudre Pass Lake, reachable by a 2 mile continuation path (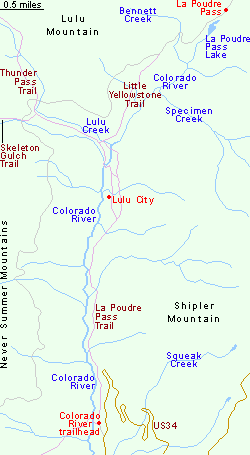 Map of the Trail to Lulu City
The Trail
From the ample parking lot on the west wide of the highway, the path (officially the
La Poudre Pass Trail
) heads due north parallel to the Colorado River but generally staying 100 feet or so from it. Some parts of the river flow down a shallow canyon; most cross level ground surrounded by meadows and patches of trees. The majority of the trail is through moist, shady woodland, emerging into the open in just a few places. There are several stream crossings and occasional short, steep sections, but for nearly three miles the path is generally fairly flat, the surroundings densely forested and the trek somewhat monotonous. Gaps in the trees offer glimpses of the steep slopes of
Shipler Mountain
to the east and of more distant hills on the far side of the valley to the west.
Lulu City
The trail forks shortly before Lulu City; one branch stays a little way up the hillside and the other descends to an open area close to the river, site of the old town. A wooden NPS sign announces 'Lulu City, 1879-1884, population 200', while the foundations of a few wooden buildings can be seen by wandering off the trail a way. The meadow stretches to the river, which at this point is narrow and stony. At the height of its success, Lulu City had a hotel, post office, courthouse and four timber mills, but the ore extracted here was of low quality so the town did not last very long.
Little Yellowstone and the Colorado River
Most people turn back at the Lulu City townsite but both paths continue northwards, intersecting twice. At the second junction, the main trail turns west and follows the
Lulu Creek
tributary up the valley side towards Skeleton Gulch and Thunder Pass, while the other branch (the Little Yellowstone Trail) stays north, crosses the creek on a footbridge and climbs the steepening slopes on the west side of the Colorado River, now a fast-flowing, boulder- and log-filled mountain stream. This path winds around several lesser tributaries and has good, if fleeting views downstream towards Kawuneeche Valley, though otherwise the route is still through the forest - a mixture of pine and aspen. One part of the river canyon has particularly sheer, colorful, jagged and unvegetated rocks, named
Little Yellowstone
on account of the resemblance to the
Grand Canyon of the Yellowstone
in Wyoming. The final stretch of the trail is out of sight of the river, passing more trees and some marshy meadowland, before ending at an intersection with the forest track, running alongside Grand Ditch. La Poudre Pass and the source of the Colorado River at the (usually dry)
La Poudre Pass Lake
are then a level 1.3 mile walk further north. Despite the relatively long distance to Lulu City, the first part of the trail is popular, and recommended by the NPS for families, even though there isn't much to see en route. The second part up Little Yellowstone Canyon to the forest track is steeper, rougher but also more scenic.