1.
DoubleTree Hotel Modesto
1150 Ninth Street, Modesto, CA 95354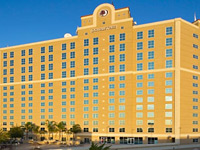 The DoubleTree is a large, central, full service Modesto hotel, occupying most of one block bordered by 9th, K and L Streets, surrounded by many shopping, dining and entertainment outlets. Hwy 99 runs past 0.3 miles west. The building rises 13 floors above the generally low rise neighborhood so most of the 258 rooms & suites have fantastic views across the city. The on-site restaurant (Maxis) is open for breakfast, lunch, dinner & room service, while drinks and snacks are also available all day from the Lobby Lounge. An outdoor pool, sundeck, sauna and fitness center are the main leisure facilities. There are 16 meeting rooms, the largest catering for events of up to 1,800 people.

2.
SpringHill Suites Modesto
1901 W Orangeburg Avenue, Modesto, CA 95350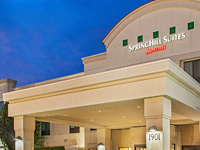 The best choice for long stay accommodation in Modesto, CA, is probably the all suite, 111-room SpringHill Suites by Marriott - a brand new building on the northwest side of town close to Highway 99 (exit 229), 0.8 miles from the Courtyard hotel. All the spacious rooms have a kitchen containing sink, refrigerator, coffee maker & microwave, plus a living area with extra sofa bed. For dining, the SpringHill Suites provides a free breakfast buffet, while for other meals there is a group of restaurants less than half a mile away along W Orangeburg Ave, beside the freeway. Leisure facilities are a heated outdoor pool, hot tub & fitness center.

3.
Clarion Inn Modesto
1612 Sisk Road, Modesto, CA 95350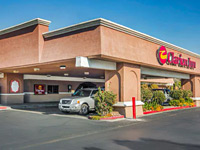 Clarion Inn Modesto provides full service amenities at relatively low rates. The building is fairly old, but spacious, with its 185 rooms divided into two main blocks surrounded by plenty of free parking. There are several garden areas, one containing a pretty, rock-lined outdoor pool; inside, leisure facilities include another pool, hot tub, fitness center and games room. The on site Sunset Grille and Lounge is open all day for food, drinks & room service, while for those here for work the Clarion has a business center, copy/fax service and 7 meeting rooms, accommodating events of up to 500 people. The hotel is situated next to the Briggsmore Road exit of Hwy 99, half a mile from the large stores of Central Valley Plaza.

4.
Holiday Inn Express Hotel & Suites Modesto-Salida
4300 Bangs Avenue, Modesto, CA 95356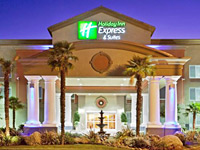 One of the newest hotels in Modesto, the Holiday Inn Express is located at the northwest edge of the city, near the adjacent town of Salida, just east of CA 99. Nearby attractions include Boomers Fun Park directly opposite, and the Vintage Faire Mall a mile southeast. For leisure the hotel offers an outdoor pool, whirlpool, fitness center, gift shop and bbq grills. The 95 rooms & suites are on three floors; they all have modern furnishings and elegant decor, and contain a microwave & refrigerator. Free hot breakfast is prepared each morning.

5.
Best Western Town House Lodge
909 16th Street, Modesto, CA 95354-1117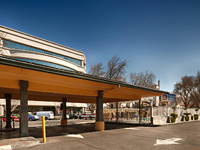 In downtown Modesto, the Best Western Town House Lodge along 16th Street offers 56 boutique rooms, an outdoor pool, spa, sundeck and free continental breakfast. The hotel is adjacent to one restaurant (Dews, serving American cuisine) and within a mile of countless others, together with many shops, bars, entertainment centers, cinemas and public buildings. Highway 99, the main road through Modesto, is a mile southwest. All the rooms are non-smoking. Pets are welcome, for a fee.

6.
Best Western Palm Court Inn
2001 W Orangeburg Avenue, Modesto, CA 95350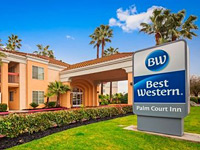 Many of the large, nicely decorated rooms at Best Western Palm Court Inn have views of the secluded courtyard garden, containing palm trees and flowering plants; all contain a microwave and refrigerator, coffee/tea maker and ironing equipment. The hotel adjoins a residential area on the north side of Hwy 99, close to Modesto College and within walking distance of shopping and dining. Free full breakfast is served each morning, and all the usual amenities are available, including a fitness center, outdoor pool, guest laundry, 24 hour business center, meeting space and free wi-fi.

7.
Fairfield Inn & Suites Modesto
4342 Salida Boulevard, Salida, CA 95368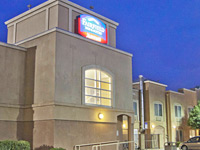 Near the center of Salida and right next to Highway 99, the Fairfield Inn has an easily-reached location within a short walk of several restaurants including Denny's. For shopping there are several stores on the far side of the freeway, the main center being the Vintage Faire Mall, 1.5 miles away. The hotel is new, clean and brightly decorated, catering to guests in 61 rooms that all contain a microwave and refrigerator, or 8 suites equipped with an extra sofa bed, separate living area and a second TV. Free hot breakfast is served; for relaxation the Fairfield Inn has the three usual amenities of pool, whirlpool and fitness room. Downtown Modesto lies 6 miles southeast.
8.
Comfort Inn Modesto
2025 W Orangeburg Avenue, Modesto, CA 95350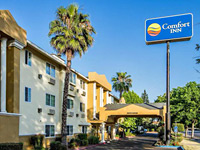 Newly renovated Comfort Inn Modesto occupies a three floor, U-shaped, interior corridor building towards the northwest side of town along Orangeburg Avenue, just east of exit 229 (Briggsmore/Carpenter) of highway 99, and half a mile from the main campus of Modesto Junior College. At the rear, away from the main road, is an outdoor pool and area of gardens, while to the front there are several restaurants, closest being Outback Steakhouse and Denny's. The hotel serves free deluxe continental breakfast.

9.
Quality Inn Modesto
500 Kansas Avenue, Modesto, CA 95351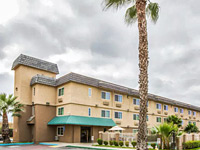 Modesto's Quality Inn has a west central location beside highway 99, the Kansas Avenue exit, in an urban neighborhood with a selection of restaurants nearby and one on the premises - Cafe Orleans, serving breakfast, lunch and dinner. Nearby sites of interest include Modesto College, Vintage Faire Mall, E & J Gallo Winery and Modesto Municipal Golf Course. Other hotel facilities are an outdoor pool and guest laundry.

10.
Ramada Modesto
1720 Sisk Road, Modesto, CA 95350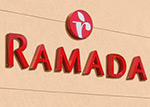 Guests at Ramada Modesto appreciate the helpful staff, the large rooms and the reasonable rates. The hotel occupies quite a large site, containing 126 rooms/suites on two floors, centered on a secluded courtyard garden, with chairs & tables for relaxing in the sun, and a pool/hot tub. Also onsite are a restaurant/lounge, a fitness center and four meeting rooms. Several suites are available in addition to the standard accommodations, containing a hot tub bath. The hotel is situated along Sisk Road, next to exit 229 of Highway 99 - right at the northwest corner of Modesto, close to the Vintage Faire Mall and opposite Modesto Junior College-West.

11.
Days Inn Modesto
1312 McHenry Avenue, Modesto, CA 95350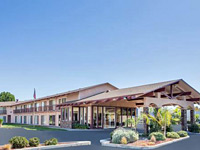 Unlike most hotels in Modesto which are located along Hwy 99 to the west, the Days Inn sits due north of the city center on McHenry Avenue (Hwy 108), a road lined with numerous stores, restaurants and other businesses, including several shopping centers a few blocks north. Half the guest rooms overlook the central garden and outdoor pool, while the remainder look north or south over the busy neighborhood, though the accommodation blocks are set back from the road, behind a Chinese restaurant, and so the place is nice and quiet. Interior amenities are a business center, fitness center, meeting space and a dining room where the free continental breakfast is served.

12.
Super 8 Modesto/Salida
4100 Salida Blvd, Modesto, CA 95358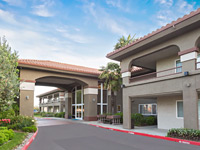 The Super 8 is one of a small number of hotels in Salida, six miles northwest of Modesto alongside Hwy 99 - right next to the southbound entrance ramp at the Pelandale Avenue intersection, though well shielded by trees from the nearby roads. Rooms at the rear overlook a secluded courtyard garden with hot tub and outdoor pool, while the remainder have views over the mixed residential/agricultural surroundings. The two floor, exterior corridor property also offers free eight item continental breakfast, free wi-fi and fitness & business centers. Pets are welcome. Rooms with refrigerator/microwave are available.

13.
Rodeway Inn Modesto
1128 S 9th Street, Modesto, CA 95351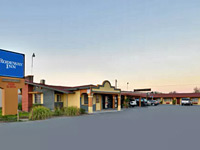 All guest rooms at Rodeway Inn Modesto are on the ground floor, accessed directly from the good sized parking lot. The pet friendly motel charges low rates and has very limited facilities; just free wi-fi and coin-operated laundry. Hwy 99 runs past at the rear; the closest exit is 9th Street a short distance south. There are no facilities in the immediate vicinity, but a shopping center 0.7 miles away on the far side of the freeway includes many restaurants and such stores as Home Dept, Kmart and a supermarket.

14.
Motel 6 Modesto
1920 W Orangeburg Avenue, Modesto, CA 95350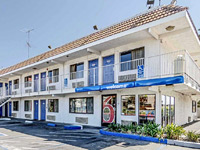 The Motel 6 is part of a group of hotels next to Hwy 99 at the Orangeburg Avenue exit, 3 miles northwest of the city center. In common with most properties of the budget-priced, limited facility chain, guest rooms are on two storys, accessed by exterior corridors, and enclosed on all sides by the parking lot. The main amenity is an outdoor pool, which has a secluded location, out-of-sight of the access road, and partly shaded by a few tall palm trees. There are plenty of restaurants within walking distance, around the freeway exit, and several large stores less than one mile away.

15.
Motel 6 Modesto - Downtown
807 Needham Street, Modesto, CA 95354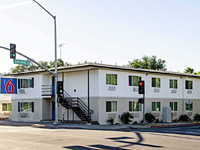 Free morning coffee, free wi-fi and a refeigerator/microwave in each room are the only services at Motel 6 Modesto, a basic, interior corridor motel along Needham Street just a few blocks north of the city center. The neighborhood is residential on one side and commercial on the other, with various shops, restaurants, offices and businesses within walking distance. The nearest Hwy 99 exit (Kansas Avenue) is 0.8 miles due west.